Are you tired of using third-party platforms like Dropbox or OneDrive to host files and share with users? It's time to create a separate website to share your WordPress media files. This new site also gives users a chance to upload files to your site.
In this article, we'll walk you through the process of building a file-sharing website in WordPress. But before that, we'll quickly discuss reasons why you should design a new site instead of using the current one.
Let's jump in!
Why Creating a WordPress File-Sharing Site
WordPress provides a built-in media library allowing you to store images, videos, audio, and other media files. Any time adding a photo to your content, you need to upload that file to the library first, before inserting it into a page or post.
As a matter of fact, not all file types should be placed there. Websites that offer private file sharing for clients and those permitting users to upload files are great examples that best describe file-sharing usage.
Build a Secure Client Portal
Documents like invoices or design projects should not be saved in your library, of course. It's because not all your team members can see these confidential docs, like trainees or people from the HR department, for instance.
A file-sharing WordPress site gives clients a helping hand in leaving feedback on their projects. They can easily log in, see the project files, or review the invoice, and let you know which section meets their needs or where needs improvement via comments. You can get rid of hundreds of back and forth emails and never miss out on any requirements from clients.
Create a Private Area for Members
File-sharing websites serve online training providers perfectly. Your students can receive training materials as well as uploading their assignment files with ease. You don't have to worry about mistaking your own file in the library with theirs.
It's possible for you to upgrade users to premium members so that they can access certain private ebooks or tutorial videos. You can protect your files via user roles and store them on file-sharing sites. Since then, anyone who wants to access them has to create an account and log into the website.
3 Steps to Create a WordPress File-Sharing Portal
There are 3 steps you need to take to build a complete file-sharing site in WordPress from scratch. Similar to any other WordPress site, you firstly need to buy a domain and choose a hosting service then build a basic website with main pages.
After that, use the PDA Gold plugin to protect and manage your media files. Lately, make use of Contact Form 7 to create a file upload form for users. Let's go through this process one by one.
Step 1: Set up Your WordPress Site
WordPress.org comes as a free self-hosted platform allowing you to build your website with a friendly UI. You can make use of supportive add-ons and plugins to customize your site too.
However, to have your site ready on the internet, you need to pay for the domain as well as the web hosting services like Bluehost or Hostgator. Once signing up, it will automatically install WordPress for you.
Then, you need to choose a theme to personalize your site and beautify it with a great visual appearance. WordPress has a few built-in themes including Twenty Seventeen, Twenty Nineteen, Twenty Twenty. It's recommended to look for a more eye-catching theme for your site on the directory, based on your business field and niche.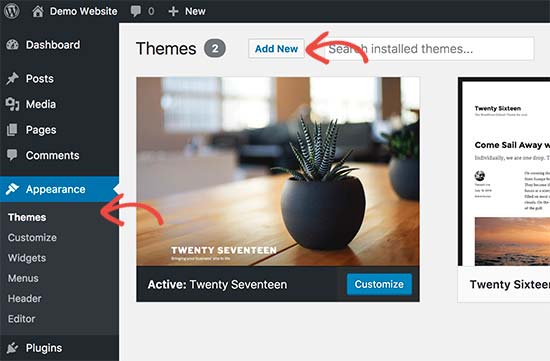 It's important to add content for your site too, either landing pages or blog posts. You should start with a few important pages like the homepage, about us, contact us, and so on.
You can now log into the website and add new files via the Media Library. Simply head to Media → Add New to drag and drop new images or videos to your WordPress library.
Step 2: Use PDA Gold Plugin to Protect and Share WordPress Media Files
Any file uploaded to your WordPress library will have a unique URL. To share a media file, you need to get its URL and send it to users via emails, messenger, or other platforms.
In fact, all types of users have the right to access your file as long as they have the link. Since you only want clients or members to view images and videos on your file-sharing site, this feature might risk your file security.
That's why you need support from the Prevent Direct Access (PDA) Gold plugin to effectively protect your files and manage their access permission.
The plugin authorizes you to block the file's original URL and replace it with a protected link that is accessible to the admin only, by default. You can grant protected link access to other roles as well, depending on your needs.
If you don't want users to waste time logging in and view the file, the plugin makes it easy for you to share them via the Private Download Links feature. You generate private links and send them to users so that they can view and download them.
Plus, these private download links are available in a given time or a number of clicks. That being said, they will expire and turn into a 404 not found page after that.
You can refer to our documentation to have a better idea about original, protected, and private download links.
How to Install and Get Started with the PDA Gold Plugin
This guide will show you the plugin installation process from beginning to end:
Download the PDA Gold plugin in a zip file format
Open Plugins → Add New in your WordPress admin dashboard

Click Upload Plugin to choose the zip file you've downloaded

Enter the license key sent to your purchasing email and activate the plugin
Go to Media → Library
Find your desired file and click on "Configure file protection" in the "Prevent Direct Access" column to protect it.
It now shows you a file protection management form to create private links and adjust their download limit and expiration time. You can create as many download links as you'd love to.
Step 3: Create a Form for Users to Upload Files
A file-sharing website doesn't mean that you, as a site owner, share files with users only. It's where they can provide you with their documents too. A good example of this is students submitting their test answers or clients uploading a screenshot of the problem in their project.
We recommend using the WPForms plugin to create a custom form for your site. Follow the guide below as a detailed guide:
Open Plugins → Add New in your WordPress navigation menu
Search for the WPForms plugin in the keyword box
Install and activate the plugin. A new section namely WPForms is added to your admin sidebar now. Click there.

Select a form template from the list. We should choose "Single Contact Form" in this case.

Add the "File UpLoad" filed to your form in the Fancy Fields section. This feature is available in the premium version only so remember to upgrade your plugin.

Submit the form
That's it! Your users can freely upload their files to your site now.
Ready to Create Your Own File Sharing Site?
A file-sharing site assists you in granting clients and members access to your private images and videos without affecting the current business website. You don't have to worry about messing up your library with users' documents.
We've summarized the process via 3 easy steps for you to follow, from buying a domain and choosing a web hosting service to protect your files and send them to users. Lately, create forms for users to upload their files to your site.
PDA Gold makes it a perfect solution to help you protect your WordPress images, ebooks, videos, and other files in a simple yet effective way. Have PDA Gold for your file-sharing site today!