Creating PDF files from your WordPress posts and pages provides an effective way to repurpose your content. You can engage your subscribers by offering them giveaways, e.g how-to guides, case studies, and checklists. They can access and download these files easily.
While WordPress doesn't support exporting posts and pages to the portable document format by default, there are various plugins available in the WordPress repository to help you resolve this problem. It's not easy to narrow them down and pick the right one for your website.
In this article, we're going to walk you through the top 5 plugins to automatically create PDF files from WordPress posts and pages.
#1 Watermark WordPress Files
Watermark WordPress Files allows you to export WordPress posts to PDFs with just a single click.
In the Settings page, you can enable the feature of Page Number on Footer. This feature proves useful when your content is very long. The plugin allows you to customize PDFs' headers and footers as well. You can display your company names or a copyright notice there.
Any type of image files including JPEG, PNG, and GIF in the PDF will be shown in the exported PDF file. Also useful is that links of other MP3, MP4, and PDF files embedded in your blog posts are displayed and work well on the PDF file.
In case you're using multiple fonts in your content, the exported PDF will use our plugin's default one which makes all your PDF content look more consistent.
It's possible to combine many pages and posts to export at a time. For example, you can group relevant blog posts and create a guideline with many chapters.
Apart from converting WordPress pages and posts into PDF files, Watermark WordPress Files offers two other important features, namely Watermarking WordPress files and Embedding PDFs into WordPress content. You can add some text to your photos to protect them or can embed and view PDF files in WordPress posts.
Still, Watermark WordPress Files plugin only displays media files of pages and posts in the converted PDF files if they currently exist in Media libraries. When the images in the content are deleted from the library, the exported PDF will leave a blank space.
Remember to hit the Update button before converting the post into a PDF file if you modify content. Otherwise, the file will show the old version rather than the latest one.
Pros and Cons
Pros
Show any types of images files in the PDF
Customize page header, footer, and page numbers
Allow all links embedded in the content to work well on the PDF file
Make PDF content consistent by using a default font
Offer additional features
Cons
Won't show the latest content in the PDF file unless you click on the Update button
Leave a blank space in the PDF if the media file is removed from the library
Can not export many different pages to a single PDF
Take a quick look at how to use the Watermark WordPress Files to convert WordPress posts to a PDF file:
#2 Kalin's PDF Creation Station
While the challenge of other plugins lies in generating a PDF from many posts and pages, Kalin's PDF Creation Station resolves it with ease. The plugin allows you to choose and combine many posts and pages and convert them into a single PDF file.
This's also a helpful plugin if you need to create a customized cover page and the last page of a PDF. You can configure custom headers and footers of the files as well. Your PDF will look more attractive, as a result.
Kalin's PDF Creation Station is a great choice for those who are looking for a way to reduce server load while generating PDFs from posts. It saves converted PDF files on your server so you only need to create them once. No matter how many times you edit the page and click the Convert button, it shows only one PDF file. The old PDF versions will always be automatically deleted.
However, photos are not correctly aligned after exporting even though they look good in WordPress pages.
The plugin involves a quite complicated using process with many steps needed. Some sections even require coding which represents significant challenges for people who have very little knowledge of programming skills.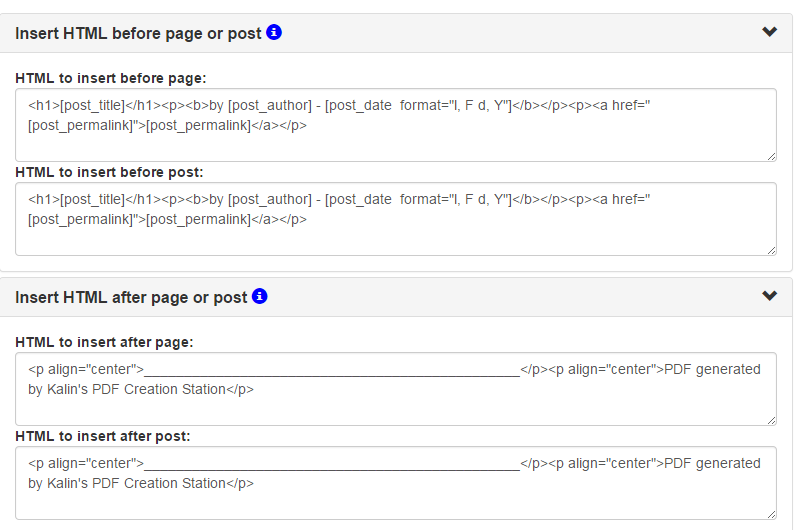 Pros and Cons
Pros
Create PDF files from many posts at a time
Reduce server load
Add customized first page, last page, and page title
Cons
Not support aligning images
Have a complicated using process
Require coding
Have an unfriendly UI
#3 WP-MPDF
WP-MPDF is another option for generating PDF files from WordPress posts and pages. Supporting password protection for posts is one of its outstanding features too. In other words, only people who have the password to your WordPress site or pages can export and print it.
What's more, you can redistribute or modify the plugin. It's optional with Geshi highlighting as well.
Still, it's quite complicated to install and get started with the plugin. After uploading the whole plugin folder, you need to set the permission to the plugin dir folder and provide a shortcode to add the pdf button to the post.
Pros and Cons
Pros
Support password protected posts
Allow to redistribute or modify it
Cons
#4 Welaunch
Welaunch is a great plugin to convert WordPress posts into PDFs. You can decide the background, the text colour, as well as the colour of links.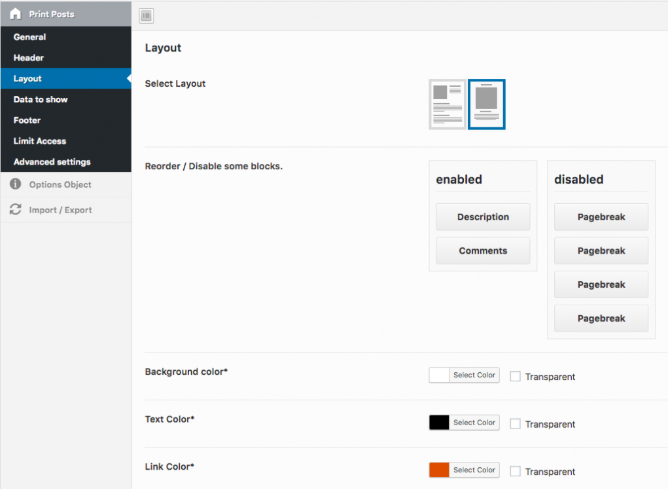 All the format of headings, images, blocks, etc. of the converted files will be kept exactly the same as how it looks in the WordPress post.
This plugin allows you to insert post category links. It helps readers go back to the list of similar articles or to the Blog section on the website easily.
Besides exporting posts to PDF files, this plugin offers another feature of exporting content to Microsoft Word documents. When you print the document, the format is totally the same as the view version.
However, you can only generate a PDF from a single WordPress page or post at a time. It's not updated frequently. Its latest update was about a few months ago.
Pros and Cons
Pros
Keep the formats of headings, images, blocks the same as the article
Allow you to choose different layouts
Provide Word document exporting feature
Cons
Export only a single page or post at a time
Not update frequently
#5 WP Advanced PDF
WP Advanced PDF lets your readers convert your blog posts into PDF files themselves. It allows you to give a pdf extract link into your post so that they can export it with one click only.
Using custom fonts, logo, and even adding a watermark to your PDF files are available as well. You can add your company logo to make the PDFs look professional or add watermark to protect them.
The Setting page is very long with many steps required, including general settings like post types allowed and cache update, image scaling ratio, or units of measurement.
Pros and Cons
Pros
Use custom fonts, logo
Add watermark
Provide extract link into your post
Cons
Require a lot of settings to get started
Install and Plugin to Export WordPress Posts to PDF
Using a plugin is one of the easiest ways to export your WordPress page to PDF files. While these 5 PDF generator plugins for WordPress share a common feature, each of them offers some specifications that are worth checking out.
If you're also looking to create a PDF document from scratch and then edit them as you please before using it on your website, you can check out this PDF editor from JotForm.
Please leave contact us if you need any further information about generating PDF files from WordPress pages and posts.