Online communication has never been more increasingly significant for your business websites. You use conference and video chat to respond to customers, discuss face-to-face with colleagues, organize meetings, and so on.
In fact, hosting along with promoting a virtual event isn't as simple as your expectation. Fortunately, WordPress brings you convenience by allowing amazing video conference plugins to execute this incredible function.
In our today's article, we'll pick the 8 best plugins for WordPress video conferences. Each will come with a set of features and benefits that suit your needs. But before getting started, we can briefly define what a video conference is and why you should embed one on your site.
Let's check it out!
Why Holding Video Conferences in WordPress
An online conference refers to a video-based meeting between at least 2 parties through internet-connected devices. Some video conferences contain social networking features or e-commerce capabilities giving you a chance to market and sell your products as well.
Before you read further.... Free Download (PDF)
Secret Google Search Tactic That Will Skyrocket Your Sales, Connect You to the Perfect Partners, Influencers & Affiliates and Send Your Google Rankings Soaring! FREE when you sign up for Digital Creators Edge, a free newsletter for Digital Creators who wish to take their business to the next level.
Video conferences and webinars promote your business and organization in multiple ways. It reshapes the working model by accepting individuals from different locations to join a certain meeting together with a real-time experience.
For example, you can arrange online meetings between managers and employees. This helps build a strong relationship among members of the company, especially those working remotely. Team members can be informed of important information or business decisions as well as communicate with each other in real time.
It's evident that video conferences serve educational institutions and consulting firms as well. They can organize online training programs and online consultancy activities effortlessly.
#1 Video Conferencing with Zoom
Video Conferencing with Zoom is currently the most popular WordPress plugin for video conferencing. It's yielded over 30K users and the number is substantially climbing daily.
The plugin primarily takes care of your Zoom meetings and webinar management. Basically, it enables you to hold a conference via a live stream through Zoom. You can easily add users and manage them right in the plugin Users section. There is a front-end joining mechanic for clients to take part in your event.
It's possible for you to set up meeting countdown timers. This feature proves handy when your conference serves participants from all over the world with different time zones.
Zoom's shortcode gives you a quick way to embed the webinar anywhere on your WordPress site, including page/post or custom post type pages via a simple shortcode. The shortcode can also be used to insert meeting links to WooCommerce products.
Users have the capability to join your meetings directly via browser to replace the Zoom app.
Pricing:
Although Video Conferencing with Zoom is free to download and start using, there are many limitations in features requiring you to upgrade to the Pro version.
With $34, you can create recurring meetings & webinars, allow registration, and create webhooks for one site. The 2-5 site license costs $119 while the 10 Sites take you $169 to download.
#2 eRoom – Zoom Meetings & Webinar
Receiving more than 20k active installations, eRoom appears as one of the leading Zoon meetings and webinar plugins of all time for remote work.
It ensures you can schedule a meeting or an event right from your WordPress admin area. Similar to Video Conferencing with Zoom, you're able to display the meeting room anywhere on your site via a shortcode along with a countdown timer. This aims to remind users when the conference will kick start.
Holding a meeting with over 10K participants has never been easier thanks to this amazing plugin. It's also worth mentioning the feature of selling tickets as WooCommerce products and making money from your conference. Bear in mind that this feature is available in the Pro version only.
eRoom's reports after each meeting/webinar give you a big picture of your conference performance and engagement. You can base on that to come up with an action plan for improvements
Pricing:
The free eRoom plugin available on WordPress.org doesn't cost you anything to get started. StylemixThemes charges you from $29.99, $49.99 to $99.99 per year for a 1-site, 5-site, and 25-site license respectively.
#3 Webinar and Video Conference with Jitsi Meet
Jitsi Meet effectively draws your attention as a free, simple, and no-tech solution for webinars, meetings, conferences, online classes, video calls WordPress sites. Since the plugin integrates seamlessly with WooCommerce, LMS, EM, and booking plugins, you can create a conference without having to touch a piece of code.
Plus, there are meeting blocks for Gutenberg and meeting widgets from websites using Elementor page builder. Jitsi Meet never limits the number of conferences or webinars you can organize on your site. You can even mute them while holding too.
You have full control over how your video meeting shows up, from custom ​​video frame height and width to HD video options and screen sharing.
Pricing:
There are 2 different pricing plans for you to choose from. You can pay either $62.50 to use the plugin on 5 sites or $90 for a 10-site license.
Several reasons motivate you to upgrade to the Pro version consisting of the custom meeting domain, meeting post type, live stream, recording, transcript, and more.
#4 Agora Video for WordPress
If you wish to arrange a huge conference or live streaming with up to millions of participants, this Agora would be definitely your ideal pick. Its ​​Host UI and chat UI template allow you to do live video streaming and video calling with a group at your fingertip.
The justification for its success is the capability to record videos directly to Amazon S3 to back up all your streams. Besides, it supports screen sharing, RTMP, and customizable UI along with customizable configurations.
Pricing:
Unlike the 3 previous plugins, Agora charges you base on the number of participants and amount of time. For a detailed explanation, it charges $0.99 per 1,000 participant minutes of a voice call. Video call pricing is higher, at $3.99 per 1,000 participants per minute for HD videos and $8.99/1,000 participant minutes for Full HD.
#5 Consolto Video Chat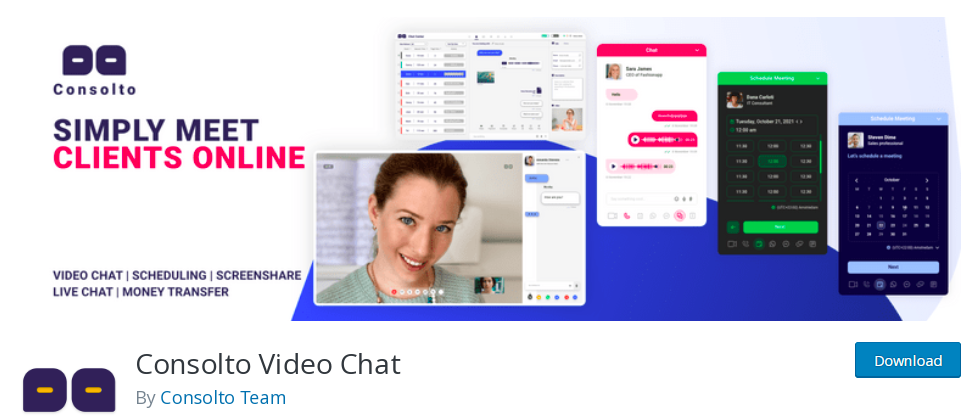 It's well thought out to mention Consolto in this WordPress video conference plugin list. Despite a pretty low number of active installs (about 700), it receives a 4.9 out of a 5-star review.
Sales teams, consultants, and coaches hunt for this plugin to increase their conversion. They can use it to turn their normal WordPress site into a powerful indispensable virtual office. There is no more Skype account exchange or sending Zoom links.
You can do so many things with Consolto. Video-calling, screen sharing, scheduling appointments, text messaging, and chatting, just to name a few. Noticeably, voice mail enables customers to leave voice messages on your site.
Pricing:
Consolto gives you 4 pricing options, including Smart, Clever, Genius, and Enterprise, ranging from $8.2 to $32.
What Is Your Favour WordPress Video Conference Plugin?
We've walked your way up to the 5 most well-known WordPress video conference plugins. Each comes with a set of features and pricing packages that may benefit your business in a different way.
If you prefer a reasonable solution with basic online meeting capabilities, eRoom and Consolto would be the perfect choices. In case you run large businesses requiring holding webinars on multiple websites, Video Conferencing with Zoom and Jitsi Meet is your way to go.
Agora, on the other hand, charges you based on your conference scale. So what is your favorite WordPress plugin for video conferencing? Share with us in the comment section below.