First things first, what is a watermark? A watermark refers to an image or text that overlays a digital asset such as document, video, and website content. It's normally monochromatic and transparent to enable people to view the content and at the same time claim your ownership.
Watermarks have long been a great solution to protect content copyright and intellectual property. Securing PDF files with watermarks prevents your content from being stolen or misused. Without watermarks, your valuable digital assets can be vulnerable to content theft and unauthorized use.
Acrobat is probably the most popular software for inserting watermarks into PDF files. For your reference, we've published a step-by-step guide on how to watermark PDFs using Acrobat Pro.
There are also many other methods to add a watermark to PDF without Acrobat.
Let's find out together!
Before you read further.... Free Download (PDF)
Secret Google Search Tactic That Will Skyrocket Your Sales, Connect You to the Perfect Partners, Influencers & Affiliates and Send Your Google Rankings Soaring! FREE when you sign up for Digital Creators Edge, a free newsletter for Digital Creators who wish to take their business to the next level.
#1 Add Watermark to PDF with Microsoft Word
Take the following steps to apply watermarks to PDF files with Microsoft Word:
Open your Word document.
Navigate to the Design tab.
3. Under the Page Background section, select Watermark.
4. Pick your desired watermark type in the Watermark drop-down menu. Microsoft will place a "confidential" or "do not copy" watermark on all pages.
5. Go to File → Save As and select a location where you want to save your file.
6. In the Save as type menu, click PDF to save your content as a PDF file.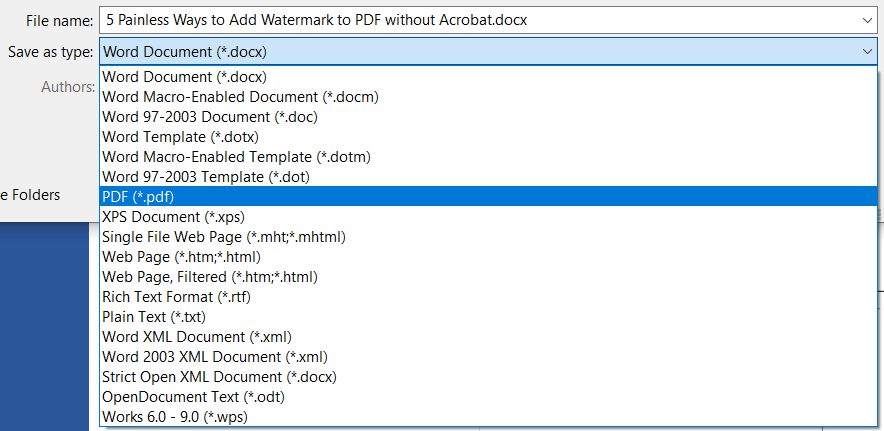 That's it.
In case you wish to add a custom watermark to your PDF, follow the guide below:
In the Watermark drop-down menu, select Custom Watermark.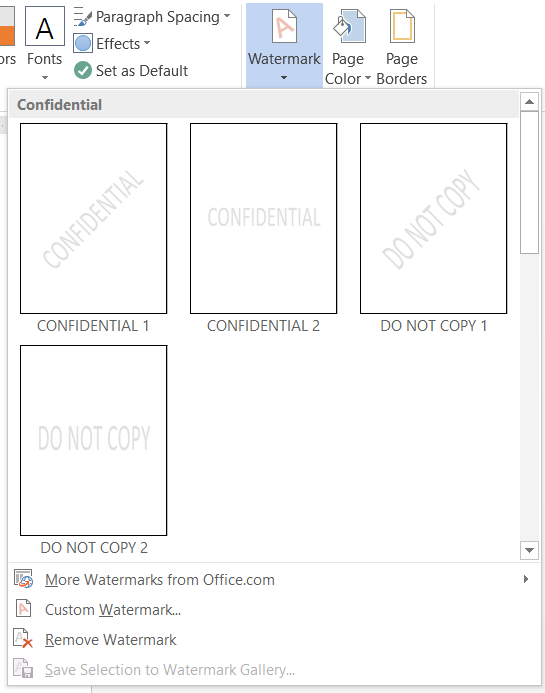 2. Choose the Text watermark option in the Printed Watermark popup.
3. Set up the watermark's language, text, font, size, color, and layout to your liking.
4. Hit the OK button to finish. You will see a custom watermark applies on all pages of your document.
You can also apply an image-based watermark to your content:
In the Printed Watermark menu, choose Picture watermark and Select Picture from your computer.
Press the OK button to complete.
#2 Insert Watermark into PDF Using Mac Preview
If you're a Mac user, here's how to watermark your PDF documents:
Open your PDF with the Preview app.
Click to show the Markup toolbar.
3. Select the Text tool and add text as a watermark.
4. Click the A icon to modify the watermark's text color and font.
5. Head over to File → Save to finish.
#3 Watermark PDF with Online Free Tools
There are plenty of online watermark PDF tools available for free. Simply search for "watermark PDF online free tool" on Google and you'll find a lot of options there. Here's a list of some outstanding tools:
Sejda
Soda PDF
Watermarkly
I Love PDF
PDF Candy
In this section, we'll walk you through how to watermark PDFs with the Sejda tool:
Go to the Sejda Watermark PDF website.
Click Upload PDF files and select the PDF documents from your local computer. Or you can choose to upload files from Dropbox, Google Drive, OneDrive, and Web Address by expanding the drop-down menu. Dragging and dropping files to the page also works.
3. Press the Add Text button at the top of the page to add a text-based watermark. To insert an image-based watermark, simply select the Add Image button.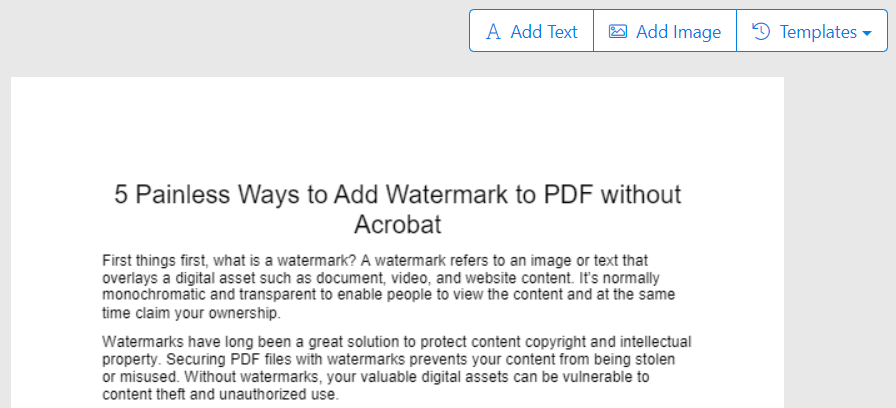 4. Customize the watermark's text, rotation, position, size, color, and transparency according to your preferences. The coolest thing is that you can apply watermark to specific pages.
5. Hit on the Watermark PDF button and preview your changes.
6. Select Download to save the watermarked file to your computer. Sejda also allows you to Save to Dropbox, Save to OneDrive, and Save to Google Drive.
Since other tools are quite similar to Sejda, you can take the same steps to watermark your PDF content.
#4 Use Offline Software to Watermark PDF Documents
PDF Chef, BatchPhoto, mediavalet, and Foxit FanthomPDF are widely recognized as the best software to watermark and edit PDF files. All these tools offer free trials to encourage users to evaluate the functions before purchasing.
In those recommended tools, BatchPhoto stands out from others thanks to the ability to add watermark to multiple PDF files.
Follow the below instructions to bulk watermark PDFs using BatchPhoto:
Install and run the BatchPhoto app.
Navigate to Add Photos and drag & drop multiple PDF files into it.
3. Select Edit Photos → Add Filter → Watermark Text or Watermark Image.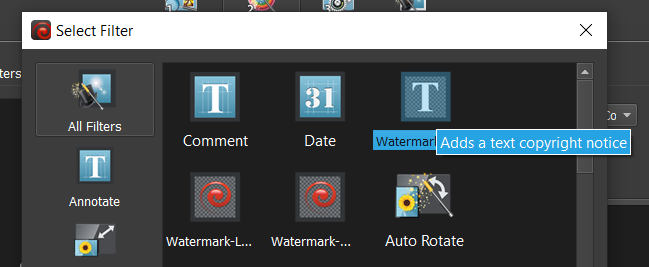 4. Adjust the watermark settings, including text, style, and position.
5. Head over to Setup, choose a Destination and Folder to save your file, and pick your desired Output Format.
6. Go to Process, hit OK to add a watermark to all PDF pages and PDF files.
How to Add Watermark to PDF in WordPress Using Plugin
If you're running a WordPress site, we highly recommend NOT adding watermarks to PDFs using the above methods. Since you must watermark your files in advance, then upload them to WordPress, it can be complicated, unmanageable, and time-consuming. Plus, you can't display the PDF content on your WordPress site.
Fortunately, the Watermark WordPress Files plugin offers everything you're looking for. Besides the PDF watermark feature, you can disable right-click to stop people from saving the files from anywhere on your website. It also supports embedding and displaying PDFs with a cool PDF viewer.
As a result, this helps you ensure maximum content protection. We've published an article on how to add watermark to PDF using the Watermark WordPress Files plugin. Scroll down to the second section and you'll reach what you need.
What Is Your Choice?
Undoubtedly, watermarking is an effective technique to protect your content copyright. We've shown you 4 ways to add watermarks to PDFs without Acrobat: using Microsoft Word, Mac Preview, online tools, and offline software.
Have you chosen your ideal method yet? Do you have any other solution? Don't hesitate to let us know in the comment section below!