Anyone doing eCommerce business must find WooCommerce no stranger. It brings various benefits to users and online store owners. The advent of WooCommerce variation images has once again raised its popularity and necessity to a new level.
Then, what is it? WooCommerce is an add-on in WordPress that helps merchants create and manage their stores with a few simple steps. It assists us with several essential features. Some outstanding features are accounting for stock and sales tax, safe payment processing, and automatic shipping calculations.
The WooCommerce variation image feature allows you to insert more than one image into your products. Thus, it's crucial in attracting customers and providing useful information about what you are selling.
This article will guide you on how to add WooCommerce variation images with a few simple steps. Let's get started!
Reasons for Adding WooCommerce Variation Images
Showing multiple product variation images in WooCommerce benefits you in many ways. It helps:
Before you read further.... Free Download (PDF)
Secret Google Search Tactic That Will Skyrocket Your Sales, Connect You to the Perfect Partners, Influencers & Affiliates and Send Your Google Rankings Soaring! FREE when you sign up for Digital Creators Edge, a free newsletter for Digital Creators who wish to take their business to the next level.
Increase Sales
Customers are usually rigorous before making any purchasing decision, especially online shoppers. They need detailed information about the product before buying it as this shopping method carries great risk.
That's why they are more likely to leave your shop if you fail to provide them with information. And what information can be better and attract customers more than the varied images?
Compare the Products
Including variation images of customizable items allows customers to see the differences between those products. This will help them choose the most suitable options more easily.
Heighten User Interface
The user interface is a key factor that decides whether the customers purchase the products of an eCommerce store. Why? Because a better user interface ensures a better experience.
Strengthen Store's Credibility
Multiple product pictures show your guarantee about the product specifications to customers. In this way, they will believe that purchasing at your site is less risky than others. In customers' eyes, your credibility is higher than those stores without varied images.
Show Products Effectively
You can present your high-quality goods in the most favorable light. Humans only believe in things they see with their naked eyes, and so do with the products. They only buy what they see clearly and thoroughly.
And they only reach that final point in decision-making by ensuring themselves that the product fits their needs. This can result from numerous images from the store owners.
How to Add Variation Images in WooCommerce
WooCommerce only allows users to upload one image per variation by default. This makes customers' experience uncomfortable and unfriendly, thereby affecting the online store's revenue.
To be able to add more images, you must purchase add-ons to demonstrate different images of a product.
The Additional Variation Images WooCommerce plugin by Woosuite allows you to upload extra pictures for each possible variant. In addition, you can create a photo album for every available option of your product.
Not only images, but you can also embed videos directly onto your product pages. A product clip, as is common knowledge, is a fantastic way to highlight merchandise's benefits and attract new customers. You can use Vimeo, YouTube, and other social media platforms for embedding.
Furthermore, it even lets the shoppers zoom in on the photo so that they can scrutinize the product thoroughly.
If you want the expected outcomes, take the following steps to add variation images to your WooCommerce store.
Step 1: Set Up the Plugin
First, you need to download the add-on file in the .zip format to your computer. Then navigate to the WordPress dashboard and click on the Plugins section near the bottom left. In the drop-down menu, choose Add New, and you will transfer to another page.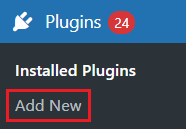 On this page, click on Upload Plugin on the top left of the page. Then, tap on the Choose File box in the middle, wait for the file to upload, and choose Install Now.

When it's all done, we can move to the next step.
Step 2: Activate the License to Get Started
Now it's time to go back to the Plugins section, search the add-on you just installed, and activate it. After the extension installation process, copy the license key and paste it into the Activate box.
Congratulations! You have successfully installed the extension and can use it now.
Step 3: Edit or Create a Product
To create a product, you must go back to the dashboard. There, choose the Products section on the left, and tap Add New in the pull-down list.
Then name and describe your product, decide the price, and the availability of delivery options and product photos.
If you want to edit the already-existing products, select All Products in the menu and change the product's information.
Step 4: Choose Product Data Type
After you fulfill all the requirements above, scroll down to the Product data box. A picklist will appear, and you must choose Variable products.
You have adjusted the menu items, and now it has a new menu option, Variations.
Step 5: Create Multiple Attributes
In this step, we will move to product Attributes creation. Attributes are crucial in presenting a wide range of visual content.
Scroll down to the bottom of this page and select Attributes. You will see the list of choices pulled down with three options: Size, Color, and Custom Product Attribute.
There are many colors available for your choice. However, if you can't find some colors in this list, you can add a new one by tapping on Add New.
After choosing Color, you need to hit Add.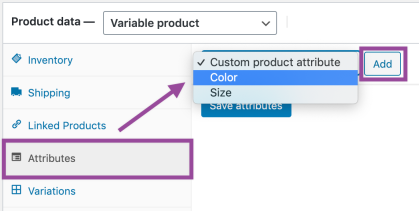 Most importantly, enable the Used for variations checkbox to use these for variations. Select Save attributes to permanently save your changes.
Step 6: Create Variations from Attributes
In the Variations page you've just created, choose Create Variations from All Attributes in the picklist.
This allows you to include one photo per variation. Any time a user chooses that color, he will see that photo. That is to say, it would serve as the featured photo.
Step 7: Add Variation Image Gallery
This step allows you to add multiple images to a product color. Tap on the color name and hit on Add Gallery Images. Then, you can put all the images you want to display in the variation gallery. Photos from varied angles help customers better grasp the goods they are looking at.
3 Best Plugins for Adding WooCommerce Variation Images
Besides the plugin we've mentioned above, here is the list we have accumulated for your interest.
#1 Additional Variation Images Gallery for WooCommerce
Variation Images Gallery for WooCommerce grants e-store owners a right to add unlimited additional photos for each available variation. It's top-quality, completely mobile-friendly, and responsive.
Your customers can see the highest quality photographs of your items regardless of the device they're using to browse. It's only a matter of time before sales skyrocket since you're increasing the potential buyers' exposure to the products.
A big plus is that you can add self-hosted videos or videos from social media platforms like YouTube.
Furthermore, the Carousel Slider's thumbnail feature is excellent. You can easily move these little graphics to the side and the bottom. This plugin will function properly with whatever WooCommerce design you choose.
#2 Variation Image Gallery For WooCommerce
With this tool, store owners can upload as many photos per variation as possible because there is no limit.
When a customer makes multiple specification selections, this extension allows you to show them in separate sets of photographs.
You can zoom in, zoom out, or see many different photos of one variation with the lightbox. You can even use the delete option to get rid of any photo you don't want to display on your store.
The point-and-click and sorting features are also very handy.
#3 Smart Variation Images for WooCommerce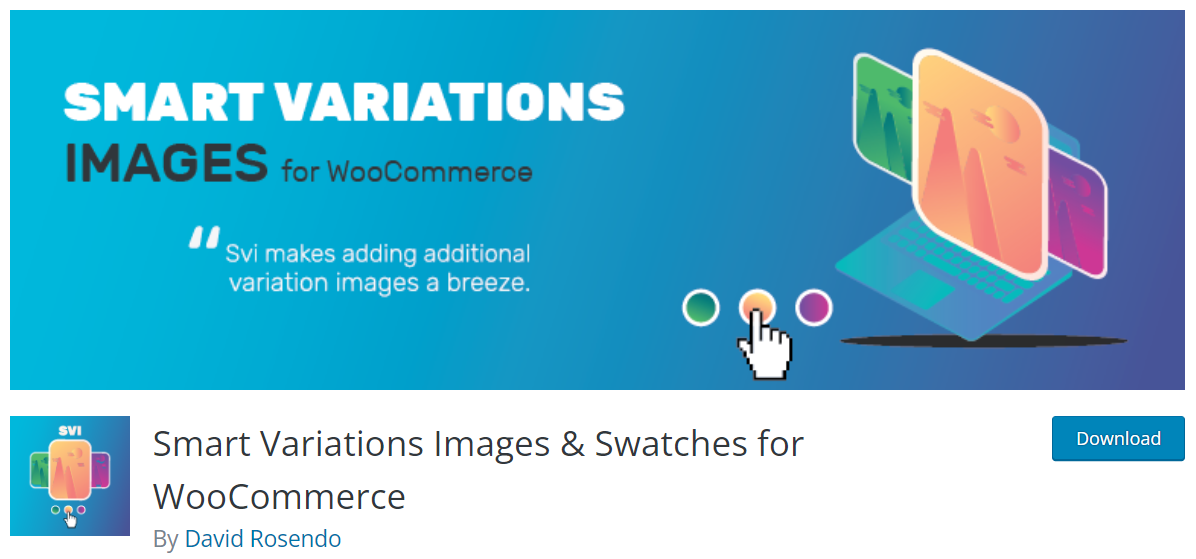 It'll be a mistake if we don't mention this add-on when talking about adding variation images for WooCommerce products.
When your customers select from many possible combinations, they'll be able to see a new gallery picture. They may even see many depictions of an item in the same color and design.
The primary picture or thumbnail can instantly update to reflect the selected variant whenever users make a new selection.
This fantastic add-on makes it easy to combine many photos for one variant. Its drop-down capabilities enable you to present your wares with a barebones layout. And underneath the swatches or choices, you'll see only one option.
On the WooCommerce loop pages, this add-on can display two distinct galleries. The included Simple Slider helps you present your photographs in a sleek framework.
This variant photos gallery add-on is WPML-translatable, allowing visitors to see your site in their native languages.
Add WooCommerce Variation Images to Level Up Your Store!
That's all the information you need to know about how to add WooCommerce variation images and their benefits.
The WooCommerce Additional Variation Images plugin by Woosuite is a must-try one. It offers all the features you need and a user-friendly interface, which take you a few minutes to familiarize. Moreover, the installation process is quite simple and clear.
We also include a list of other extensions for your choice in case the plugin doesn't meet your requirements.
Thank you for your reading, and hope you find yourself a suitable extension. Don't forget to subscribe to our website to get more useful instructions!
You've learned how to add WooCommerce variation images. It's time to learn how to optimize WooCommerce product images to speed up your store. Or, you may be interested in how to watermark WooCommerce product images.