Whether you're just a web surfer or a website owner, you at least once come across a "404 Page not found" error. And you know what? This common problem can occur on any site of any size.
Having too many broken links will seriously hurt your website and business. Not only does it create a poor user experience but 404 errors also hurt your site's SEO.
Finding and removing one or a few broken links is simple. However, scrutinizing them on huge websites is a whole different story. You need help from broken link checkers to quickly detect errors.
Today, we'll go over 4 ways to determine all broken links on your WordPress site: web-based SEO audit tools (SEMrush and Ahrefs), Google Search Console, the Screaming Frog software, and the Broken Link Checker plugin.
But first, let's discuss what broken links are in detail, and why you should eliminate them.
Why Monitoring Broken Links in WordPress
Broken links, as its name indicates, refer to links that no longer work. They will lead users to a 404 not found page when attempting to access them. There are 2 types of broken links on websites: Internal Links and External Links.
Internal broken links: URLs that send visitors to another page on your site.
External broken links: URLs on your site that lead to another website.
One of the reasons is that site owners have deleted these pages so you're unable to view them. Plus, the website has been moved to a different location or a new domain name forcing the server to serve a 404 not found error.
A greater cause is the website's permalink structure has been changed. For example, the webmaster adds the month element to post URLs. Another common cause of WordPress broken links turns out to be typos in URLs. For example, you type https://preventdirectaccess.com/use-case/ instead of https://preventdirectaccess.com/use-cases/.
Create a Poor User Experience
Imagine visitors get excited at your content and click on the link hoping that it'll satisfy their thirst for information. Ironically, they're redirected to a not found page which will definitely frustrate them.
What's more, broken links persuade users to give up on your site immediately. Is there any reason for them to stay on a 404 page? They'll assume your website and business to be unprofessional and sloppy.
Hurt Website SEO
Dead links negatively impact your WordPress site rankings on search engines, for sure. When users land on a 404 page, they'll leave it right away which increases the bounce rate. A high bounce rate gives Google a bad sign of uninformative web pages. Consequently, it'll move down your site on search engine result pages or kick the site out of the top 100.
What's more, robots like Google bots crawl every link on your site to index properly and rank on search results. If the links don't work, they just waste your crawl equity.
SEO plugins always suggest inserting internal links allowing Google to understand and rank your website better. In case you add inappropriate links, your site won't benefit anything from them.
Find Broken Links Using Web-Based SEO Audit Tools
You have multiple choices when it comes to audit tools to check out dead links, SEMrush and Ahrefs Audit, just to name a few.
#1 Use SEMrush
SEMrush proves one of the top SEO tools for site owners to examine their site's health, study competitors, and find room for improvements. It provides you with a Site Audit report showing common errors on your site.
To get a list of 404 URLs, you first need to sign up for a SEMrush account. After that, go to the Site Audit section on your left-hand navigation menu.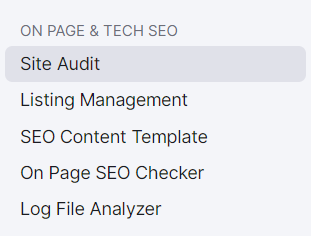 At the top of that screen, hit New Site Audit and add your site domain as well as the number of pages you intend to check.
You have to wait for a few minutes so the tool can start crawling and proving the result. Once done, simply press your domain under the Site Audit section to check out the report.
Under Crawled Pages, the tool lists out all healthy, broken, having issues, redirected, and blocked pages. Choose Broken to view links that are not working.
#2 Use Ahrefs Audit Tool
Ahrefs offers various useful tools to help you master your site SEO. Along with Site Explorer, it enables you to scan your WordPress site and look for broken links.
Once signing up for an account, add your site address, and complete the scanning process, head to the Reports section to view all the 404 pages.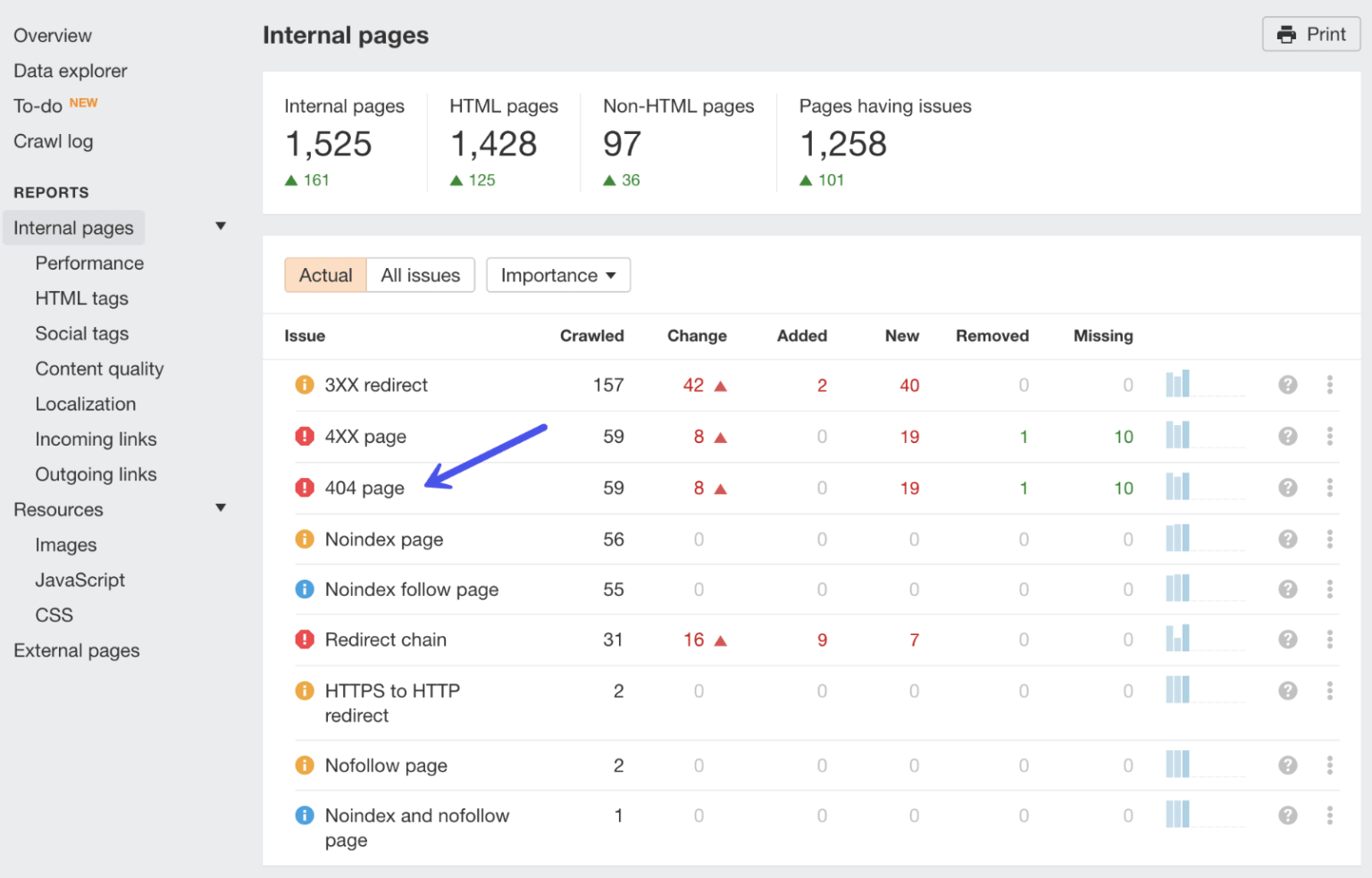 Check Broken Links Using Google Search Console
Google creates Google Search Console to assist webmasters in their site visibility management. Besides keywords, impressions, and clicks, it shows site owners 404 errors of broken links.
You must have been clear about how to set up Google Search Console. If not, learn from this Google Search Console guide. Then, log in to your Console account and visit Coverage on the menu. You can discover 404 errors under the Errors part.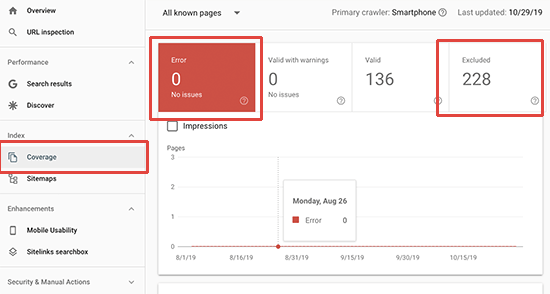 Notify WordPress Broken Links via Screaming Frog Software
SEO specialists and webmasters are aware of Screaming Frog as a free popular SEO tool to modify dead links. It works on many systems, including Windows, macOS, and Ubuntu.
Download and install Screaming Frog for your computer, then you're ready to find broken links.
Open the software on your device and add your site's address to the box at the top and hit Start
Expand the Response Codes option on the left side and filter 404 pages
Click on the Inlinks button at the bottom to look for 404 links
Use Broken Link Checker WordPress Plugin
Yielded at 700 thousand active installs from pole to pole, Broken Link Checker is currently the best plugin to detect broken links for WordPress sites, both internal and external links.
To get started with the plugin, follow our guide below.
Install and activate the Broken Link Checker plugin
2. Open Tools → Broken Links from your admin menu
You now can see a report listing all broken internal and external links.
While other tools above help you find broken links only, this plugin gives you a helping hand in fixing them. Simply hover your desired URL in the report and select Edit URL.
That's it!
Don't Let Broken Links Destroy Your WordPress Site
Broken links affect your site's SEO and the user experience. They're the result of deleted pages, site domain movement, typos in URLs, and permalink updates.
Hence, it's necessary to detect and fix these links. We've gone over the 4 different ways to save your site from dead links, using web-based SEO tools, the Screaming Frog software, Google Search Console, and the Broken Link Check plugin.
Are there any of the mentioned methods that confuses you? Let us know your issues and we can help you dress them out in the comment section below.