A contact form is becoming an indispensable part of a website thanks to its convenience. This is the best way to let visitors contact you in case they need any assistants. Unfortunately, WordPress doesn't have a built-in option for you to create one. You must need to look for a third party plugin to help you build the most suitable and well-crafted contact form.
In this article, we will discuss further contact form's meaning, purpose, and what contact form plugin is standout among several options in the WordPress repository. Remember to stick to the end to learn a thin-on-the-ground tip about protecting your website dynamically.
It's time to explore!
What is a Contact Form?
Just like its name indicates, contact form is a form created to let users communicate with the site owner or the support team. This form is placed on a separate page on your website and has some necessary fields such as name, email, and topics.
Depending on your intention, if you want to make this contact form cover all of the Q&A inquiries of your website including support, review, selling, and guest post, you should put more fields to the form. Attachment options, company websites, and even mailing address fields also should be put in your consideration.
Contact Form Use Cases
Beside filling the required fields in the contact form, users also have the opportunities to actively interact with your site by uploading their files. The most common cases that you might want to allow users to submit their files through your contact form including:
Resume or Portfolio for job applications
Customers' information or special documents to provide details for customer support
Blog post, infographic for a guest post or content contribution
Audios for podcast
Different from receiving emails introducing new features, new products, or promotions that are often considered as spam, the files you got from the contact form are more serious and valuable to the development of your website.
Why Should You Need a Contact Form on Your WordPress site?
Back then, the Internet was still something new and WordPress just released to the market. It's totally fine for you to just simply put your own email address on the website. Imagining with the lightning speed growth of the Internet and the traffic your website gets, how many emails will come to your mailbox per day?
It'd be better for you to only let important users have your personal email address, and leave the contact form to take care of the general visitors.
Having a form on the website for users to submit their request to you or your team, in fact, benefits you in several aspects.
Reduce Spam: Several spambots and tools are created to spy websites to get the email address. If you accidentally show your email address once somewhere on the Internet, predictably you will get tons of spam emails immediately. So hiding email addresses of both you and your staff and showing contact form instead can help you get rid of all the spam emails.
 Save time: When asking which topic the contact form covers, you can classify them based on those topics. It fastens up the process of responding, managing, and tracking those requests.
Organize information: Instead of writing a long instruction to tell users what information you want them to include in the email, simply add those required fields in the contact form. It tells users what exactly you are looking for.
Add a Contact Form in WordPress Using Contact Form 7
Among several options in the WordPress repository, Contact Form 7 is the most well-known plugin with over 5 million active installations speaking for itself. The plugin allows users to create and manage multiple contact forms. Plus, customizing forms and email content becomes easier with simple markup.
Contact Form 7's popularity mostly because of its powerful and friendly. Lots of third-party plugins and extensions are well compatible with it.
Install Contact Form 7
Before setting up your contact form, you need to download and install Contact Form 7 first. In your admin dashboard, select Plugins → Add New
Search for the plugin and hit Install Now
Set up the contact form
After activating the plugin, look for the plugin settings in the new Contact section of your WordPress dashboard.
Click on Contact Forms, you'll see the default "Contact Form 1" which is ready to use. It contains most of the necessary fields that a basic form should have including sender name, email, subject, message, and a send button.
Similarly, when creating a new form in the Add New, the plugin automatically adds certain fields to it just the same as the default one.
Depending on your site requirements, you might need to add extra fields to the form. The plugin doesn't provide the modern drag and drop interface, but it has the tag-generator button so that you can select desired form-tags.
For example, if you want to add a drop-down menu to the subject in order to let users choose a specific topic for their form, simply move the mouse and put the cursor right after the word "Subject," then click the drop-down menu tag.
In the pop-up window of the drop-down menu, rename the tag. Add the options by typing in what possible topics users might need. You're able to make it required fields as well as allow users to select multiple options.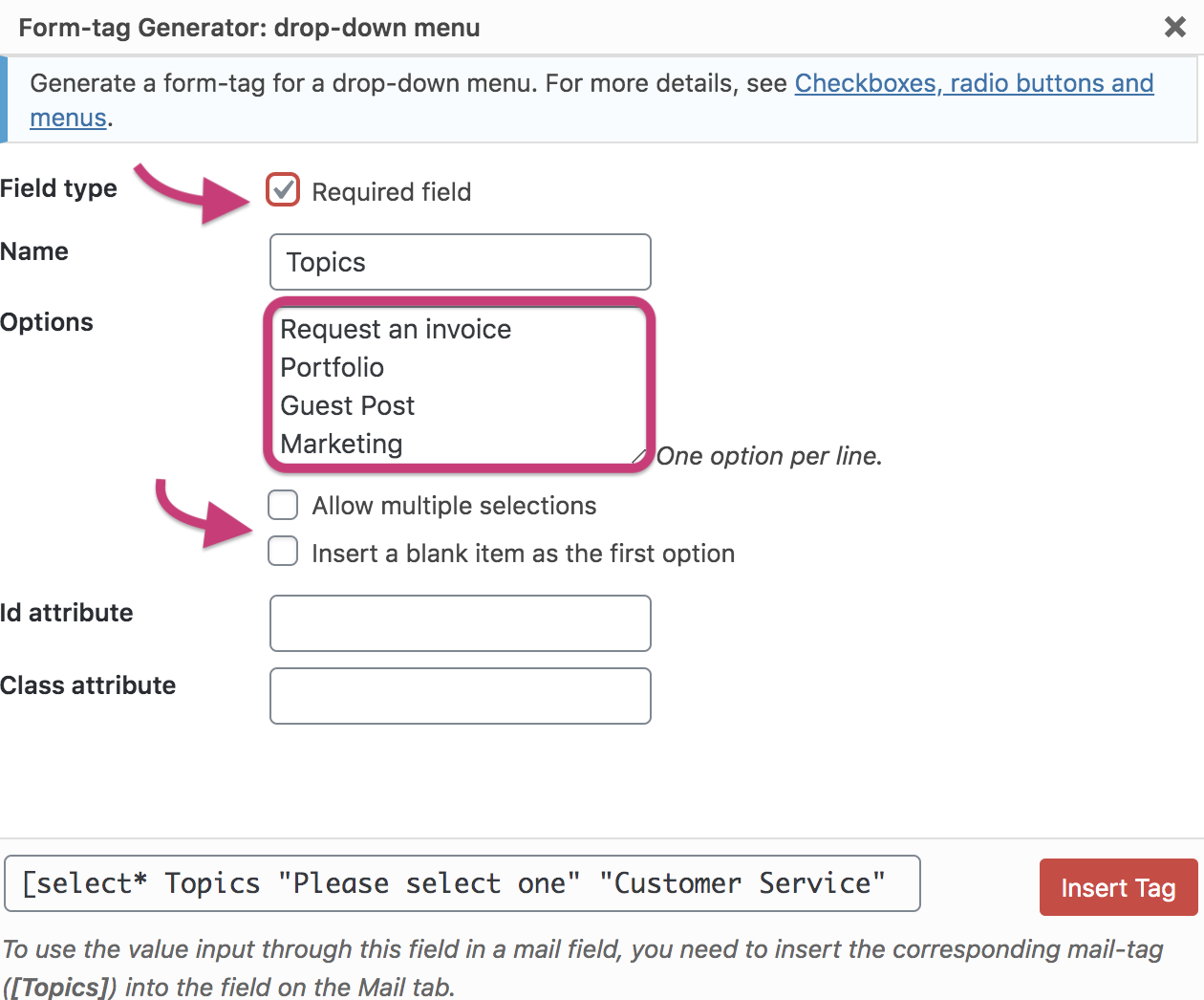 In case you offer a more dynamic interaction with users, you might want to have an upload section in the contact form as well. To create it, select the file tag. Rename the tag, set the limitation for upload files along with what file types are acceptable. Then, the template for the file will look like this [file UploadFiles limit:100MB file types:.mp3|.mp4|.wav|.doc|.xls|.mpg|.mov|and|.wmv|.ppt|and|.pdf|.png|.gif|and|.jpg]
Add a contact form to a page
Once you're done with setting the contact form. Now you need to create a page to insert this contact form into.
Before adding a new page as normal, copy the shortcode next to the form that you want to add to first.
Open that new page and paste the shortcode in the text area where you want the contact form will be displayed.
Here is how our contact form looks like when using Contact Form 7 to create.
Protect Uploaded Files through Contact Form with Prevent Direct Access Gold
Recognized as the best WordPress plugin for file protection, Prevent Direct Access (PDA) Gold allows you to protect unlimited file types uploaded directly from the Media or via the contact form.
Beside making the uploaded files untouchable to unauthorized users, PDA Gold also blocks search engines from indexing them. Any secured files will no longer appear on the search engine. In other words, limit direct access from general users, especially the harmful ones.
The plugin helps you restrict protected file access to specific user roles depending on your settings. Take advantage of that you should manage and grant the file access permission to different user roles for better protection.
Prevent Direct Access Gold understands what website owners are looking for, so it released a useful Contact Form Integration to support the protection of files uploaded through the contact form.
After downloading and activating the Contact Form Integration extension, navigate to the plugin settings in your admin dashboard, and switch to tab Form & ACF
Turn on the switch for Contact Form 7 and hit Save Changes. The plugin will automatically protect any files uploaded through a contact form created by Contact Form 7.
Make Your WordPress Site Interactive and Secure
Most of the websites on the Internet are having a contact form page, yours shouldn't be an exception. The contact form will help you interact with your user faster and more conveniently. It also makes the requirements for the request form more consistent by adding all the necessary fields to the form. Using a contact form means you no longer have to suffer from email spamming, due to its benefit of not showing your email to the general users.
If you allow users to upload files through the contact form, you should think of a solution to protect those files as well. Prevent Direct Access Gold  and its Contact Form Integration are the best plugins in protecting files no matter what types they are, where they are uploaded from. Once they're on your website, they will be shielded from the dangerous world outside.