Sliders are commonly used in WordPress sites to showcase images, text, and even videos in a confined area. They help save your page space and organize elements more effectively.
You can use WordPress sliders in various cases. Some examples include displaying projects on your portfolio pages, introducing top-selling products, or presenting testimonials.
In fact, WordPress sliders may affect your page speed since it has to load a lot of images or different content types. Some sliders are not responsive to mobile devices either. You need to create a mobile-friendly slider along with improving the page load time.
In this article, we'll center on how to add a slider to WordPress. A solution to protect your image slider will wrap up this post. But first, let's start with common situations when you need a slider on your site.
When You Need to Create a Slider in WordPress
WordPress sliders hand you a good opportunity to lay out interesting content in an eye-catching way. As a result, you can capture user attention and make sure that they stick around on your site.
Plus, chances are that they will slide your images or text. This helps reduce the bounce rate and prevents visitors from leaving your site without taking any action.
There are many times you think of adding a slider to your WordPress site without your notice. Here are the popular cases:
A slider allows you to feature projects in your portfolio pages. If you're creative professionals, let's say photographers, designers, and artists, this is the feature you should hunt for. Clients can easily go through your visual work without any hassle.
Presenting product images as a slider is always a smart idea to encourage visitors to view different angles of a product. Once having a better visualization of your item, they can make a purchase quickly.
Highlighting new products, holiday sales, or special offers on mobile devices is made simple with WordPress sliders. Unlike desktop screens, you can create sliders to make your images fit small screens better.
Customers' reviews gain trust from users. Thanks to WordPress slider plugins, putting testimonials on your site is no longer a complicated task. You're able to combine multiple quotes of clients in a section of your Home or About page.
How to Add Slider in WordPress
There are several WordPress themes providing a simple slide on their home page design. Still, they are not really customized and don't bring the full capabilities that a slider should have. You're recommended to install a plugin for the most fully-featured slider. It will enable you to add transition effects, modify the text, create a unique design, etc.
Receiving over 800 thousand active installations, Smart Slider 3 currently takes the leading position in the WordPress slider niche. You can publish a slider anywhere on your site.
Below is the instruction on how to insert a slider using Smart Slider 3 and Elementor, the most popular page builder for WordPress at the moment.
You can refer to our tutorial video for visual instructions.
Step 1: Install Smart Slider Plugin
First, install and activate the Smart Slider 3 plugin on your site by going to Plugins → Add New in the admin dashboard.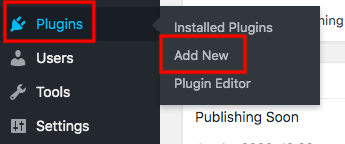 Next, type 'smart slider 3' in the keyword box. Once you find the plugin in the results, click the 'Install Now' and 'Activate' buttons.
Step 2: Add New Slider
Upon activation, a new Smart Slider section is added to your admin menu. Open it and you'll see a dashboard containing all your sliders. Click on the plus button to add a new slider project.
If you're a beginner, let's start with pre-designed templates for good-looking sliders. In case you're familiar with Smart Slider 3, simply pick the Create a New Project option.
Select 'Slider' for Project Type, 'Simple' for Slider Type, and navigate the slider settings such as name, width, height, and layout. Then, click Create.
After clicking on the ADD SLIDE box, it shows you a list of slide types, including Image, Bank, Post, Static Overlay, and Dynamic Slider. Let's pick Image one.
You can drag and drop your image in the slider or choose them from the Media Library. You're able to edit the slider by moving sliders back or forward, duplicating, copying, or deleting images. You'll have full control over your slider appearance right on the project settings page.
Once done, don't forget to save your settings.
After that, head to Pages or Posts and open an existing page or add a new one.
In the Elementor Elements, find and pick the Smart Slider widget to add to your page content.
It enables you to select a slider from the dropdown list or enter the slider ID.
Finally, update or publish the post.
Protect WordPress Image Sliders
There may be times that you intend to safeguard your image sliders. Take portfolio pages as an example. You just want clients to view them while normal site visitors are all restricted.
To achieve that, you need help from the PDA Gold plugin. It allows you to stop unauthorized users from viewing your image sliders. Only permitted clients can view them.
It takes you only a few clicks to secure your image sliders. After opening the Media Library and selecting images from there, click 'Protect this file.'
Password Protect WordPress Sliders
Another option to make your slider private is to password protect it. We suggest locking parts of your content, in the slider areas only.
PPWP Pro comes as an ideal solution in this case. The plugin sheds light on partial content protection. All you need to do is just wrap your slider with a shortcode. There is no complex configuration needed.
First, open the page with your slider. Then, enter the shortcode below in the slider area.
[ppwp passwords= "password1 password2"] Your content [/ppwp]
Replace 'Your content' with the slider you want to protect and update your post.
Ready to Create a Slider in WordPress?
Sliders bring various benefits to your WordPress site. You can showcase projects in the portfolio pages, display customers' testimonials, or present any other special content.
We've guided you through the steps to add a slider to WordPress using the Smart Slider 3 plugin.
If you need a solution to protect your image slider, either secure images before adding slides with PDA Gold or wrap the slider with PPWP Pro shortcode to lock it.
Download PDA Gold and PPWP Pro to protect your slider now!