When completing an online transaction, the buyers will see a Thank you page showing the details of products as well as the billing address information. By default WooCommerce Thank you page is pretty simple and blank.
A lot of businesses realize this page can be customized to a higher level so that they can attract customers to more potential purchases, or simply make a difference for their brand.
Optimizing the checkout process plays a crucial role in boosting your online store sales. Apart from displaying different WooCommerce social login options to creating a WooCommerce one-page checkout, you should also customize your thank you page.
Shop owners around the world are asking for the same question: How to customize a WooCommerce thank you page? This article will provide you with 4 strategies to make the custom thank you page more remarkable. Plus, you will learn an effective way to create the page effortlessly along with protecting it from being shared or viewed by unwanted guests.
How to Make a Strategic Custom WooCommerce Thank You Page
Once a customer places an order, he already puts his belief in your websites. You should grasp this opportunity to develop the interaction and turn that guest into a loyal customer.
The fact that the thank you page is probably the only page that your members or even guests will read over and over all the information on it. Hence, there are several strategies you can apply to that page to make it a strong message delivery.
Add social media sharing options
One of the most effective marketing strategies all the time is the word-of-mouth method. Apparently, social media seems to do the best job of it. That's why the tycoon of online selling – Amazon –  add options for sharing purchases on Facebook and Twitter to its thank you page.
When Amazon customers share the product they just bought on their social media sites, their friends and family will be curious about the products. And it can lead to even more potential purchases.
Amazon doesn't need to pay a penny for this advertising, the customers do it for them. Now you can see, a little customization in the thank you page can bring a huge revenue at the end of the day.
Include video instruction, support channel, and related questions
If the product you sell is easy to get confused for new users, especially software products, you should put a tutorial video to help customers understand the product better.
You can also add your support channels and frequently asked questions to the thank you page. This will save your new customer time and also make them feel more satisfied with their purchases.
Give promotion code for future orders
As a welcome gift for your customers when they've just made the first order from your website, you might want to offer a discount coupon for their next purchase. This will stimulate their desire to stick to your website and browse for more products to buy.
Just like Kate Spade, they combine sharing promotion code by adding a recommendation section. It will encourage users to sign up for their newsletter or email list. This way, a thank you page is no longer a boring and unattractive page to customers.
Show customer testimonials
Don't let your customers leave the thank you page with a doubt. It may lead to order cancellation if they heard something not right about your products. So adding good customer reviews is another smart method to reinforce the belief from customers, especially new customers.
Now you sure understand the importance and effectiveness of a well-designed custom thank you page. Let's move on to the next part to know how to customize a thank you page using only one free and dynamic plugin.
How to Create a Custom Thank You Page
Among several plugins in the WordPress repository supporting thank you page creation, Next Move is the most popular which has received a lot of positive feedback from the WordPress community.
Dedicated to helping customers customize WooCommerce thank you pages, the plugin is well compatible with WooCommerce and easy to modify.
Step 1: Install and activate Next Move Lite
In the Dashboard setting, find Plugins and search for "Next Move Lite". Or you can find it on WordPress.org and click download.
Step 2: Navigate to Next Move settings
The plugin settings can be found inside the WooCommerce settings window. You will see the default Thank you page that the plugin already created for you. That page has all the necessary components including an order confirmation, order details, customer details, and additional information.

Step 3: Next Move lite Editing Window
Now click on Thank You Page, a new settings window will appear.
You might feel a little too much with the customization area. It's because the plugin provides so many details that you can add to your thank you page. But once you get used to it, you'll find it all makes sense.
The customizer area divides the steps into numbered sections for you to follow easier. Under 1 – Select Components, you will see a lot of options relating to ordering as well as content to add to the thank you page. If you pay for Next Move Pro, you will get access to Premium Components such as recently viewed, dynamic coupons, social share, or join us, etc.
For each component that you selected, it will appear on the 2 – Edit Component column. You are allowed to edit all the information and the settings of the selected one from adding a heading, description, to editing font size, font color, or background color…
After editing the components, let's move to 3 – Choose Layouts and 4 – Arrange Components. You can select to put the information on the thank you page in one long column or divide it into two different columns based on your intention. In section number 4, you just need to drag and drop those components in your desired order.
This is the example of our custom Thank You page
How to Protect WooCommerce Custom Thank You Page
You may wonder why you should protect WooCommerce thank you page. Well, normally the thank you page often contains a product downloadable link. To prevent your customers from sharing the thank you page to others, you should restrict the access to that customer only. Anyone accessing the thank you page without making any transaction to the product before will be redirected to the 404 error page.
Prevent Direct Access (PDA) Gold will help you do that with ease. Recognized as the top plugin to protect WordPress files, recently the plugin introduces a powerful extension Protect Pages and Post Gold. Its main purpose is to help users protect pages, posts, and custom post types.
After installing and activating PDA Gold and Protect Pages & Posts Gold, open the plugin settings in your Admin Dashboard. You will find the plugin under the name of Content Protection.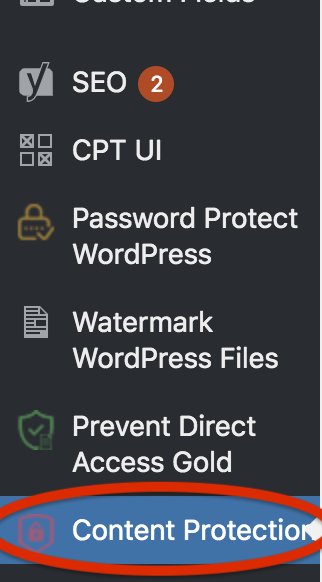 Under the Post Type Protection drop-down, choose Thank You page
This will tell the plugin that this particular page needs to be protected and turned into a private page.
Scroll down to reach Set Access Permission, change the default settings from Admin users to Choose custom roles in the drop-down.
Now you need to set which custom roles will get the access to your thank you page. Since only users placing the orders can see the thank you page, you should choose Customer for the box Grant access to these user roles only.
Up to this step, your thank you page is fully protected and only accessed by customers only. Visitors other than customers who get in through the original URL won't see anything on this page but the error message.
Level Up Your Thank You Page and Make It Single-Serve
Having customers place the orders of your products is a big success. However, what you can do next with those customers is another considerable question. With the basic payment, the thank you page is pretty much your final "conversation" with customers. Hence, you'd better know how to make that conversation last longer.
Thanks to the support from Next Move Lite, you're able to add more interesting fields to your thank you page and make it more informative and reliable to customers. Follow the instruction above and see how your thank you page turns out.
Also, your product downloadable links on the thank you page may be shared with a lot of people. Using PDA Gold to protect every single media file uploaded on your WordPress site, and installing the Protect WordPress Pages & Posts plugin to secure your thank you page as well as restrict access to specific custom user roles.