For a long time, PDF files have gained trust from millions of users all over the world, thanks to its excellent document formatting. Also, PDF is a very secure document type if you know how to password protect it right. No wonder why several WordPress users are trying to embed a PDF into their posts or pages as a useful way to display and deliver the content's message.
Unfortunately, WordPress only allows users to embed images and videos, while displaying PDF is still not possible with its default settings. Your PDF files just show as a link when you embedded them into your posts or pages. This is for sure not what you're looking for.
In this article, let's see how to display and protect PDF files in WordPress by using one simple yet powerful Watermark WordPress Files plugin.
Why Do You Need to Display PDF in WordPress Post?
The main reason why you should insert PDF as images is to prevent users from leaving your website. Since WordPress displays embedded PDF as a link by default, whenever visitors want to read the PDF's content, they will be redirected to another page or switch to a new tab. This is totally not good for your business. It's because the longer visitors stay on your website, the higher chance to increase conversion rate.
In some cases, the information you want to provide to users is valuable and confidential such as course materials, ebooks, and reports. It would be painful trying to present them on other document types like Word, or straight inside the WordPress post. Not even mentioning the inferior formatting, using different formats like webpage other than PDF to display content is the same as suffering more information leak risk. Users believe in PDF thanks to its high security. Protecting PDF files always proves better effectiveness.
In addition, having a WordPress PDF viewer brings a user-friendly experience for visitors. They might feel it convenient and familiar since it looks similar to the interface of Amazon Kindle or Nook.
Display PDF using Watermark WordPress Files
After you understand why it would be so much better if you embed and display a PDF file to your post rather than showing a link only, it's time to install the Watermark WordPress Files plugin.
After downloading and installing, in your WordPress admin dashboard, open Plugins, find Watermark WordPress Files and activate it.
Create or edit your existing post or page, then click on the PDF viewer button in the WordPress post editor toolbar to embed the PDF files into it.
Once you click to that button, it will open a pop-up window to choose which PDF files you want to add to your post or page. On the right side, you can change the PDF's title, description, and get its link as well. After you're done, simply hit Choose PDF.
You will see the shortcode like this in your post editing instead of the PDF files.
[pda_pdf_viewer id=487 title="5_Ways_to_Prevent_Image_Theft_in_WordPress"] 
This code is formatted from the original one [pda_pdf_viewer id=**** title="your-file-title"]. In fact, this shortcode is very convenient for you to make any changes if needed.
You are able to change the PDF file by replacing the "id" attribute with the file id which can be found when hovering the mouse on the desired PDF filename. Adding width and height attributes to the shortcode will let you adjust the display of PDF files.
Once you finish editing your post as well as the embedded PDF, hit the Publish button to see how your PDF files turn out.
How to Protect PDF files and Media Files in WordPress
When uploading your PDF online, you're probably worried about how to protect it properly. Embedding the PDF files to your posts will make it exposed to everyone. Hence, the situation could be you want to show it as a demo for users, or it's a marketing strategy to attract visitors. No matter what the case it'll be, the Watermark WordPress Files will ease the pain for you by securing them professionally.
Add watermark to your PDF
The main purpose of the Watermark WordPress Files plugin is to help users protect their PDF files effectively. To determine your property, you should add a watermark to the PDF files that will be displayed on the post or page.
Simply click to the Add Watermark feature under your desired PDF file in the Media library, to add a text or image on your PDF.

This facilitates you to show the PDF file as well as stop users from copying or stealing it. Even though they can have the content of your PDF,  it's not a clear or ready-to-use version. In other words, downloading or copying a PDF with a watermark is the same as using an invalid file.
Hide download button for the PDF viewer
Choosing not to show a download button in the PDF viewer will prevent users from downloading your PDF files. If you don't want to use a watermark for the PDF file, disabling the option to download the file is another effective alternative method.
In your admin dashboard look for the Watermark WordPress Files to access its settings.
Right in the General tab, you could see the Allow users to download PDF files feature. The plugin wants to prevent any potential risk happening to your PDF files so it disables it by default. You might turn it on for different reasons, but allowing users to download doesn't mean the download button will appear. You're able to make that button visible or not.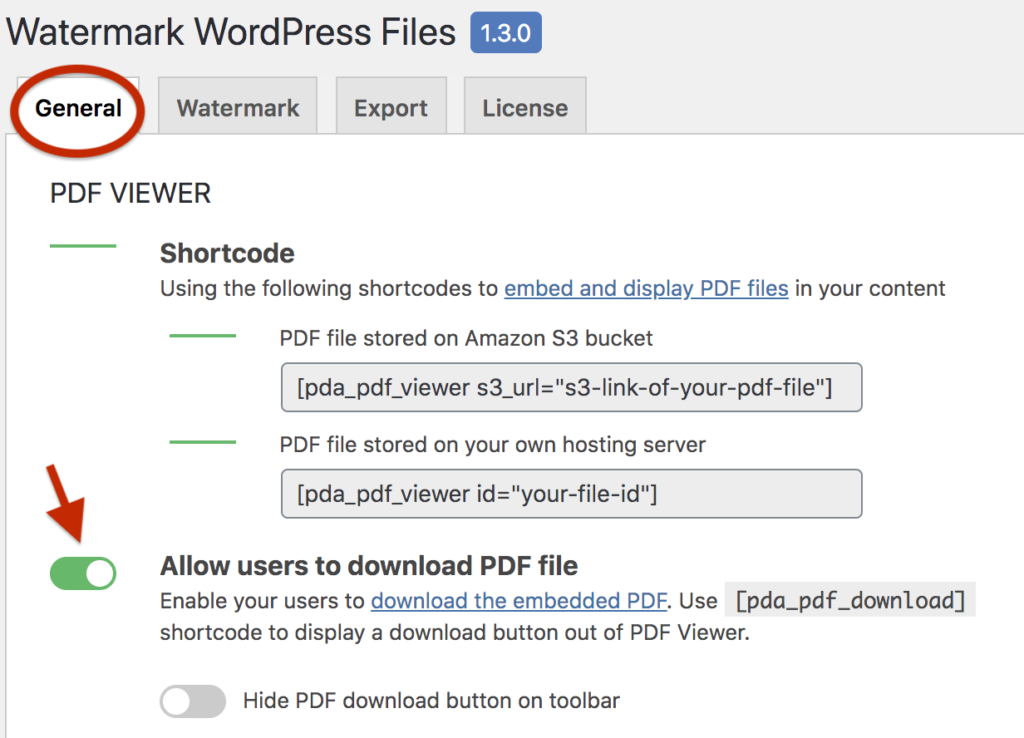 Make PDF File Look More Attractive And Secure When Uploading On WordPress
Showing the PDF files instead of a link proves its efficiency when helping you keep users stay in your site longer and also make your site more user-friendly than others. With the Watermark WordPress Files plugin, you are more than welcome to display any PDF file in your media library on your posts or pages. Provide a powerful PDF viewer, visitors will find it handy and modern since it's not much different from other ebook readers.
Even better, the plugin allows users not only to add watermark to their PDF files but also to disable the download button on the PDF viewer. In short, your PDF will be double shielded and presented neatly on your website with just one useful plugin.