Are you tired of customizing dynamic watermarks for every single PDF file?
Let's make use of our Watermark Presets function, which allows you to create watermarks in advance and apply them to multiple files without hassle.
Requirements:
How to Create Watermark Presets
Step 1: Go to "Watermark WordPress Files" > "Watermark Presets" under your admin dashboard.
Step 2: Click on "Add New" button to create a new Watermark Preset.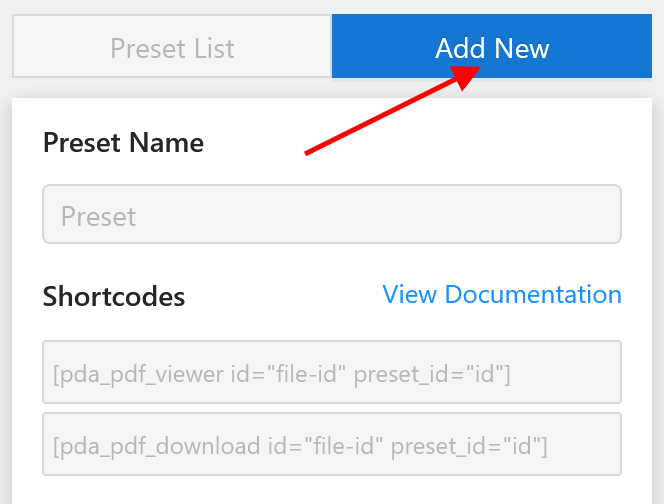 In the displayed popup, add your own preset name and press "Add New" button.
Step 3: Customize your Watermark Preset.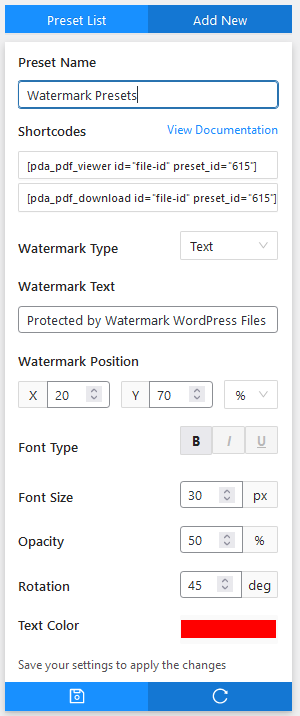 You can set the text to be used as your dynamic watermark under Watermark Text section.
Use the following dynamic texts to dynamically display the details of the user who is viewing your PDF file.
| | |
| --- | --- |
| %user_id% | replaced with user id |
| %username% | replaced with username |
| %display_name% | replaced with user's display name |
| %user_firstname% | replaced with user's first name |
| %user_lastname% | replaced with user's last name |
| %user_nicename% | replaced with user's nickname |
| %user_email% | replaced with user's email |
Don't forget to press the "Save" button to save all your settings.
Please note that the settings above will be applied for all PDF files. If you want to customize different watermark styles for some specific PDF files, use shortcode attributes instead.
Step 4: Apply your Watermark Preset to PDF files using auto-generated shortcodes.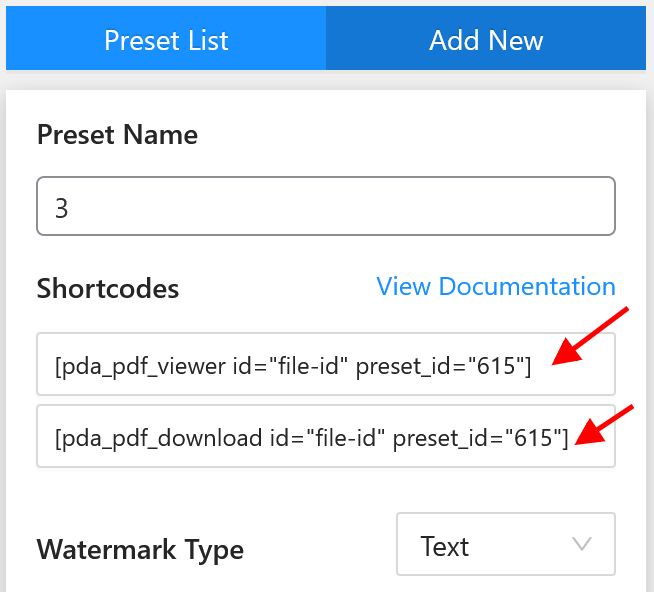 [pda_pdf_viewer] shortcode allows you to display dynamic watermarks when users are viewing your files online.
[pda_pdf_download] shortcode, in the meantime, enables users to download your PDF files with dynamic watermarks.
You can get the ID number by hovering over the desired post title.