This article will guide you on how to convert WordPress pages and posts to PDFs with a single click.
You can also export multiple WordPress pages & posts to a single PDF file easily.
Requirement:
Export a page or post to PDF
After activating our plugin successfully, go to edit the content that you want to export.
You will see a new "Export this post to PDF" button shown up in the right sidebar.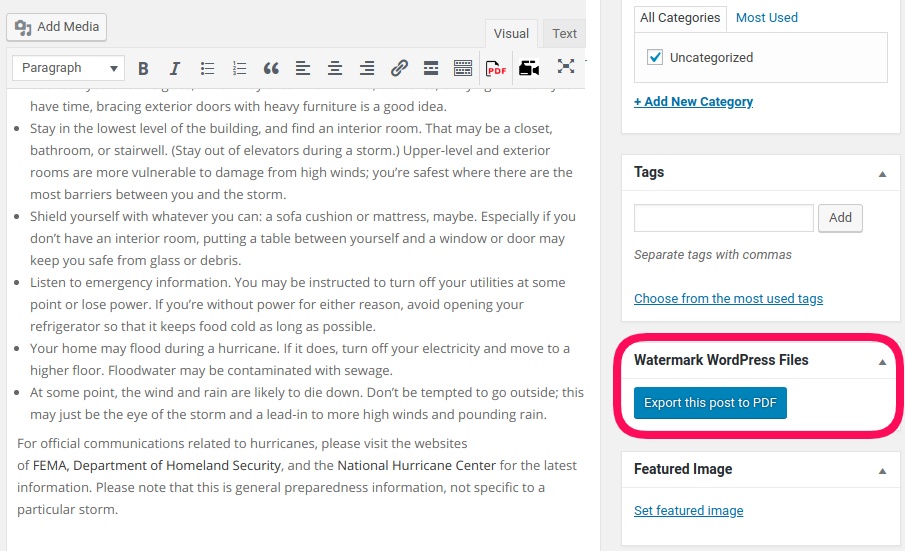 Simply click on this button to export the content. That's it!
Remember to "Update" your article before exporting for the latest content.
Compatible with WPBakery Page Builder
To export the content built by WPBakery Page Builder to PDF, simply add the following string to the page URL.
?pda-print=pdf&lib=m
Here is an example: https://passwordprotectwp.com/demo/password-access-levels/?pda-print=pdf&lib=m
Customize PDF template
You might want to style the PDF file by adding a header, footer or page numbers.
To do so, navigate to Watermark WordPress Files >> Export tab from your admin dashboard.
Edit the available options as you want, then save changes to apply the style to all your future PDFs.
Logic & Limitations
You will be able to change the content's font size but not the font type (family). We only support displaying content with our default font type.
All image file types including JPEG, PNG, and GIF will be shown in the PDF file no matter if they're protected by Prevent Direct Access Gold plugin or not.
Other embedded files such as MP3, MP4, and PDF will display via URLs.
Embedded links still work well on the PDF file.
Removed media files will be blank.