Congratulations! You've made a great choice and are on your way to getting your private WordPress media files protected!
First things first, please make sure you've installed and activated Prevent Direct Access Gold license successfully on your website. If you're using IIS and NGNIX hosting such as WPEngine and Bitnami, please make sure that you follow our instructions to configure our plugin's redirect rules accordingly. Otherwise, your private files won't be protected properly.
Now that you've got our Gold version set up correctly, it's time to start protecting your private media files!
Start with Settings: Set File Access Permission
First of all, let's set some basic settings for your private files. Under your WordPress admin, click on "Prevent Direct Access Gold" to access our plugin's settings.
Set file access permission: who can access your protected files, i.e. file's author, admins or logged-in users

Set no access page:

where to redirect unauthorized users to when they attempt to access your private files. Default: 404 page

Auto-protect new file uploads:

protect your future uploaded files automatically
Enable other security options
Depending on your circumstances, you may want to enable "prevent hotlinking", "disable directory listing" and "hide WordPress version" options.
Find out about all Settings options of Prevent Direct Access Gold.
Protect Your Private Files Directly Under Media Library
Go to Media library
Locate the files you want to protect, preferably under List view
Protect them with just a single click
See it in action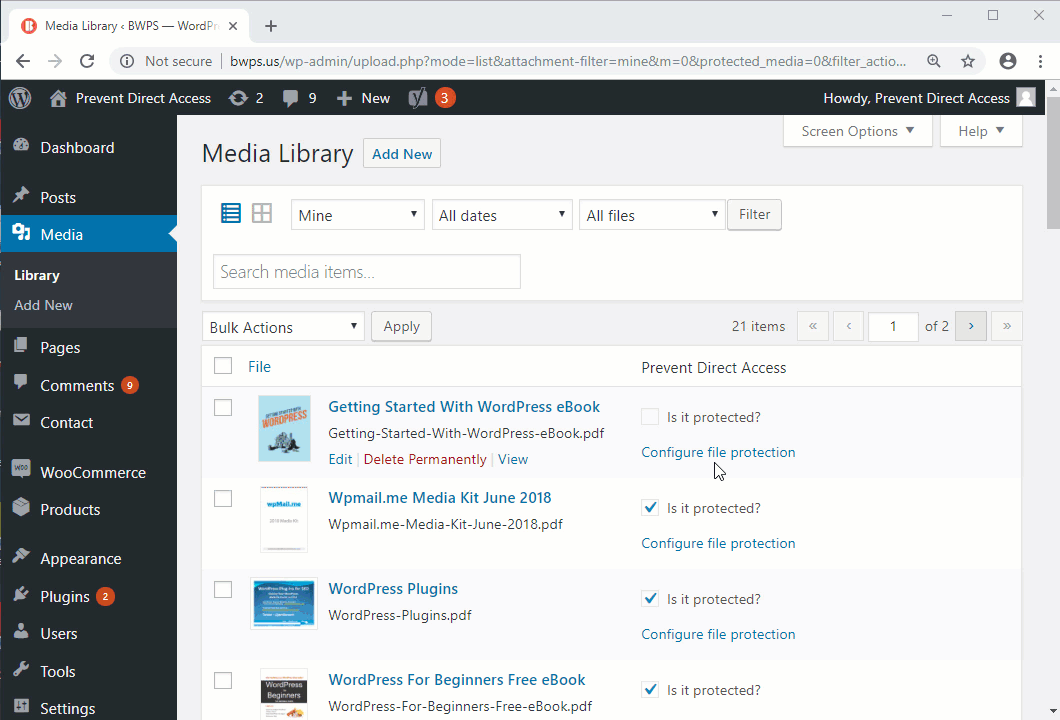 For more information, please check out these tutorials and blog posts below: