You might occasionally wonder what else you can do to store your online content besides backing it up on cloud service. Or you are running a WordPress site containing a lot of content that could lose users' engagement due to TL; DR (too long; didn't read) incident.
It's time to consider converting your pages and posts to the more digestible formats that users can read easily. This will also allow you to arrange and manage the content more effectively.
Word Doc and PDF files are the two most popular file formats to save files as. Before discovering how to export your content to these file formats, let's distinguish them first.
Differences Between Word DOC and PDF Files
Both WordDoc and PDF are global file formats that store any type of document.
Word DOC is a product of Microsoft and based on the Microsoft Word platform. Users can create, edit, insert images, graphs in the file and so much more.
Before you read further.... Free Download (PDF)
Secret Google Search Tactic That Will Skyrocket Your Sales, Connect You to the Perfect Partners, Influencers & Affiliates and Send Your Google Rankings Soaring! FREE when you sign up for Digital Creators Edge, a free newsletter for Digital Creators who wish to take their business to the next level.
However, you can only open and edit DOC files if you install Microsoft Word on your device. Doing that on other applications is impossible.
Adobe Acrobat is a specialized software dedicated to making PDF (portable document format) files. You can open and edit it through any third-party developers. Even though this file format has become famous for its portability, the ability to edit it is limited.
The good news is documents converted to PDF files normally maintain the exact content and its appearance.
Which Is The Best File Format?
Each file format offers its advantages and disadvantages. Depending on the content, DOC may be more suitable than PDF and vice versa, PDF can be better than DOC in some situations.
If your post or page includes a lot of images and contains long text, you should export it to a Doc file.
Since the images in DOC are easy to extract and reuse, it won't take much time for you to re-find the original ones. Also, DOC seems to be more powerful to edit large areas of text than the competitor.
Meanwhile, PDF shows its strength in retaining the content's quality and style. It will keep documents layout precise with high-quality. All the intra-document links or hyperlinks are maintained consistently too.
After converting, all the media files linked in the original post still works well in the new PDF file. Especially, everyone can open and see the PDF files through any web browsers without installing a certain application.
The best practice here is to incorporate the use of DOC and PDF. You can export the original posts to DOC first to modify the content and reformat it to PDF once done. Or you're satisfied with what you've done to your WordPress posts, and just want to export them to easier-to-control files, select PDF.
Now, after you understand the basic use of DOC and PDF, and determine which file format you want to export, let the plugins do their job.
Aspose – Export WordPress Post to DOC
This famous plugin provides a user-friendly interface that helps users export their posts to DOC simply and quickly.
Step 1
At first, you need to find the plugin on WordPress.org and install it.
To activate the plugin, you need to register a free account on the Aspose official website to get the API Key.
Step 2
After hitting Get my API key, you will be able to see another window pops up with the App SID and App Key.

Step 3
From your WordPress Admin panel, find Aspose Doc Export, then copy and paste your App SID and App Key to the first two top fields.
You can also adjust other settings on the same Aspose Setting panel. When you're happy with your setting, hit the Save Option at the bottom.
Step 4
Go to the Posts section, and select "Aspose Export to file" in the drop-down and choose what posts you want to export and then hit apply.

Step 5
Your file will be downloaded as the zip format. So you have to extract it to see all the posts. The download time might make up from a few seconds to a few minutes depending on how many posts you want to export at once. You're all set.  Easy and effective, right?
Watermark WordPress Files – Export WP Posts to PDF Files
Watermark WordPress File proves one of the most powerful extensions to help WordPress users to export their posts and pages to PDF files with ease.
Export one single post
Upon installation and activation, you can go directly to your desired post. Here, you can make as many adjustments as you want. Then on the right sidebar, you will see a new "Export this post to PDF" button. Just one click and your posts are exported to PDF.

Export multiple posts & pages to one single or multiple PDF files
In case you intend to export more than one post and want to make some changes in the export setting at the same time, let's follow the instructions below.
Step 1
Install and activate the Water WordPress Files plugin. After you're done with all the plugin activation, navigate to Water WordPress Files menu under Admin Settings panel
Step 2
Under the Export Multiple Pages section, select the contents you want to export.
Step 3
The plugin offers powerful features allowing you to customize the PDF template, e.g. header, footer, the end of each page, image cover, page number, table of contents and so on.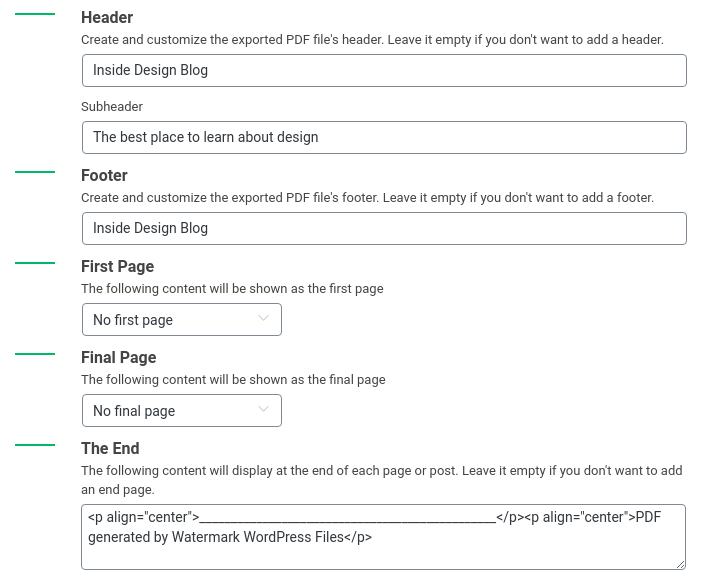 Just a small notice, you can change the font size but the font style. All the media files including MP3 and MP4 will be shown via URLs. If the media files are removed, it will show as a blank space.
Step 4
Once making all the necessary changes for the PDF template, simply provide a name for the exported PDF file. Then hit the Export PDF button and your files are on the way.

Don't Forget to Protect Your DOC and PDF Files
In case you are so busy that after exporting those files, just save them there in the WordPress media library. You might want to protect your files from unwanted access or download. With Prevent Direct Access Gold, any type of file will be protected entirely.
Under the plugin setting panel, you're able to set up access to your files based on user roles. This means only paid members or logged-in users can see or download your files.
Prevent Direct Access Gold also stops Google or any search engines from indexing your files. Uninvited guests can't approach your files through search results.
And in case you want a custom setting to control download files on your WordPress site, the plugin allows you to create unlimited download links, delete or deactivate download links and even more.
To Sum up
Before deciding to export your posts & pages to document format files, DOC & PDF, you need to consider carefully the special features as well as the purpose of each one. DOC is edit-friendly but not as portable as PDF.
In short, with the three recommended effective plugins, e.g. Aspose, Watermark WordPress files, and Prevent Direct Access, the management of your WordPress site is right in your hand.
Let me know if you have any questions regarding this article and feel free to leave your thoughts in the comment section below.