Access Restriction (AR) extension restricts WordPress file access to specific users or user roles. It also allows you to protect entire folders under WordPress "uploads" and root directory as well as restricting your website access to certain IP addresses.
Features
Individual File Access Permission
The extension allows specific users or user roles to access your private images and documents. In other words, it activates all individual "File Access Permission" options available on Prevent Direct Access Gold for each and every protected file, includes:
Custom roles: choose multiple user roles who can access your protected files
Custom users: give specific users permission to access your private files
Grant users access to protected files without login if they have visited (come from) specific content.
Customize Multiple File Access Permission at once
Our extension also comes with an extra "Assign Permission" bulk action. This comes in handy when you want to set the same custom access permission across multiple files. Instead of going through individual file access permission, you simply apply that permission to different files using our bulk action.

Folder Protection
Protect all files on specific folders under your WordPress uploads directory. This feature comes in useful when you want to protect files that are not in your WordPress media library such as file submissions through a contact form and manual file uploads.
Since version 1.1.0, the extension also supports:
Protecting files and folders outside of WordPress uploads, i.e. folders and subfolders on your WordPress root directory
Protecting certain file types only
Folder protection on Multisite main and subsites
Granting file access to specific users or user roles
Granting access to protected files under WordPress folders based on referrer links (URLs)
Auto-creating sub-folders named after all or specific users and granting access to these particular users only
Folder Restriction via Referrer Links
Grant access to protected files under selected folders depending on where users come from.
Instead of restricting file access based on users and roles, you can set certain referrer links from which users will be given access.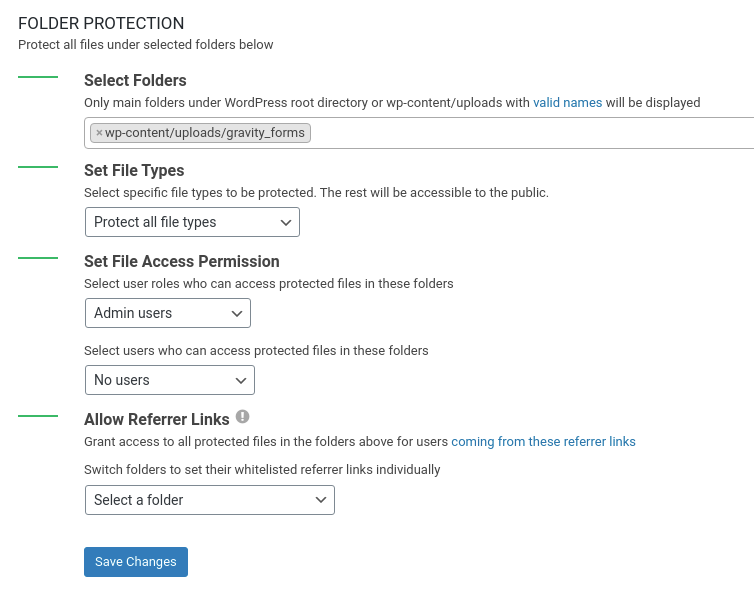 IP Restriction
Allow some whitelisted IP addresses to access all or certain private content protected by Protect Pages & Posts plugin
Allow specific IP addresses to access all your protected files
Block specific IP addresses from accessing all your private download links
Allow specific IP addresses to access all your private download links
Blacklist specific IP addresses from accessing private links of each private file
Allow only specific IP addresses to access your website. In other words, your entire website is blocked against the rest of the public.
Whitelist or blacklist private link access by country (WIP)
Whitelist or blacklist private link access by domain (WIP)