Watermark WordPress Files
Watermark WordPress Files plugin allows you to watermark and embed your PDF document directly into your content with a cool PDF viewer. The plugin also helps you export your pages and posts into a PDF file with just a single click and many more.
Features
Watermark WordPress PDF Files
Use image or custom text to watermark your WordPress PDF files with just one click. There are options to customize its position, color, opacity, and font size. You can also preview the watermark before applying it to your PDF files.
Watermark any PDF file under Media library with a single click
Integrate with Ninja Forms to watermark file uploads on the fly
Compressed and encrypted PDF files are not supported at the moment
It's also possible to automatically watermark new PDF file uploads via Ninja Forms
Watermark other file types including JPEG & PNG (WIP)
Protect Content with Dynamic Watermarking
Looking for better protection of your PDF files?
Easy peasy! With the help of some dynamic texts, you can dynamically display a viewer's information such as user ID, username, and user email. In case of new PDF files uploaded via Ninja Forms, you can also add dynamic watermark to them automatically without any hassle.
This watermark helps discourage pirates from stealing and sharing your valuable files.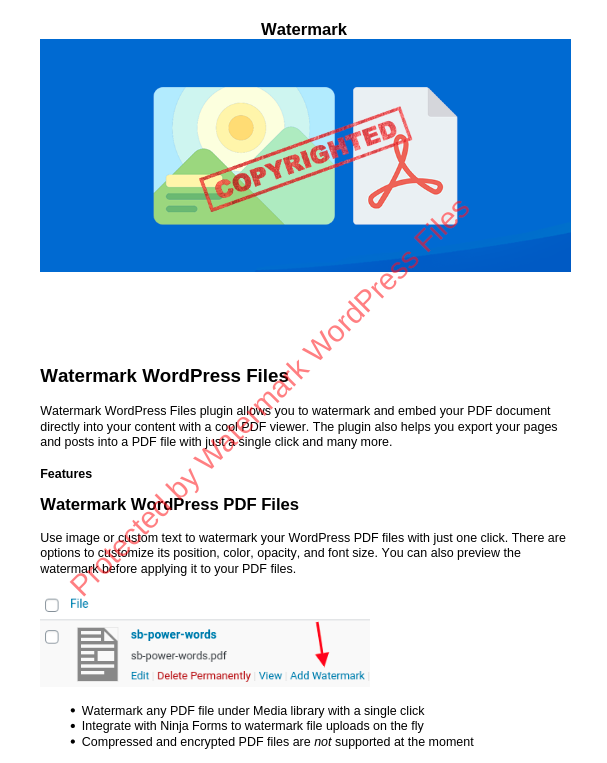 You can edit the watermark shortcode attributes right in the WordPress classic editor as well.
Create Watermark Presets
Instead of customizing watermarks for every single PDF file, now you can preset and apply dynamic watermarks to multiple files without hassle.
Show Preview but Prevent PDF Downloads
Embed PDF files into WordPress content
Embed PDF files into your existing WordPress pages and posts with our friendly UI popup within your WordPress Classic editor. No coding or shortcodes involved.
What's more, your documents are embedded using pure Javascript and HTML5 canvas. As a result, you'll have full control over its appearance, i.e. viewer's width and height plus toolbar's appearance.
Since version 1.2.0, the Watermark plugin works with Amazon S3 extension to support embedding and protecting PDF files hosted on AWS S3 bucket.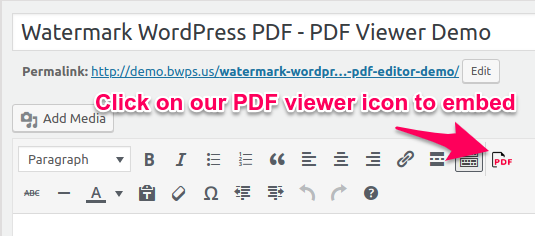 Prevent users from downloading PDF Files
Our PDF viewer is working with Prevent Direct Access Gold to prevent average users and tools from downloading your original PDF files. Main features of our PDF viewer -  more advanced and exciting features are coming up:
Zoom: automatic zoom, actual size, fit page and full width plus the default zoom in and out
Search: find specific text or keywords on your document content
Full-screen mode: view your PDF content on full-screen
Mobile responsive: your document will look great across devices and platforms
Secure PDFs: stop average users from "Inspect elements" or using IDM to download your original PDF file
Track the number of downloads and views with Download Links Statistics extension (WIP)
Bookmark your current page: get a specific link to your current page in view (WIP)
Export WordPress Content into PDF
One-click Export Individual WordPress Pages/Posts to a PDF File
Export any WordPress published pages and posts into a PDF file with a single click. You can customize the PDF template as well.
Export Multiple WordPress Content to a single PDF file
Select multiple pages and posts or the whole category, then merge them into one PDF file through a user-friendly interface.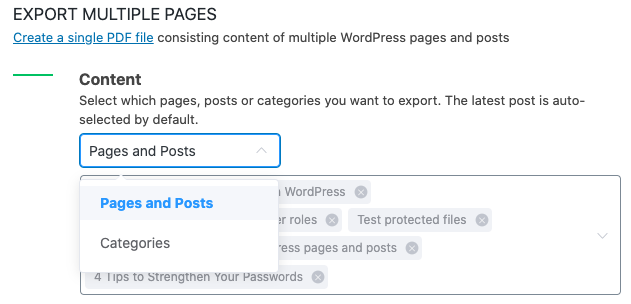 You can also add a header, footer, image cover, table of contents, or display page numbers on the exported PDFs.
Disable Right-Click & Prevent Image Theft
Gear your site up and enhance content protection by turning on the option to Disable right-click anywhere on your website. This function helps avoid all attempts to inspect elements of your site and copy-paste your content without permission.
In case you don't want to disable right-click but would like to prevent users from copying and downloading your images. Simply switch the Prevent Image Theft feature on and let it carry your worries away.
$169 Today only $149
All price options are billed yearly. You may cancel your subscription at any time. Extensions subject to yearly license for support and updates. View terms.
Pay less with our Lifetime License
For just $499.9 $419.9
Requirements
WordPress:

4.0 or higher

PHP:

7.0 or higher

Prevent Direct Access Gold: 

(optional)

3.0.14 or higher 
Extension Details
| | |
| --- | --- |
| Developer: | BWPS Team |
| Version: | 1.2.0 |
| License: | 3-site license |
What they are saying
Such an easy and simple way to protect my videos. Recommended!
Thanks a lot. I like this plugin