When it comes to building a WordPress website, there is a bunch of things you need to go through. You must decide a domain name, choose a hosting provider, pick a theme, strengthen the site security, and get used to the WordPress UI.
And you know what? Choosing a page builder for your site also comes as one of the most important tasks. It frees you from styling your website manually, without having to touch a piece of code.
If you search for a WordPress page builder, Gutenberg and Elementor will definitely appear in most of the results. They have become the most popular plugins to build WordPress pages recommended by many experts.
But does Gutenberg or Elementor suit your site better? Which one provides more features and capabilities?
In this article, we'll compare these two page-builders so you can have a clear picture of how well each plugin is performing. Since there are many elements and factors contributing to a good page builder, we just focus on the most significant thing – content blocks.
Before digging into details, let's have some general ideas about what Gutenberg and Elementor are.
Gutenberg and Elementor: Quick Definition
What is Gutenberg?
Developed and released in 2018 along with WordPress 5.0, Gutenberg proves a powerful native page builder for WordPress sites. Gutenberg is also considered the future of WordPress.
The release of Gutenberg brings a revolution to WordPress content editors. By replacing the Classic Editor, there is no more HTML or CSS and a bunch of shortcodes. You can manage everything in blocks and fields.
This helps make blogging a lot easier. Beginners can build their own sites and personal blogs without having to struggle with coding and programming.
What is Elementor?
Trusted by over 5 million users and assisting more than 8 million websites in every corner of the world, Elementor is the most popular freemium page builder for WordPress sites at this time. Since its launch in 2016, the plugin users have grown dramatically.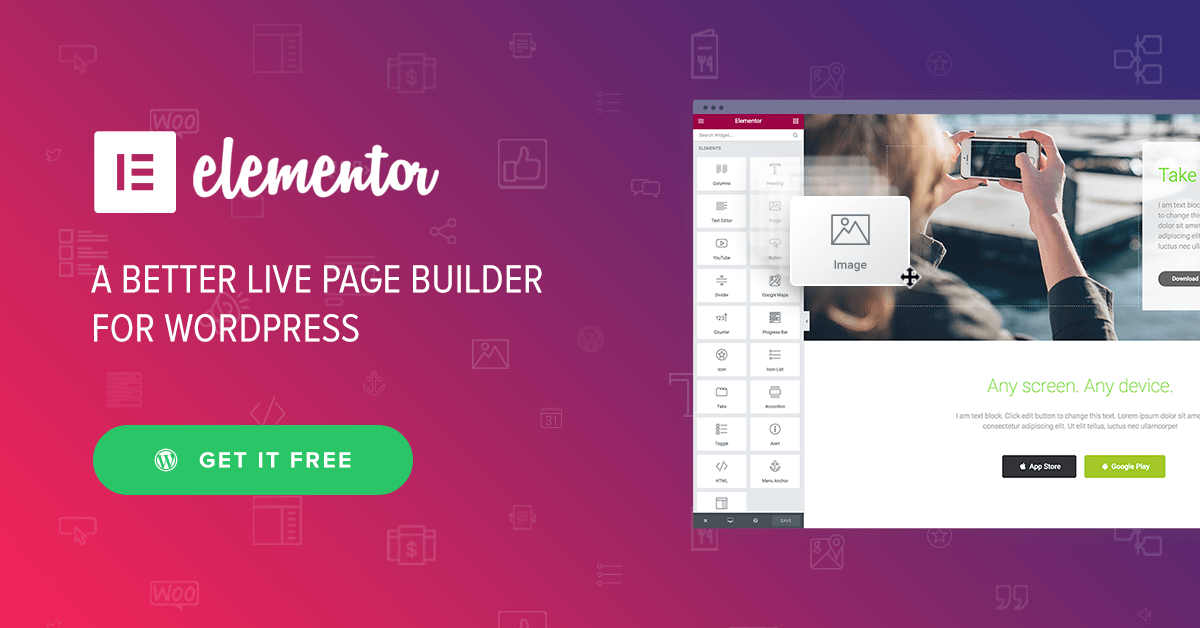 The plugin serves all types of users, from beginners to developers to build highly functional sites. The plugin's video tutorials become a great assistant for site developers. You can find solutions for your problems among them quickly.
Since we've already had some basic information about what Gutenberg and Elementor are, it's time to explore their blocks. We'll identify the multiple factors of their content blocks, from the diversity, advanced layout, to ease of use, user interface, and responsiveness as well.
Gutenberg vs. Elementor: Whose Blocks are More Diverse?
Gutenberg
As mentioned, Gutenberg provides you with blocks to add to pages and posts straightforwardly. You can find blocks and build simple websites quickly. Everything looks really clean as well.
With more than 20 built-in blocks available, it also allows you to include social content like YouTube video, Facebook, Twitter posts, and Instagram pictures via corresponding blocks.
However, you should notice that it's possible for you to create only simple websites for personal usage with this plugin. Designing custom and eye-catching sites requires you to seek help from other free and premium block collections.
Elementor
In terms of the content block number, Elementor is the winner. Elementor, of course, offers more elements than Gutenberg. You can freely choose among over 300 different blocks for your page.
The blocks belong to various categories, from services, testimonials, to call to action, and tons more. There is a wide range of built-in widgets for you to choose from, for both WooCommerce and media.
The number of blocks will increase if you take its premium plan. You can have password protection blocks, social share buttons, quotes, Facebook embed, Facebook page, and Facebook comment.
Elementor is a perfect and ideal solution for stunning websites. Still, it brings overwhelm to users who are just starting out.
You should know how your expected website looks before picking a page builder. If you just want a personal simple blog, Gutenberg is enough for now. In case you desire a gorgeous e-commerce store to attract a lot of customers, Elementor must be your way to go.
Gutenberg vs. Elementor: Whose Blocks are Easier to Use?
Both Gutenberg and Elementor let you build your own pages without having to know anything about coding. You can find elements, drag and drop them to the page with just a click.
Gutenberg
In the Gutenberg page editor, the plus icon on the page allows you to click there and add elements to your page. You're able to display multiple blocks on a page and rearrange them by moving up and down to wherever you want.
More importantly, it doesn't affect your content format when copying it from another writing tool. Instead, Gutenberg understands every element and creates a respective block for it. For example, imagine you copy a Google Drive doc with headings, paragraphs, and images and paste it into a Gutenberg page. The plugin will auto-create heading, paragraph, and image blocks then add the content there.
The thing is that just 20 native blocks available don't provide the full capability for many websites. Then, you have to code new blocks to meet your own demand.
Elementor
Similar to Gutenberg, Elementor enables you to drag and drop numerous elements to a WordPress page. You can customize these options flexibly by changing the text style, size, font, etc.
We all know a lot of users love Elementor thanks to its diversity of blocks. On top of that, it's even more intuitive and user-friendly than the other page builder. This is due to the ability to save individual blocks, rows, or the entire template for later use.
Gutenberg vs. Elementor: Whose Block UI is More User-friendly?
Although you face no problem when creating posts, things turn out to be quite complicated if working on pages. Gutenberg doesn't show you the real-time changes of your page. You just see the blocks and have to save everything, then preview to see how it looks.
You'll sometimes find it difficult to adjust the page layout since what you see isn't exactly what you get in the front end.
Elementor, in the meanwhile, provides you with a real-time preview of your page's appearance. This significantly assists you in changing the design and layout right off the bat.
Gutenberg vs. Elementor: Whose Blocks are More Mobile Responsive?
Both Gutenberg and Elementor are compatible with mobile screens greatly. While Gutenburg has to depend on third-party plugins to achieve this, Elementor gives you the power to control how your site looks on mobiles.
There are a lot of free Gutenberg mobile responsive plugins available on the WordPress directory. Just pick one and make your Gutenberg site design friendlier to mobile users.
You have permission to hide or show any widgets on the mobile version. Too large images will become auto invisible on mobile screens as well. This makes your website looks a bit different on mobile phones than on desktop screens.
Prices to Explore Block Capability
Gutenburg is a default WordPress page builder and it doesn't have a premium version. You have to code manually to generate new customizable blocks. You can also eliminate this hard work by seeking help from free and premium Gutenberg block plugins.
Elementor also comes with a free version with over 300 single blocks, basic widgets, and templates. To explore more specialize elements for your site, you need to upgrade to one of its pricing plans.
It offers 3 different pricing packages, including Essential, Expert, Studio, and Agency, with $49, $199, $499, and $999 respectively.
As the names indicate, the Essential plan best suits personal users with one website. The Expert plan is for businesses while the Studio serves studios with up to 100 sites. For agencies developing hundreds of websites, the Agency plan would be a smart choice. You can have Elementor Pro installed in up to 1 thousand sites at a time.
Which is the Page Builder of Your Choice?
We've compared Gutenberg and Elementor page builders, focusing on their block. We base on various factors to consider, from the number of blocks, ease of use, to the UI and pricing.
Both of them prove easy to use plugins to create custom WordPress pages. However, each fits a different type of audience. If you're just a beginner to site developing, Gutenberg is a better choice.
Do you plan to look for a comprehensive solution for your site design? Simply pick Elementor.
So what's your ideal solution – Gutenberg or Elementor? Let us know in the comment section below.