Affiliate marketing, without a doubt, proves an effective method to earn potential passive money with low, if not to say nonexistent risk. You can sell numerous products at a time without having to worry about manufacturing, inventory, and shipping management.
It's common to use social platforms to introduce and review products. You can simply create a post and put the affiliate link there.
Still, many affiliate marketers decide to advertise third-party products via their WordPress sites. Not only can they increase sales there but also provide relevant content and build authority in the long run.
But do you know how to add affiliate links to WordPress correctly? In our article today, we'll share with you a step-by-step guide to help you sell products using affiliate links easily.
What Is an Affiliate Link?
An affiliate link is a unique URL linking to another website managed by a specific affiliate marketer to sell products. This link may include the affiliate's ID or username. You'll receive this URL when signing up for an affiliate program.
Once users click on your affiliate link, they'll be forwarded to the advertiser's website. All their actions such as clicks and sales will be recorded in your own affiliate program. If a click leads to a sale, you'll receive commissions.
How to Add Affiliate Links to WordPress
Before starting inserting affiliate links in your WordPress, you need to choose reliable affiliate programs to join. It should fit your niche, have a good commission rate, and more importantly, provide a high-quality product. Consider products that you've tried before or are using currently.
Check out these 5 tips for choosing the best affiliate programs here.
You can manually attach an affiliate link to your WordPress content. It's exactly the same as how you put other links to a page or post. However, we recommend using a plugin like ThirstyAffiliates to better manage your links.
Why Using ThirstyAffiliates Plugin
Actively installed on over 40 thousand WordPress sites, ThirstyAffiliates has taken the leading position in the Affiliate Link Manager niche. With a simple setup and user-friendly UI, the plugin receives a lot of love from users, with a 4.6/5-star review too.
The tool basically allows you to customize your links, put them into categories, or redirect links. You can even add images to links and reach tons of other features.
Imagine you advertise some Amazon products and at the same time join several WordPress plugin and theme affiliate programs. To avoid misusing links, you should group Amazon, plugin, and theme URLs into different groups.
Below are other key features of the free plugin.
Customizable link prefixes
Affiliate link redirection (301, 302, and 307)
A report click tracking
Affiliate link picker with ​​more advanced options
Capability to include links in comments
No-follow link option
Outdated affiliate link detection
How to Use ThirstyAffiliates to Insert Affiliate Links
The following guide shows you how to add affiliate links to WordPress with Thirsty Affiliates. You should first install the plugin, set up your links, and then include these links in the content.
Step 1: Install ThirstyAffiliates Plugin
Log into your WordPress admin dashboard. In the Plugins section, click Add New.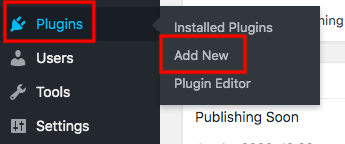 Now type the plugin's name in the keyword box, then install and activate ThirstyAffiliates showing up in the plugin list by clicking on 'Install Now' and 'Activate' buttons.
Upon activation, the plugin immediately adds a new Affiliate Links section to your WordPress admin menu. Click Settings under it to set up your links.
Step 2: Set up ThirstyAffiliates Plugin
The General setting page is ready for you. Head to the Link Appearance tab to change your link prefix as well as select the redirect type. The most common prefix words are 'go,' 'reference,' 'link,' 'review,' or suggests.'
We recommend using no-follow for these links and setting them to open in a new window. The no-follow links prevent search engines from indexing them. The new window option, on the other hand, helps keep visitors staying on your site.
Step 3: Create Affiliate Links
Clicking on New Affiliate Link under the ThirstyAffiliates section enables you to add a new link. You need to enter:
The link title is at the top of the page.
The destination URL is your product links, for instance, Amazon product links.
Save your link and done.
Step 4: Insert Affiliate Links in WordPress Posts and Pages
Open the Pages/Posts section in your WordPress dashboard. You can either edit an existing post or add a new one.
After highlighting the text you want to add a hyperlink into, click on the 'More rich text controls' icon.
The next step is to select the Affiliate Link option on the dropdown menu. Then, type the title of your affiliate link. The plugin will automatically match the title with your relevant affiliate links and display them for you to choose from.
Select your link and hit Apply.
The method above works on the Gutenberg editor. In case you're using the Classic one, follow the instruction below.
Highlight the text you plan to insert the link into
Hit the 'Add Affiliate Link' button on the page toolbar
Enter your link
That's it!
All your affiliate links are managed in one place, under the Affiliate Links section. Since your links are added as a custom post type, it's possible for you to create new links, edit, or delete your links with ease.
Ready to Insert Affiliate Links to WordPress?
Affiliate marketing on WordPress brings you various benefits. You can earn passive income and also boost your reputation.
We've shown you how to add affiliate links to WordPress correctly with the help of ThirstyAffiliate. This popular plugin assists you to create and manage your links as well as adding them to your content effortlessly.
Is there any step above that confuses you? Drop a line in a comment to share with us.
In case you're looking for a quality affiliate program with high commission, don't miss our PDA Gold referral program!