A watermark refers to a piece of text or a small image appearing on your document. It helps credit the file and tells readers who or where the document belongs to. People use it as an effective tool for branding and at the same time preventing illegal downloading.
There are various ways to display a watermark on your PDF document. You can use photoshop, Mac Preview, or other tools such as PDFChef, Foxit FanthomPDF, and SodaPDF.
It's pretty sure that you've heard about Acrobat Pro, the most popular software to view, create, manipulate, print, and manage PDF files. In this article, we'll guide you through how to add a watermark to a PDF with Acrobat Pro.
How to Add a Watermark to an Open PDF Document
It's easy to put a watermark on a PDF using Acrobat Pro. Follow the steps below to successfully watermark your file.
Open your PDF file via Acrobat Pro and click Tool

Choose Edit PDF in the Create & Edit section

In the Edit PDF toolbar, hit Watermark and it'll show you a dropdown menu
Hit Add in that menu

You have 2 watermark options to choose from, either Text or Image. For Text watermark, type your text into the box. You can decide how the watermark displays on your PDF by adjusting the font style, font size, underlining, color, and alignment.
To add an image watermark to PDFs, tick on the File button. Bear in mind that Acrobat Pro doesn't accept PNG images. You can JPEG, BMP, or PDF files only.
Press the Browse button and pick your desired photo. Once placing the image, you can change the Absolute Scale to make the image smaller.
Next, control the rotation, opacity, and scale relative to the target page of the watermark (both text and image).
Plus, Acrobat Pro permits you to place the watermark behind the page content or on top of it. Appearance Options give you a chance to show your watermark while printing and viewing on screen.
The last checkbox will keep the watermark size the same even when you print the PDF on different page sizes. This is not preferable in most cases.
Update, Remove, and Apply a Watermark to Multiple Files
You're allowed to replace the current watermark on your PDF with another one. To do so, you just need to:
Open your PDF document in Acrobat Pro
Click Watermark under Edit PDF and select Update

Update all necessary elements on the watermark settings page
Hit OK to successfully update the watermark
A similar process happens when removing the watermark. Simply go to Tools → Edit PDF → Watermark → Remove in the dropdown menu → Yes.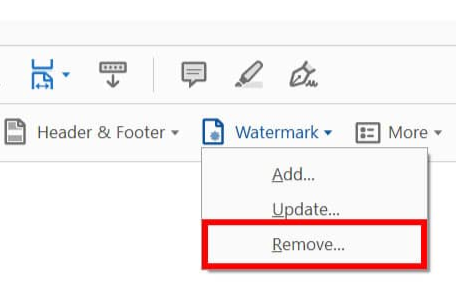 You have multiple PDF files, for example, an ebook series, and plan to set the same watermark to all these ebooks at once to save time. Fortunately, it takes you a few clicks to achieve that.
After creating and customizing your PDF, click on the Apply to Multiple Files button at the bottom of the preview page.
Now, hit the Add Files button and select your file. You can choose multiple PDF files at a time.
Make sure you tick on the Overwrite existing files in the Output Options box. This step will help automatically add your watermark to these files.
If the customization runs smoothly, don't forget to click OK to save all your changes.
Watermark PDF with Adobe Acrobat Alternative
Rather than watermarking PDF files in Acrobat, you can handle it via your WordPress site. Watermark WordPress Files would come as a perfect Adobe Acrobat Alternative to stamp your PDFs in this case.
The plugin greatly assists you in displaying text or images on your PDF files with one click. You can easily style your PDF too, from its position, color to opacity, and font size.
To get started with the plugin, download and install it for your site.
Download the Watermark WordPress Files plugin
Log in to your WordPress admin dashboard and open Plugins → Add New

Hit the Upload Plugin button at the top of the page and choose the plugin file you've just downloaded

Enter the license key sent to your purchasing email and activate the plugin
Go to Watermark WordPress Files from the navigation menu

Choose either Text based or Image based watermark
If you pick the Text based option, type your text in the Watermark Text box. Underneath it, you have tons of customization settings options to style your watermark, including font, font size, text color, transparency, position, and rotation.
For the image-based watermark, you must upload that image to your WordPress media library and enter its link in the Image URL box.
Save your changes and the job is done. It's time to add your watermark to the PDF file.
Simply visit your Media Library and view all files in the list view. Hover your PFD and click Add Watermark under the name.
Noticeably, it's possible for you to auto-watermark new files uploaded to your site via contact forms from the front end. It takes you only one click to turn on the option Auto Stamp New File Uploads via Contact Form.

Create Watermark Presets
Frankly, this way applies the same watermark to all PDF documents. If you want each file to have a different watermark, you have to reset the watermark settings which is time-consuming.
To save you time, Watermark WordPress Files comes up with a solution to create watermark presets. This means that you can generate a list of watermarks and use them later. Check out our documentation on how to create watermark presets for WordPress PDF files.
Watermark PDF Files Like an Acrobat Expert!
Watermarks aim to inform readers about sensitive and confidential information to ensure they don't share it with others. A watermark also works as a powerful marketing tool for your business or organization. You can attach logos and business names on PDF files for branding purposes.
Adding watermarks to PDF files is made simple thanks to Acrobat Pro. It permits you to create, update, and remove a watermark while opening your files.
Another useful tool comes to Watermark WordPress Files which enables you to add a watermark to PDF documents on WordPress sites.
Do you have any questions about stamping PDF files? Drop a line in the comment section to let us know.
You may also want to learn about how password protect PDF files with and without Acrobat.