As photos will affect the effectiveness of posts, you should know how to use them productively to take its full advantage. Creating a new WordPress photo gallery helps freshen up your site and make your content more diverse.
In this article, you will know how to create a beautiful gallery by using either a WordPress function or photo gallery plugins. To take care of your site photos even further, we will show you an incredible way to protect your photo gallery from stealing and unauthorized access.
Now let's dive in.
5 Steps to Create a Photo Gallery without a Plugin
WordPress allows users to add images into their posts and pages easily by default. However, if you want to upload more than one image, say ten of them, it will leave a long row of images and you'll have to scroll down to see the whole list.
A photo gallery, on the other hand, will put your images into a grid layout including columns and rows so that you'll be able to arrange them more neatly.
Step 1: Create a new photo gallery
Go to your admin dashboard and find Posts. On the post edit screen, click on Add new block icon, and select Gallery.
WordPress will automatically add a new Gallery block to your WordPress editor.
Step 2: Upload and choose photos for the Gallery
Inside the Gallery editing block, you can choose the Upload button to upload the image from your computer. The Media Library option enables you to add files uploaded before to the gallery.

Step 3: Add caption and photo information 
When uploading your photos, simply click on one image and see the "Write caption…" option where you can put a caption for that particular photo.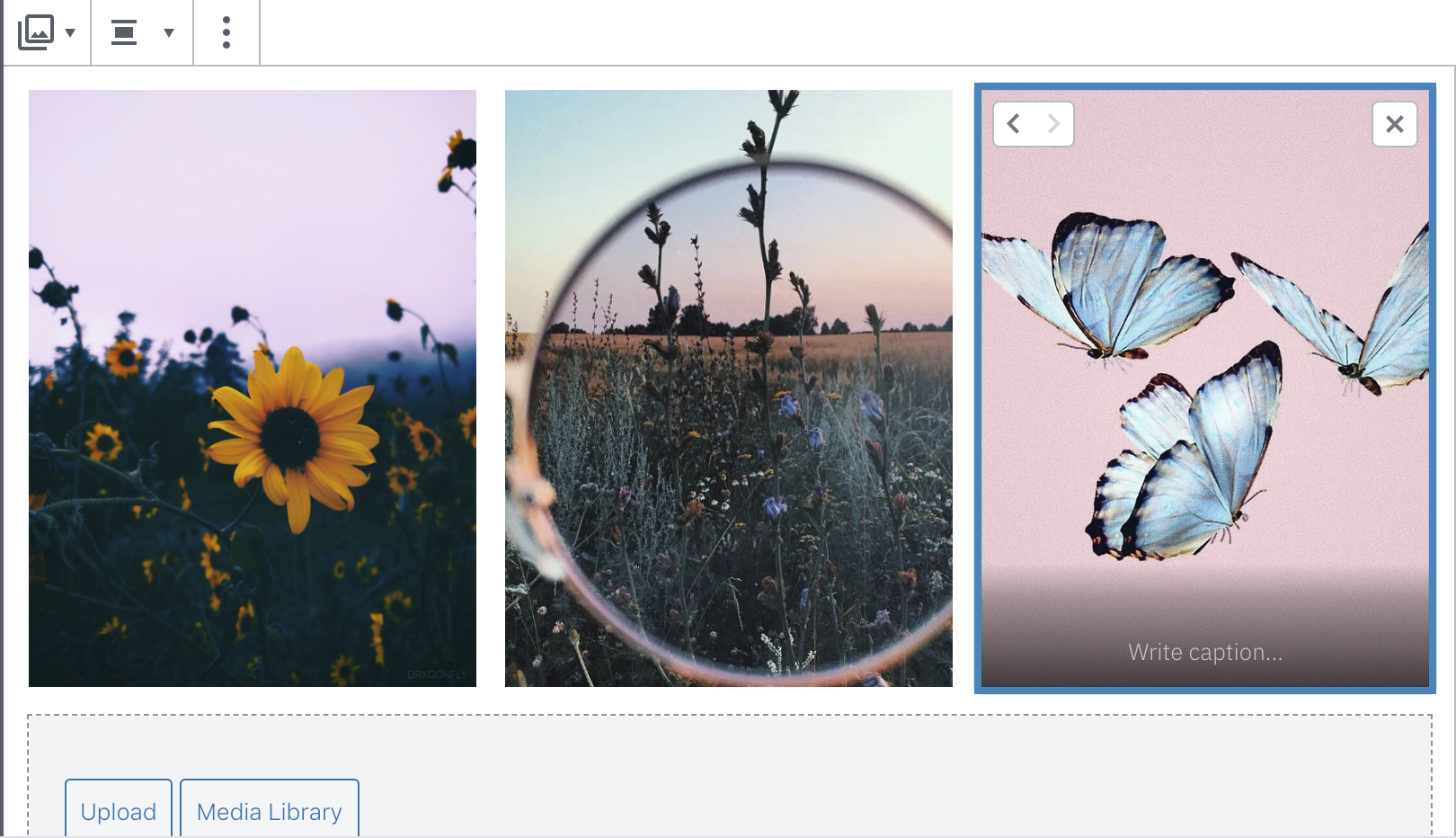 If you choose images from the Media Library, you still can do that on the Attachment Details panel on the right side. Here, you're able to put details in the Alt Text, Title, Caption, and Description.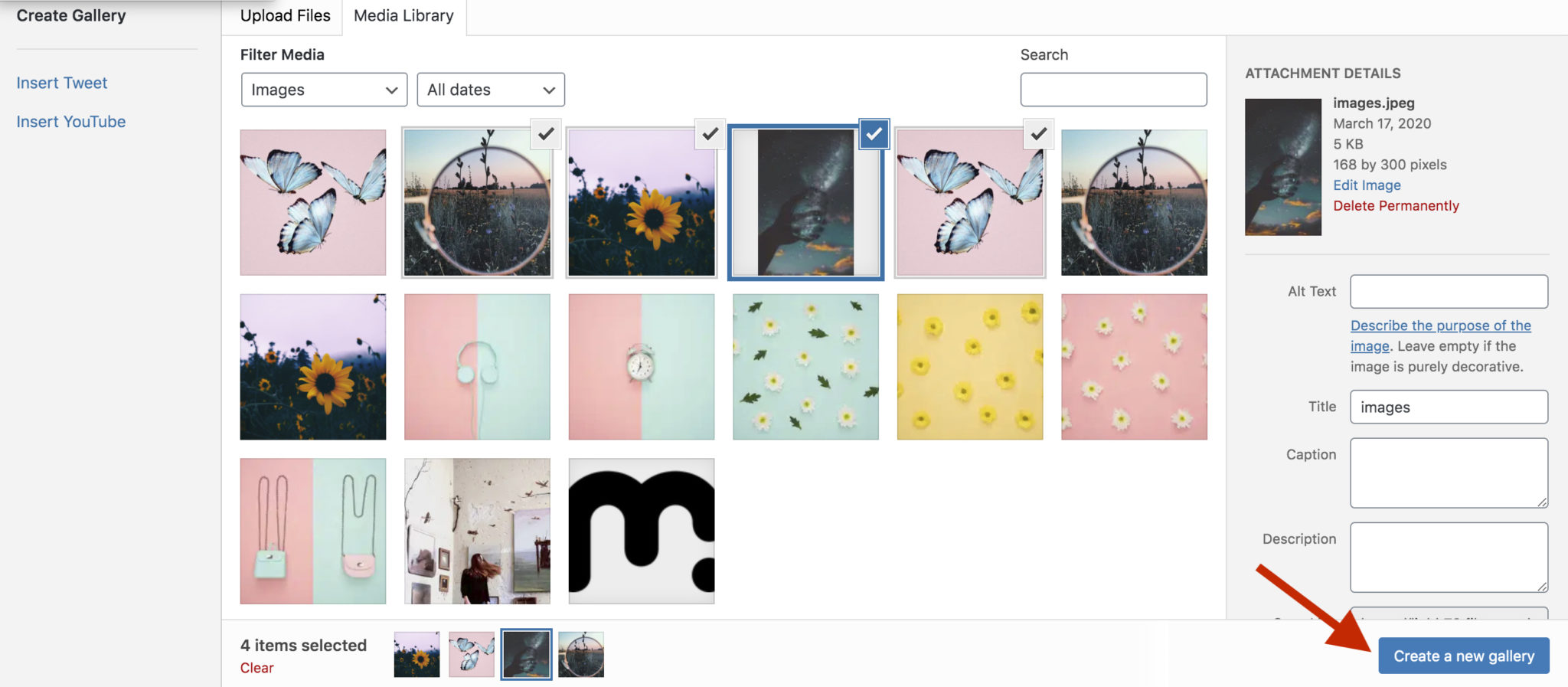 After you're done with all the selecting, just hit the "Create a new gallery" button at the bottom.
Step 4: Edit gallery
Once a new gallery is created, you will see an Edit Gallery page basically previewing what you've done so far, and what you need to improve. It's possible for you to add new, delete, or review your image caption.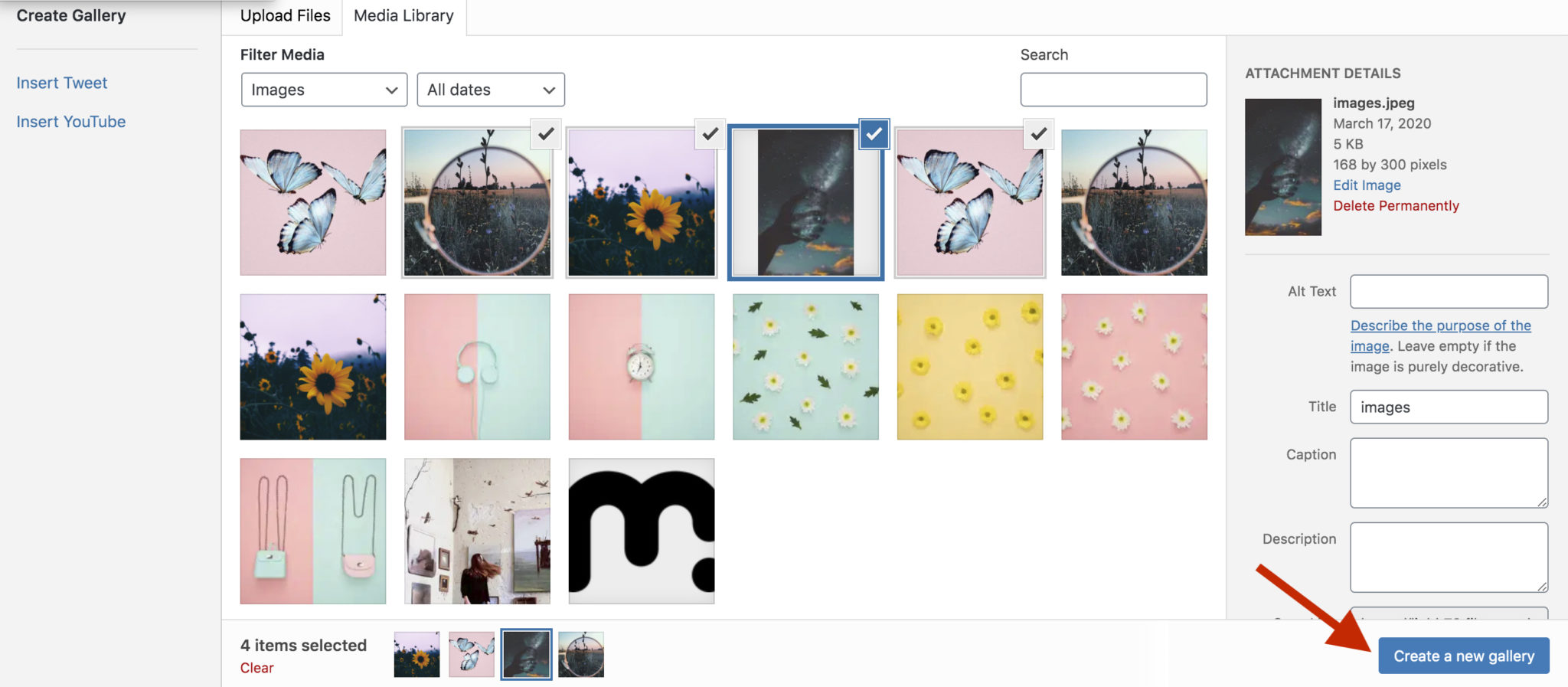 Then hit "Insert Gallery" at the bottom right corner to save all the changes.
Step 5: Gallery advanced settings
Now let's take a look at Gallery block settings panel on the right sidebar, under the Edit Post screen.
Under that, you can set up the number of columns for each row, and turn on or off for the crop images function.
Plus, you're permitted to choose where to link your image to under the Link to drop-down. For the first two options, Attachment Page and Media files, your images will be clickable, so users can open the image file and the attachment page by clicking to the image.
The None option, meanwhile, makes those images viewable only and no actions can occur to the images. In other words, your image is unclickable.
Luckily, WordPress always brings the necessary functions for the basic demands of blog owners. However, if you want to develop your page with more photo gallery contents, the WordPress default function will not be enough. There are not so many options for style designs except simple and boring arrangement instead.
Let's look at our recommended Photo Gallery creator plugins to make your site photo management professional more than ever.
Create a Photo Gallery Using Plugins
As always, WordPress facilitates plugin developers to support the users' demand. There are approximately thousands of photo gallery plugins available on WordPress, but the following three plugins are the most popular and receive better reviews than the rest.
Each plugin provides basic essential editing and different advanced options for your gallery optimization.
1. NextGEN Gallery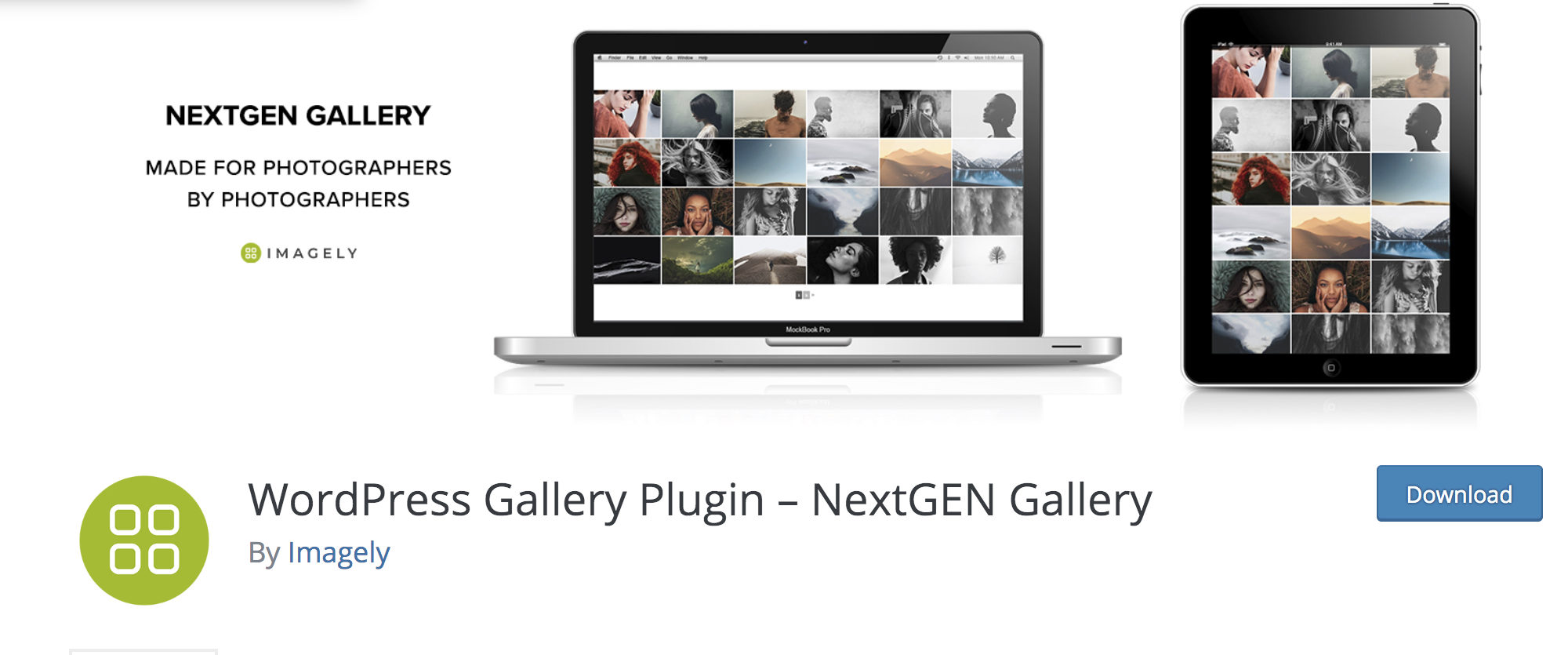 Considered as a  standard WordPress gallery plugin, NextGEN Gallery is trusted by over 800,000 WordPress site owners worldwide.
This plugin comes with both free and pro versions. The free version authorizes you to create a photo gallery as a slideshow, a thumbnail, or an image-browser. It also provides two album styles including compact and list albums.
With a wide range of editing options such as controlling size, style, timing, transitions, control, lightbox effects, etc., photographers and imaging professionals can freely style their gallery as much as they want.
The pro plugin assists users with more powerful features. You can use eCommerce functionality to sell images or add new photo gallery displays.
To know more about the plugin you can check out the detailed review of NextGen gallery.
2. Photo Gallery by 10Web
Photo Gallery supports creating unlimited galleries and albums. The plugin greatly allows you to create galleries for embedded videos. Now you can have both images and videos in the same gallery.
Photo Gallery is simple yet packed with dynamic functionality enabling stunning layouts, gallery and album views, flexible customization, etc..
You need to upgrade to the Premium version ($30) to receive more beautiful and unique gallery templates, as well as sharing posts via social media, or selling digital content.
3. Jetpack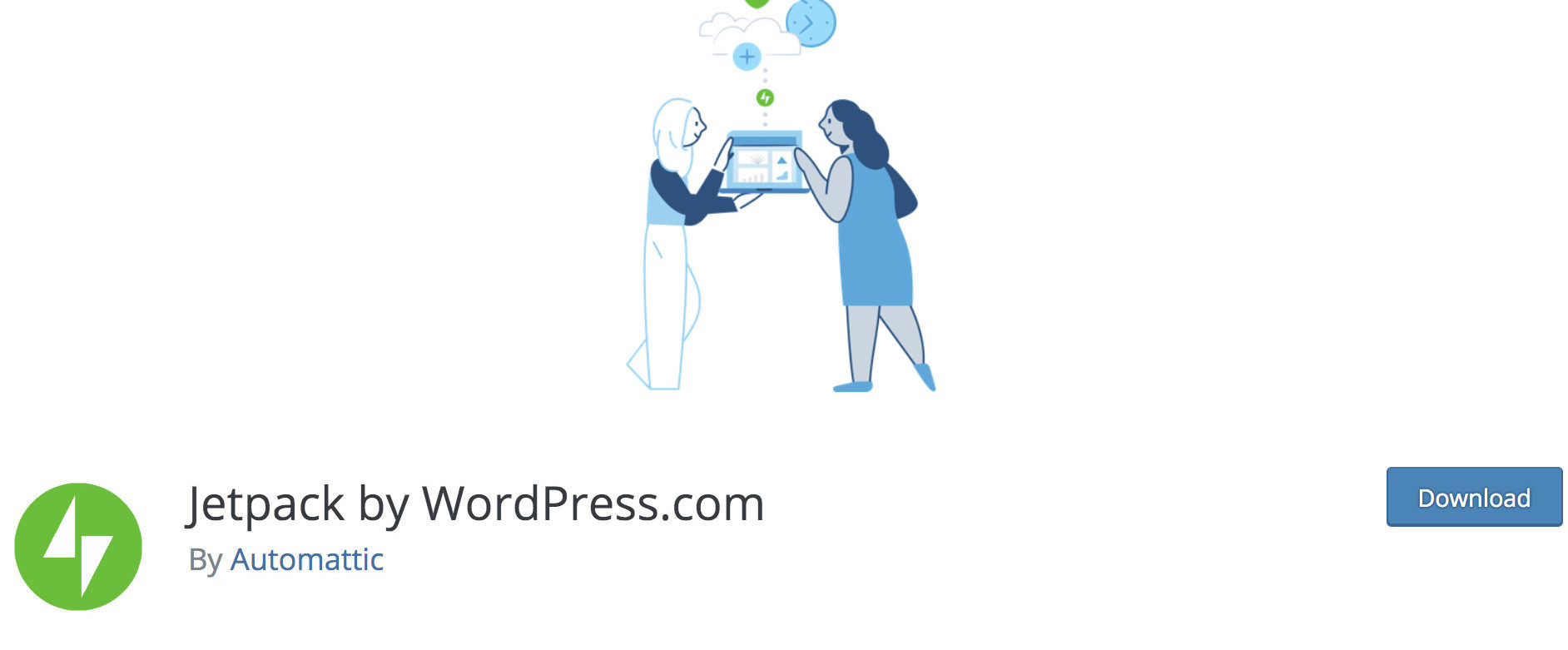 Come as a multi-purpose plugin, Jetpack also supports users in creating a photo gallery.
Compared to the first two plugins, Jetpack is not so professional and specialized for photo galleries.
Besides square and circle gallery styles, Jetpack also gives you an enhancement to the core WordPress gallery. More importantly, you can download and use all the functionalities of this plugin freely without paying a penny.
Protect Your Photo Gallery
Having spent huge effort in creating a photo gallery, it's necessary to protect it effectively. In fact, all the media files that you've been uploading on WordPress media library or posts and pages are vulnerable to attackers. Even some unwanted users can somehow have access to your files, or find it online on search engines like Google and Bings.
Basic protection seems useless in some situations, hence, it will be better if you have a protection plugin to shield your site and files completely.
Prevent Direct Access (PDA) Gold is the one you are looking for. It ensures all media items from images, video, and document files are protected the same.
The accessibility of your files will be restricted by user roles. Only paid memberships or logged-in users will have your permission to access or download the items in your gallery.
This powerful plugin also blocks photos and videos from appearing on Google search results. PDA eliminates for you the chances of unauthorized access by telling Google and other search engines not to index your protected files.
You'd like to sell photos online but afraid of stealing? PDA allows you to create unlimited private download links, and delete or deactivate them later too. You totally control over the approaching of users to your files.
Make Use of WordPress Photo Galleries
WordPress meets the demands of most basic users for creating a photo gallery. However, you will have more options if you use plugins to help with. NextGEN, Photo Gallery by 10Web, or even Jetpack provides several incredible functionalities to support the development of WordPress sites, especially image professional sites.
Well, people have to buy a ticket or get permission for some high-quality photo exhibitions. Why don't you do the same for your virtual photo gallery? Install Prevent Direct Access Gold now to set up all the necessary securities for file access including creating private links, restricting unauthorized access, preventing search engines' indexing.
Don't forget to leave your thoughts in the comment section below.