A membership site refers to a website that contains protected content so only members can access it. This content may include subscriptions, digital products, podcasts, premium blog posts, ebooks, images, whitepaper, and tons more.
While many site owners build a membership site for various types of content, some others just want to focus on making a video membership site in particular. Why so? What is a video membership site used for? And how to create one?
Keep reading this post to explore the answers to all these questions.
Why Launching a Video Membership Site
Videos membership sites provide premium videos for subscribers, contributors, or customers to view. They fit various businesses and help engage members greatly.
Engage Members in Long Term
There is no doubt that people love visual content. Unlike images, videos hold user attention and keep them stay on your site longer. It's estimated that the time a visitor spent on a website with videos is about 60% longer than sites with only text and images.
Videos allow you to tell your story effectively. Since it's fast and convenient, members can receive a huge amount of information in minutes without having to scan through a long post.
Plus, you can show off your products in an engaging way. It doesn't matter you're selling physical items or services, using videos makes it easy for members to visualize them, stick around, and learn more about your business.
Drive Revenue via Membership Sites
When a user joins your membership site and becomes one of your members, they already have some interest in your products, services, or content. Interactive videos on your site will act as a catalyst for a higher customer conversion rate.
You should create different video content, from training, tutorial, to marketing. While marketing videos let you introduce your products, tutorial ones assist you in guiding people on how to use them.
Suitable for Different Types of Businesses
You're delaying on creating a video membership site as you're unsure if it fits your company? Don't worry, video membership sites serve unlimited business types. It can be an educational site, nonprofit organization, club, or association,
While educational websites can provide video courses, nonprofit organizations associations make use of this visual content to propagate and show the organization's activities.
Understand Your Audience Better
Membership sites, as we all know, create a sense of community. Members can interact with each other, leave comments, and also ask for feedback. This data helps you understand user behavior to bring better content and products. You're able to include social share options, reviews, or forum elements in your membership site too.
4 Steps to Create a Video Membership Site on WordPress
Video Subscription Site Requirements
To build a video membership site, first, you must have a WordPress website set up. This basically includes choosing a domain name, hiring a web host, choose a WordPress theme, install plugins, and complete your administrative pages.
The next important thing is to sign up for a membership account and add the membership plugin to your site. MemberPress is a great solution to try out. It releases your hard work on creating membership sites, adding members, accepting payment, controlling content accessibility, and selling digital products with ease.
Last but not least, a video membership site can not complete without a video hosting platform. Self-hosting is definitely bad because it slows down your site and takes huge site storage. You can store videos either on an all-purpose cloud storage service like Amazon S3 or an online video platform like Vimeography.
In this post, we recommend using the Vimeography plugin to organize videos in your content. You can style your membership site in the exact same way as Netflix with custom video within a minute
Once having your WordPress site ready, let's follow these 5 steps on how to create your own video membership site.
Step #1: Install and Activate 2 Plugins
Firstly, log into your WordPress admin dashboard and go to the Plugins → Add New section.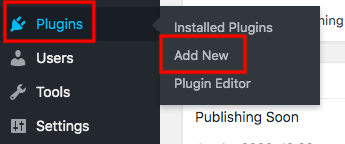 Now, you download the MemberPress plugin from their site. Then, you click on the Upload Plugin button to add the plugin to your site.
Now, you need to go back to the Plugins → Add New and search for the Vimeography plugin in the keyword box. After the plugin shows up, you can install and activate it.
You must create a Vimeo account to upload your videos there. Anytime you want to create a video gallery or display a video on a WordPress page, you need to take videos from your Vimeo account, instead of your own WordPress media.
Step #2 Create Your First Video Gallery
Upon installation and activation, there is a section named Vimeography added to your WordPress admin navigation menu. You can click on the New Gallery option under it and create your first video gallery.
You now need to go through 3 steps of creating a new gallery, including:
Name your gallery

Enter your Vimeo gallery link
Pick a theme for the video gallery
You've completed creating a new video gallery. It's time to move to the next step of adding the gallery to a WordPress page.
Step #3: Embed and Display Video Gallery on a WordPress Page
This step requires you to create a new WordPress page or open an existing one. To do so, simply head to Pages in your dashboard and choose Add New.
You should now enter the page title and click on the Vimeography gallery helper option from the toolbar and pick your desired gallery via Choose your gallery name.
After publishing that page, you have a video collection ready on your site.
Step #4 Create a Membership Site and Protect Your Videos
If you already have the MemberPress plugin activated on your site, go back to the dashboard and choose Memberships on the admin navigation menu, then choose Add New.
You need to give a name to your new membership tier, for example, "Premium Video Content." After setting a monthly price for accessing these membership videos, you can publish this membership.
To make sure only certain user roles on your membership site can view this "Premium Video Content" only, you have to set the right rules. The below guide will show you how.
Select Rules under MemberPress
Hit the Add New button to create a new rule

Under the Protected Content dropdown, choose A Single Page
Enter Video Library in the text box next to the Rule dropdown. It'll then appear the Video Library Page option for you to choose from.
Click on Access Conditions → Membership → Premium Video Content continuously
Save all your rule settings and you're done
To test how the new video membership site works, you should log out of your website and open the Video Library page to check if you can access it. If you see a message saying you're allowed to access this page, you've done the right things.
Ready to Create Your WordPress Video Subscription Site?
WordPress video subscription websites give you a helping hand in engaging members and drive revenue for your business.
We've through 4 steps to create a video membership site together. You need assistance from a membership plugin to create a membership site and a video hosting plugin to save and organize your videos.
After embedding videos to a WordPress page, you can create a membership and set rules for specific members to access your premium videos.
If you still have a question on how to create a video subscription website, just leave your thought in the comment so we can discuss further.