WooCommerce, without a doubt, comes as a powerful tool that enables you to create an online store, add products, and manage your sales data. You can sell anything there, from physical items like clothes and cosmetics to services such as hotel and event bookings.
While Easy Digital Download is preferred by digital product providers, WooCommerce still proves its position in this niche by allowing you to upload and control downloads within clicks, and PDF goods in particular. It refers to one of the most important forms of virtual products that should be taken into account.
Adding a PDF product to your WooCommerce store seems simple. However, do you know how to deal with protecting your PDFs? This article will give you a short guide on how to create WooCommerce PDF products as well as clearly answering the question of securing them. Read on to learn!
What is a WooCommerce PDF Product?
There are multiple types of virtual products, from images, videos, to audio, or even a WordPress content page. While other formats like PNG and JPEG are more suitable for commercial images and photos, PDFproducts serve more purposes.
It's possible for you to sell long ebooks or short guides under the PDF file format. In some cases, business owners also export their WordPress pages and posts into PDF files and offer them to customers. This best supports sites first providing valuable content for free then monetizing it.
Online course providers love PDF files so much that they use them as the major type of document to deliver training material to learners, along with MP4 videos and MP3 audios.
WooCommerce PDF products bring various benefits to both sellers and customers. Since it has a smaller file size compared with other formats, it doesn't take a lot of storage to download and save. Additionally, you can maintain the right style in different operating systems. On top of that, password protecting a PDF is carried out without any hassle thanks to the support of many tools.
How to Add a PDF Product to WooCommerce Store
It's straightforward to upload a PDF file to your WooCommerce store and create a product page. First, you have to set up and have your WooCommerce shop ready. Then, all you need to do include clicking Add New under Products in your  WordPress dashboard.
It will then show up an edit screen authorizing you to add a title, description, and product image. This text should be descriptive enough to engage customers to make purchases.
Now scroll down to the Product Data field at the bottom of the product page to configure its main settings. In the General section, tick the Virtual product type. If you want customers to download your PDF files, check the Downloadable option too.
General Configuration
Prices – Fill in the price of your product as well, regular price and sales price. If you're not offering discounts, just leave the sale price section empty.

Downloadable files – Click the "Choose file" button to upload your PDF. WordPress provides you with the capability of adding multiple PDF files to a product page at a time.
Download limit – The number of times customers can save your PDF files to their devices. They can repeatedly download it thousand times if you leave the area blank.
Download expiry –  The period of time after which your file expires. Similar to "Download limit", you don't need to fill in this option to enable forever download.
Product Data – Inventory
The most important element of the Inventory section is the SKU. Each product has its own SKU to differentiate others. Since your PDF is a virtual and downloadable product, you don't need to check the "Manage stock" option. Remember to tick in the "Sold individually" box in case you display multiple PDF files on a product page at a time.
Product Data – Linked Products
WooCommerce builds "Upsells" and "Cross-sells" as default options supporting you in boosting revenue. By displaying relevant or should-include products, you can spark customers' interest and encourage them to purchase more.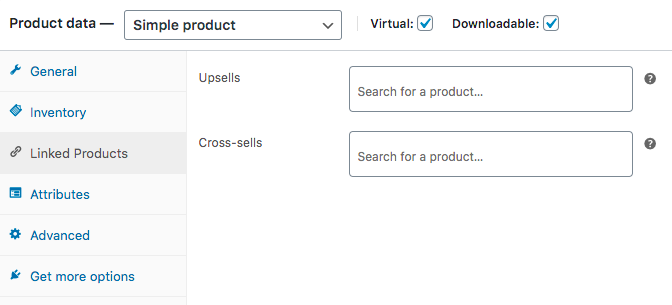 Product Data – Attributes
All you need to do is select the attribute from the "Custom product attribute" dropdown box, then click "Add." After that, choose the "Value(s)" field and select the relevant term from the dropdown box.

Product Data – Advanced
The last setting option comes to "Advanced," The main field of the "Purchase" note lets you leave a message which will be seen by customers after paying. Your note should say something like "Thank you for buying this ebook. You will receive an email with details of how to download it". You can enable buyers to review your products too.
Once completing all the settings, it's time to update and view the product page.
Selling PDF products as well as any other types of intellectual items benefits you in many cases. You need to put effort into creating the products once and selling it to thousands of users at once. Plus, it's simple to update your files when things change.
However, there is still a limitation of protecting your PDF product files. Users can sometimes share the order page with their relatives and friends without your notice. Some users also resell it to others. It now raises the security issue of your PDF products that should be carefully taken into consideration.
Protect WooCommerce PDF Product Links
The default "Download limit" and "Download expiry" features are not enough to 100% block theft from stealing your files. You have numerous other ways to prevent unauthorized users from accessing your hard-to-make PDF products. We recommend blocking PDF files by IP addresses and watermark them.
Secure WooCommerce PDFs by IP Address
Customer pay for your WooCommerce PDF ebook. Then, they share their account with some other people to download it. To avoid that scenario, WooCommerce Integration from Prevent Direct Access comes in handy. It helps handle online piracy issues for WooCommerce business by limiting access to WooCommerce order pages, product files, or customer login pages from unwelcome IP addresses.
Right after a consumer buys your PDF item, the plugin sets up a system to log his/her IP address. Any suspicious IP addresses using that same username and password will be blocked immediately.
You can refer to how to use the plugin to restrict access to WooCommerce PDF products here.
Watermark PDF Files
Another simple yet effective solution you can try on is applying a watermark to your PDF files. When displaying your brand name or logo on ebooks or how-to guides, it's difficult for users to resell them. And at the same time, it assists you in business recognition. If users keep seeing your logo, they will passively remember it without any intention.
Among hundreds of watermark plugins available on the market, Watermark WordPress Files appears as an outstanding solution. It helps stamp your PDF files with just one click. You can decide to embed images or custom text to your products.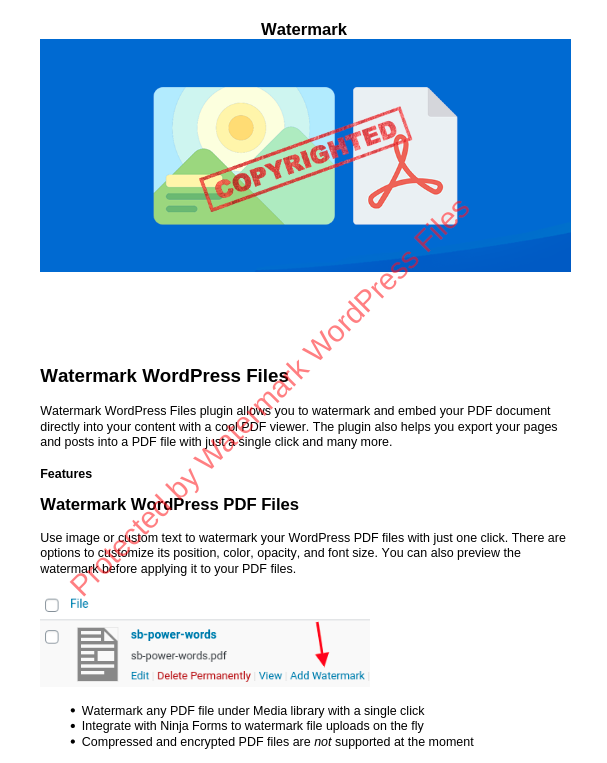 On top of that, it also watermarks your new file uploads automatically, from your media library or from Ninja Forms. Learn how to get started with watermarking WooCommerce PDF products here.
Ready to Create Your WooCommerce PDF Products?
WooCommerce makes it simple for you to add, manage, and sell PDF products.
It now turns to WooCommerce product security. You might not notice but some of your customers always attempt to share your products with others. You can either block strange IP addresses by PDA Gold and WooCommerce Integration plugins or embed watermarks to your files using the Watermark WordPress Files plugin.
We understand that there is no perfect method to completely save PDF files. The more security layers you apply to your PDF products, the more difficult users can steal and share them with others.
Still have a question about how to create or protect your WooCommerce PDF products? Leave your thoughts in the comment section below!