Finding visitors, engaging them to become leads, then converting leads to customers is everything site owners look for when running their online businesses. This whole process is called a sales funnel.
Actually, turning a visitor into a purchaser is not an easy task. Without the right methodology, leads may never convert, which affects your bottom line. Users just stay at the stage of understanding your business/products, and that is all.
To help you remove all the barriers, we'll give you a step-by-step guide on creating a powerful sale funnel and changing prospects to real customers. Before digging into details, let's define what a sale funnel is as well as how it works.
What Is A WordPress Sales Funnel?
A WordPress sale funnel refers to the path you wish users take on your WordPress site to become consumers. That journey starts when these people find out your site/business, feel interested in your products, add them to the cart, and pay for these items.
The stages of your funnel may vary depending on your business goal or the product you're selling. Basically, it includes 4 steps:
Awareness/Attention – It's when a user knows the existence of your product or business. They may find you on Google search results, see you on social ads, or hear about you on a podcast/TV show.
Interest – We call people in this stage suspects who are interested in your business. They want to learn more about your products, from features to benefits and pricing options too. You must provide as much information about your offer as possible. It can be sub-feature pages of your products or related articles to better understand your services.
Decision – When visitors think they want to buy your product. Still, they just add it to their cart or proceed to checkout but haven't paid for it.
Action – Site visitors complete the checkout process and truly become customers.
The usual process starts from a blog to the product page then the checkout page and ends at the thank-you page. In some cases, leads may go right from the blog to the checkout. Sometimes, the education (Interest) stage lasts longer than your expectation.
Not all prospects are ready to put money out of their pocket even though they've added your products to the cart. You need to optimize the process for a higher conversion rate and more sales.
You should reduce distractions, offer a better experience, and engage them to purchase. After that, it's recommended to track your sales funnel performance to have the proper adjustments and increase the ROI.
What You Need to Set up a Sales Funnel in WordPress
You must have everything ready before starting your sales funnel, from a WordPress website to a clear marketing strategy. You can refer to this article to set up your site.
The next important part is the marketing campaign. Do you want to get sales via PPC ads, email marketing, social ads, or other technics? Then, you should have a different funnel for each strategy.
For PPC ads, visitors will click on the ads on search results, land on your landing page, explore the product features, add it to the cart, and make a purchase. Leads in the email marketing funnel start from a blog, sign up your form, receive your education emails. You should prepare landing pages, forms, or emails to effectively convert leads.
Besides, you need helps from WordPress plugins such as WooCommerce, Elementor,  CartFlows, and Prevent Direct Access (PDA) Gold. While WooCommerce allows you to organize a store on your WordPress site, Elementor helps build custom landing pages.
CartFlows, on the other hand, maximize your sales funnel with import templates, checkout testing, and next-step thank you pages.
How to Create a WordPress Sales Funnel
You have to go through these 4 steps to successfully set up a sales funnel. They include installing plugins, creating a landing page, customizing your checkout and thank you pages, and direct leads to your sales funnel.
Step 1: Install WordPress Plugins
All 4 plugins mentioned above offer free versions so you can get them on the WordPress repository. Take PDA as an example. First, go to Plugins → Add New in your WordPress admin dashboard.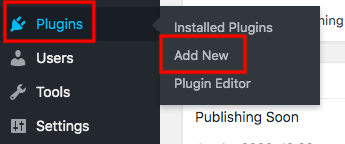 Find the plugin by typing its name in the keyword search box. Then hit 'Install Now' and 'Activate' buttons.
You can upgrade to the plugins' Pro versions or buy their addons to access more advanced features. Download these plugins from their websites then go to Plugins → Add New → Upload Plugin and choose your plugin files.
Step 2: Design a Sales Funnel Landing Page
Landing pages are where you convert users in the Interest stage into customers. We recommend using CartFlows.
The plugin provides you with custom funnel templates so you can easily engage and convert your suspects. To create one, simply go to CartFlows → Flows and add a new one.
It's possible for you to pick an available template then customize it to suit your business, products, and campaigns. It depends on the page builder you're using that CartFlows will display compatible templates only.
Now choose your favorite template and click 'Import' to edit the page.
The image above shows you the editing page of one of CartFlows' landing pages. It already includes the Checkout Page and Thank You Page when users take action there. In case the template you've selected doesn't contain them, simply press 'Add New Step' to add them.
To change the page appearance and design, you just need to click on the 'Edit' pencil icon next to the 'Landing Page' section. You can add new elements, remove or move blocks, and insert text or images there.
Once done, remember to save all your changes.
Most site owners make the mistake of not optimizing their landing pages for sales. Consequently, they fail to convert prospects to customers. It requires you to display a clear and powerful Call-to-Action that encourages users to buy your products, sign up for newsletters, or join your events.
If your goal is to capture leads, think of offering giveaways to get their emails in exchange. You should integrate with email marketing platforms to organize emails and campaigns effectively.
Step 3: Protect Your Digital Products
If you're selling digital products or offering digital assets as giveaways, it's necessary to protect them from unauthorized access. You may not notice but your customers may share the file URLs with others so they can view and download them for free.
There should be a solution to prevent valuable file sharing among users. PDA Gold becomes your lifesaver now. The plugin helps protect any digital product from unauthorized access. Plus, it creates unique private download links for your files so only permitted customers can view them.
You can download the PDA Gold plugin, upload it to your site by going to Plugins > 'Add New' > 'Upload Plugin', and start using it. Now head to Media > 'Library' and find your desired file.
Next, hove the file's name and click 'Protect.' After that, click on the 'Configure file protection' option. It allows you to auto-generate new download links or customize your own ones to make them more meaningful.
It's possible for you to set Download Time and Download Expiry for your file so that it will expire after a given time or a number of clicks.
Once done, copy the download link and paste it into your Thank You page.
Step 4: Create Checkout and Thank You Pages
In the CartFlows screen, since you haven't added any product to the Thank You page, it displays a 'No Product Assigned' option.
You have to edit the page and select your product from the 'Checkout Settings' dropdown.
The main purpose of the Thank You page is to confirm customers of their order and provide them with their products. You can also include another CTA to direct them to take the next step. This helps foster a lasting relationship with your online shoppers.
Ready to Create Your Own WordPress Sales Funnel?
A sale funnel greatly assists you in converting potential customers into paid ones. We've explained the stages of a funnel as well as what you need to set up one for your business.
Go through the 4 steps above and you can create a basic sale funnel with the help of the CartFlows plugin. Keep in mind to secure your products one offering digital giveaways to users.
Want to learn more about WordPress digital product file protection? Check out PDA Gold features here!