Media files play a key role in every website, as important as written content. That explains why WordPress build a default Media Library for you to store your files.
Considering their significance, many site owners want to keep another version of their files offline for a couple of reasons. It may be because your backup plugin doesn't handle files or you intend to transfer images from site to site.
If you're looking for a way to download the entire media library, go with this article. After going through this post, you'll have 3 different methods to export media files to a folder. You can pick one based on your technical skillset.
Let's first jump into the discussion on why you should download your WordPress media files.
3 Reasons for Downloading Media Library in WordPress
As mentioned above, you have numerous purposes to export your media. You can either store another version of your files or move images between websites.
Before you read further.... Free Download (PDF)
Secret Google Search Tactic That Will Skyrocket Your Sales, Connect You to the Perfect Partners, Influencers & Affiliates and Send Your Google Rankings Soaring! FREE when you sign up for Digital Creators Edge, a free newsletter for Digital Creators who wish to take their business to the next level.
Keep a copy of your files – When updating your site or putting it in underdevelopment status, it's necessary to backup everything using a WordPress backup plugin. However, some of them don't handle media files. You have to find a way to download files yourself.
Transfer images between websites – You build a new website and plan to move all media files of the current site to the new one. Downloading one by one then reuploading them can take you years. If you run a website focusing on visual content like designing or photographing, this would be a nightmare.
Avoid website security issues – Although you set up firewalls, scan for malware, or add 2FA to your site, it can possibly still get hacked one day. To avoid losing data, you must export and save them offline, including media files.
We already know the reasons for downloading the whole media library. It's time to go through 2 ways to achieve that. You can use file manager in cPanel or seek help from a plugin.
#1 Download Media Library in WordPress Using File Manager in cPanel
Using the hosting control panel turns out to be the safest way to export your media files. It doesn't require you to add any more plugins or force you to use external tools like FTP clients.
Firstly, you need to ​​log into your hosting service's admin dashboard and find the File Manager folder under the Files section.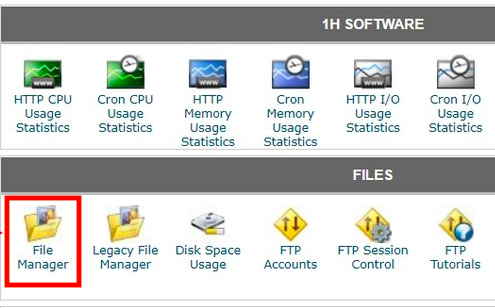 Now you will see the public_html directory which contains the wp_content folder for you to choose from.

The next step is checking the upload folder option the checkbox before the uploads folder, then hitting the Compress icon at the top menu.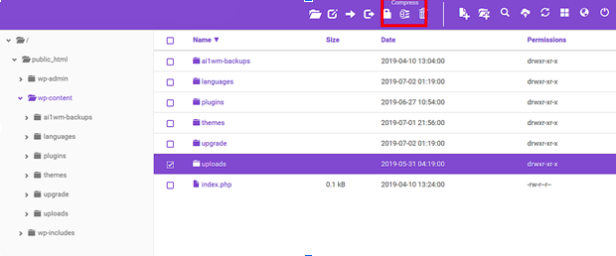 Once naming the zip file you've just compressed, click Compress.
A new zip file will appear under the list of files and folders that belong to the wp_content folder. All you need to do now is click on that zip file then hit the download icon at the top menu again.
#2 Download WordPress Media Library Using Plugin
In case you need a simple solution to download all files at once without having to touch the hosting server, the FileBird plugin should be your way to go.
Trusted by over 100 thousand users from pole to pole with a 4.7-star review, FileBird proves one of the best solutions in compressing your library as a zip file then downloading it. The plugin makes sure that all your media sub-folders and files are kept in a unique zip file. There should be no worry about media folder structure as well.
Although FileBird provides you with a free version, the Download Media Folder feature is available in the Pro plugin only.
To get started using the plugin, you need to download it from the Ninja Team website. After that,
Open Plugins > Add New in your WordPress admin dashboard
Press the Upload Plugin button and select the plugin's file you've just downloaded

Enter the license key sent to your email and activate the plugin
Head to Media > Library

Right-click your desired media folder and choose Download
That's it!
Apart from exporting WordPress files, there are so many other things you can do with FileBird. The plugin perfectly supports file organization. You're able to arrange your images into separate folders or better management.
Users love FileBird thanks to its friendly user interface. You can drag and drop files into folders and subfolders effortlessly.
How to Protect WordPress Media Library
You download the entire media library for backing up and security issues. Another way to keep your library safe come to file protection. You can block unauthorized users from directly viewing premium files. It permits you to decide who should have access to each of your files.
You need to install both PDA and PDA Gold plugins to explore all useful features of plugins. While you can easily get the PDA Free version from WordPress.org, the Gold version is available from our site.
You can follow the same process as what we've done for FileBird to install these plugins. Upon activation, this 4-step guide will show you how to make your images and any other files private.
Go to Media > Library in your admin dashboard
Hover the files you want to secure and click Protect

Hit the configure file protection option on the right side of your file
Auto-generate new download links or customize your own ones

You can send this private link to any authorized users to let them view and download your files.
It's possible for you to restrict private download link access based on times or clicks. In other words, these links will expire after a certain day or download depending on your settings.
This feature greatly assists you in selling digital products. Each customer will have a URL to download their file once making an order. You can set the download limit to one and don't have to worry about customers sharing your products with others.
On top of that, the plugin also blocks search engines from indexing your protected files. Visitors will be no longer able to find them on image search results.
Ready to Download WordPress Media Library?
Exporting the WordPress media library is simple if you have the right method. You can either use the File Manager in cPanel or install the FileBird plugin. The former requires you to log into your hosting server dashboard. The latter, meanwhile, best suits beginners who want to look for a hassle-free solution.
Besides downloading files, it's recommended to protect them from unwelcome users. PDA Gold becomes your smart choice in this case. The plugin enables you to secure unlimited media files with a few clicks. You don't have to be a WordPress expert to guard off your files. Let PDA Gold give you a helping hand.
If you still have a question about how to download or protect your media library, just drop a line in the comment to let us know.