Trusted by over 65 million websites, WordPress, without a doubt, has become the most popular CMS in every corner of the world. The platform wins this achievement thanks to its flexibility and ease of use.
Besides positive user experiences, there are still errors occurring when using WordPress sometimes. While some issues require developers with experienced technical skills to solve, others only take you a few minutes to fix.
One of the common errors that WordPress site owners often face is "Destination Folder Already Exists". What is this error? Why does it happen? How to deal with it? Does it hugely affect your site?
In this article, we'll answer all these questions in the simplest way. A bonus tip on how to protect your WordPress folder will also be provided. Let's get started!
What Causes The "Destination Folder Already Exists" Error?
WordPress comes with a well-organized file and folder structure to make sure your site runs correctly. It's where the webserver stores your data, content, plugins, and themes.
When you install a plugin or a theme, WordPress will create a folder to place its zip file and name the folder with the exact same name as the plugin/theme's title. Each folder must have a unique name.
The "Destination folder already exists" error occurs when you attempt to add a plugin/theme that is already installed before. WordPress notifies that the name of this new plugin/theme is duplicate and it won't allow you to install another one.
You should recheck your plugins and themes in the admin dashboard. If you find them there, it's not necessary to add another one.
If not, there are 3 cases for you:
You deleted the plugin from your admin dashboard but it's not completely removed from the server. That being said, WordPress shows you the message of this plugin's existence although you don't see it in the Plugins section.
You tried to install a plugin/ theme before, but the process was failed. However, its zip file is still stored on the server. That's why WordPress stops you from adding that same plugin another time.
When you update one of your plugins and themes, WordPress creates a new folder for it and at the same time still remains the old folder. This means 2 exact folders are existing on the server, so WordPress has to proceed with an error message.
How to Fix The "Destination Folder Already Exists" Error
There are 2 different paths you can take to solve this folder structure error, either using FTP or make use of your cPanel. Since it's tough to touch the server which might affect your entire site, make sure you back up your site before taking any action.
Both methods require you to go to the root folder of wp-content/plugins and delete the defective plugin/theme.
Method 1: Using FTP
Firstly, log into your website via FTP then navigate to the root WordPress directory which is called public_html. Open it and go to the wp-content folder. This is where WordPress stores all files uploaded to your WordPress site, including media, plugins, and themes.
Head to the /wp-content/plugins/ or /wp-content/themes/ folder and look for the one that you plan to install. Simply right-lick and delete it.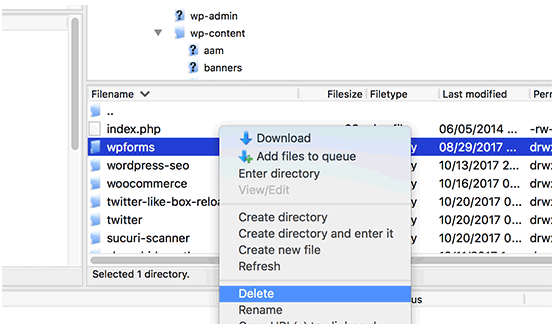 Now go back to your WordPress admin area and install that plugin/theme again. You'll no longer see the "Destination folder already exists" error.
Method 2: Using cPanel
Similar to FTP, you need to log into cPanel and locate the File Manager option under the Files section.
Open the root WordPress directory aka public_html of your domain. Then click on wp-content/plugins and find the plugin folder mentioned in the error message. Right-click on the folder and delete it. Remember to press the Confirm button.
Bonus Tip: Restrict Access to Files within WordPress Folders
There may be times that you want to secure your private media files in WordPress folders. It comes in handy when you need to protect all relevant images, videos, or audio at the same time. These files often don't exist in your WordPress media library but in your server. For example, they can be file submissions through a contact form and manual file uploads.
As a result, unauthorized users won't have access to your private files. They must log in with the correct user roles to view them.
To achieve that, you have to install the PDA Gold plugin as well as its Access Restriction extension. Upon installation and activation, the plugin adds a new section namely "Prevent Direct Access Gold" right on your admin navigation menu.
The following guide shows you how to get started with the plugin:
Open the Folder Protection tab after heading to Prevent Direct Access Gold

Select your desired folders
Choose file types of your folders, e.g. PDF, png, and mp4
Set access permission for your private folders. Only logged-in users with the correct role have the right to access your files.
No More "Destination Folder Already Exists" Error Message
It's annoying to see the error message of "Destination folder already exists". This stops you from adding a plugin or theme to your WordPress site even though it doesn't remain in the Plugins/Themes section.
It's possible for you to troubleshoot this via FTP or cPanel. You should delete the old folder of the plugin/theme so that the new zip file can be placed there.
We've already provided you with a bonus guide to protect your private media files. You can protect them from image theft at the server level. Only logged-in users are allowed to view them.
So what are you waiting for? Let PDA Gold and Access Restriction assist you in securing your WordPress folder today.