Have you ever come across some images online that you want to remove immediately? Unflattering photos of yourself or images of deleted pages and posts can be part of the answer. If these pictures display on the web, they would affect your personal brand as well as your website.
In this tutorial, let's dive straight into cases when you need to remove pictures from the Google index. Then, we'll discuss how to take off images of your own and photos on others' websites from Google search results.
When to remove images from Google index
There are several situations in which you intend to erase your images from Google search results. Some photos on deleted pages or posts should not be visible to users, too. In addition to that, it's not ideal to let your personal pictures show up everywhere once somebody searching for those having similar names to yours.
Images in deleted content
You've already deleted a post on your WordPress site. However, the blog's feature images and the content pictures still appear on Google image searches. When clicking these images, users will be led to a 404 not found page which might affect the browsing experience. As a result, it's necessary to make these images invisible on Google search results pages.
Personal photos
It seems unprofessional to have your online profile photo or daily life pictures indexed by and shared by Google. You may want to hide them which would affect your personal image/reputation.
Remove Pictures on Your Own Site
In order to provide search results, Google crawls and indexes all URLs on your site, from pages, posts, to files. Upon indexation, they will be shown up on search results pages when users search for a relevant query. You can apply different solutions to deindex images: use the Remove URLs tool provided by Google or install the PDA Gold plugin.
#1. Remove URLs tool
The Remove URLs tool does the job perfectly to keep pictures on your WordPress site away from Google images search results. In fact, this method applies not only for images but also for pages and directory.
To block an image's URL from Google search, you need to:
Open the Remove URLs tool
Choose Temporary hide
Enter the file URL in the URL removal text field. Variations of http and https, www and non-www will all match. However, the subdomain won't match the file URL, for example, http://m.example.com/mypage.
Click Continue
Select one of the 3 options then hit Submit Request
Clear URL from cache only
Clear URL from the cache and temporarily remove from Search
Clear cache and temporarily hide all URLs beginning with a specified prefix
To maximize the benefits of the Remove URLs tool, you should notice that:
The deindexed images will disappear from Google search results in only 90 days. After that, it's possible for users to look for them again.
Google bot will still crawl, index and show up your images' URLs even though you've removed them from search results using Remove URLs tool. So you should block these files in another way too, such as adding a noindex tag or password protecting the files.
#2. Prevent Direct Access Gold plugin
The method above allows you to detach individual images from Google searches manually. This will take you a lot of time and effort while you have a lot of files to deal with.
That's where a third-party plugin comes in handy. Prevent Direct Access Gold appears the number one plugin solution to protect your WordPress images while blocking Google and other search engines from indexing them. In other words, your photos won't show up on any search results pages.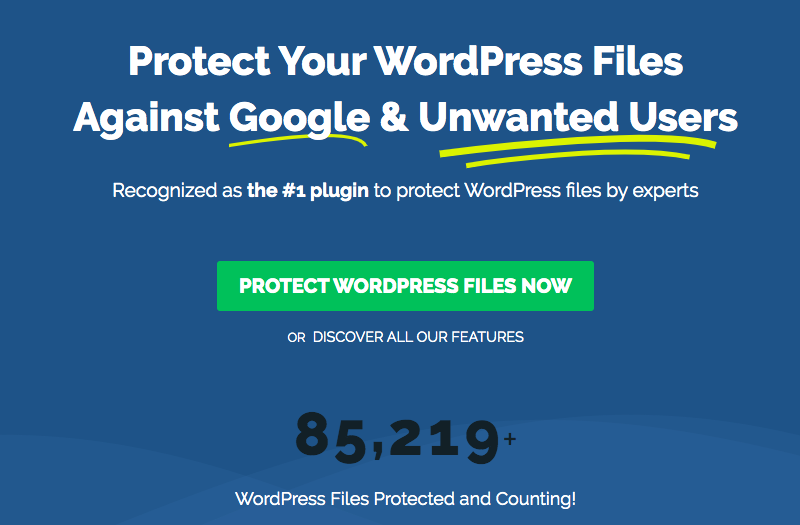 To get started using the plugin, take 2 following steps
Step 1: Install PDA Gold file protection plugin
Download PDA Gold plugin
Go to Add New under Plugins in your WordPress dashboard

Click Upload Plugin and open the zip file you've downloaded


Enter the license key sent to your email



Activate the plugin
Step 2: Protect your images and remove them from Google search
Head to Media in your WordPress admin dashboard and choose Library


Click Configure file protection to quickly secure any of your images



Auto-generate a new file protected link or create your own (optional)
As a result, your image will be temporarily removed from Google. At the same time, its direct URL will send users to a 404 not found page whenever accessing.
The plugin's functionality shouldn't stop there. You're allowed to grant specific users access to the secured image by creating protected links. They can use these links to access files in a period of time or a number of usages.
Remove Pictures That You Don't Own
Some of your personal photos on another website get indexed and appear on search engines somehow. These images can contain a credit card number or your signature.
You have different options to delete images. Request Google to delete the pictures if they're covered in their removal policies. In case that image is illegal, let Google know and it will help you review the content carefully before blocking. If you want to remove pictures not covered with Google Removal Policies, contact the site's webmaster to ask them to remove the image.
#1. Shield unwanted personal images from Google
Google helps prevent shared nude and sexually explicit images and videos. If you find any of your personal photos appear on search engines, simply use this form to ask Google to remove them.
Remember to choose "A fake nude or sexually explicit picture or video of myself." option under the section Which type of content you would like to remove. You're required to provide your full name, country, email address, the page URL where the image is live, and a sample URL of Google search results where the image or video appears. You should also give a screenshot of the offending content.
#2. Remove the illegal images
You see an image breaking the law? Just contact Google's Product Support Center or Copyright Help Center. They will thoroughly review the image and consider blocking, removing or restricting access to it if necessary.
#3. Take off images not covered in Removal Policies
Last but not least, contacting the webmaster proves one of the fastest and most effective methods to delete your image on other sites.
You can get in touch with the site owner in many ways. Firstly, look for their Contact us pages or email addresses which are often shown on the site's homepage. You can also use a powerful tool namely Whois to find the site owner's email address. The most reliable emails are "Registrant Email" or "Administrative Contact."
Whois also provides the site's hosting company. If you're unable to reach the webmaster, try contacting the site's hosting company.
Deindex Images from Google Today!
You can take different paths to remove indexed images from Google. For those you own on your site, make use of the Remove URLs tool. Would love to automate the process and protect your images at the same time? Give PDA Gold plugin a pin today, and reinvent the way you protect as well as removing your images from Google.
It takes a little bit longer to delete images on other websites that you don't own. You need to check if these images violate Google's removal policies or legal reasons, then request for removal. Contacting the webmaster to quickly take off your images is recommended.
Still have a question about how to delete images from Google search? Leave a comment to let us know.