Along with Search Engine Optimization, social media, and paid ads, email marketing proves the best way to boost your online sales. Once having the email list, you can communicate with prospects and convert them into customers easily.
However, building an email list doesn't seem simple as you might think. Users never leave their email addresses unless they receive something worth for exchange.
Plus, you must try many different methods to collect their emails, from putting out a signup sheet, hosting an event, or creating an online community for subscribers.
We have another approach that helps simplify the process. You can require emails before allowing them to download a high-value file, e.g. a how-to guide, a survey, and a checklist.
In this post, we're going to put together a useful instruction to help you get to know how to ask for email signup before a download. You will need support from the WPForms plugin. Tips about protecting these downloads using PDA Gold will wrap up this article.
Before you read further.... Free Download (PDF)
Secret Google Search Tactic That Will Skyrocket Your Sales, Connect You to the Perfect Partners, Influencers & Affiliates and Send Your Google Rankings Soaring! FREE when you sign up for Digital Creators Edge, a free newsletter for Digital Creators who wish to take their business to the next level.
Let's get started!
Why Require Emails Before Download in WordPress
We all understand the importance and benefits of email marketing more or less. Not all users purchase your products on their first visits to your site. But don't let these "window shopping" folks leave without taking any action.
Emails work as a perfect solution to classify leads, follow up with potential customers, and make sales. You can send them updates on your business, sales and coupon programs, or educate them about your products and services.
This also comes as a win-win scenario. While you get the email to follow up with visitors, your target audience receives bonus content for free. They just need to provide their emails in exchange for valuable downloads.
Take an online cooking course as an example. You can give users a downloadable Asian recipe ebook for free as long as they enter their emails.
Then you can follow up with information about which dishes should be served on which occasion. The chance for prospects to understand about your course and then enroll in it would be higher.
How to Collect Emails for File Downloads Using WPForms
Trusted by over 4 million users and receiving a lot of love with a 4.9-star review, WPForms proves its leading position in the form builder niche. You can easily design gorgeous contact forms within seconds.
More importantly, it allows you to create custom forms enabling users to subscribe and get free downloads anywhere on your WordPress site.
Step 1: Building a Newsletter Signup Form
Upon installation and activation, the WPForms plugin will automatically add a section named WPForms right to your WordPress admin dashboard. To add a custom lead-captured form, firstly head to Add New under the WPForms section.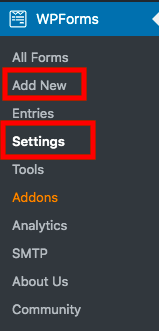 After that, give your new form a name and choose a template. It's recommended to start with Newsletter Signup Form.
If you're a WPForms free user, there are only 4 options, including Bank Form, Simple Contact Form, Newsletter Signup Form, and Suggestion Form. In case you take the Pro plan, you have full access to a long list of pre-made templates.
It will then display a form with 3 main fields including First name, Last name, and Email. You can add any other fields as you'd love to.
Click on each field to remove or edit it such as adjusting the label, providing a description, deciding whether it's required, and choosing field sizes.
We suggest that you should minimize the number of your form fields. If possible, just show the Email field. Too many fields will discourage users from completing the form.
Click on the Submit button to edit it. Change the button text from "Submit" to "Download." Remember to save your changes.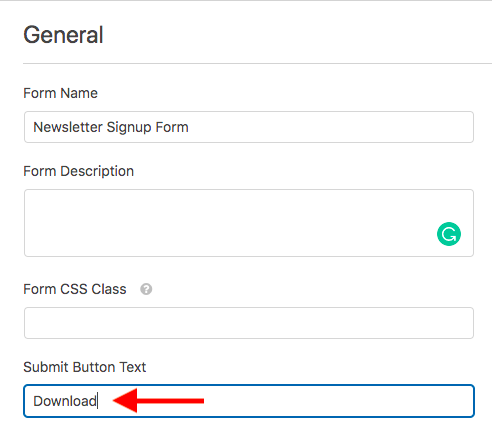 Now go to the Marketing tab to connect your form with your email marketing service provider. If you're managing your leads manually, just skip it and move to the Settings section.
Choose Confirmations in the menu to edit your confirmations. Select Show Page or the Message type to confirm user subscriptions. While the Message permits you to display the download link right on the thank you message, the Show Page option will redirect users to a new page with the link to download.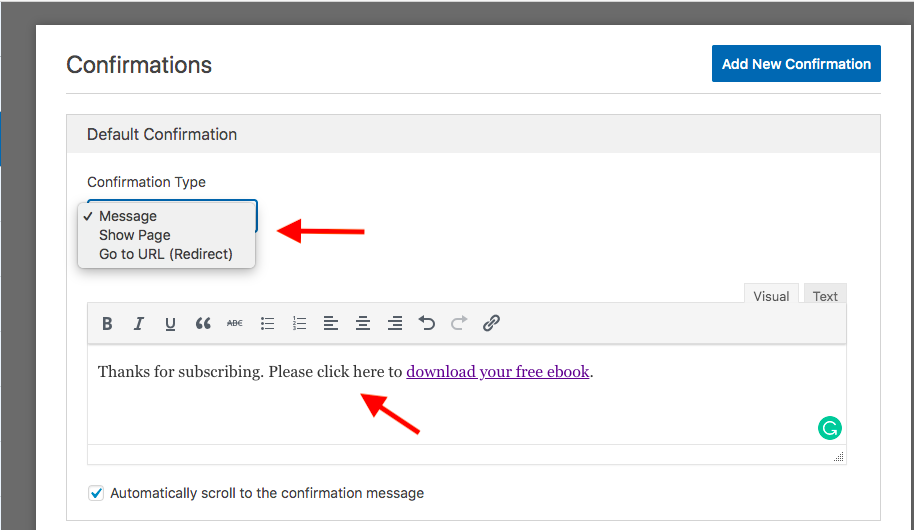 Since you're going to offer them a downloadable file, replace the default message of "Thanks for contacting us! We will be in touch with you shortly." with a new one. It can be "Thanks for subscribing. Please click here to download your free ebook."
Step 2: Add The Form to Your WordPress Content
It's time to showcase your signup form on your WordPress content. WPForm lets you do so within a finger snap.
You can create a new page/post or open an existing one. It's easier if you edit the page with the default editor which enables you to add blocks. You should hit the Plus button at the top of the edit screen, look for the WPForms block and add it to the content.
Select the form you've just created from the drop-down menu. Preview the page to see how the form looks like when it's live. Then publish the post.
That's it!
Protect Downloadable Files from Unauthorized Users
Although these giveaways are free, you don't want those who never sign up to access them. Consequently, you will lose leads, and probably customers since you miss the opportunity to keep in touch with them, update them on your products, and turn them into buyers.
Instapages estimated that over 80% of the content is gated. And there is no reason for you to stand aside from this trend.
You should protect your files from being shared by preventing users from downloading them unlimitedly. In other words, you can restrict the download limit to 1 or 2 times or after certain days. As a result, only subscribers can download and have access to your intellectual documents.
To achieve this, you need help from the Prevent Direct Access (PDA) Gold plugin. It authorized you to protect your download files from unwanted users in a few clicks.
Once installing and activating the plugin, go to your WordPress Media Library. Look for your designed file and click "Configure file protection." Then hit the lock button "Protect this file."
A new popup appears where you can manage your file download restriction. Auto-generate new links for your file or customize your own link.
Expire Your Private Links
It's possible for you to set the Download Limit and Download Expiry for the protected files. After a given time or a number of clicks, users are no longer able to download your files.
You can set this in the Customize Link screen or by clicking on the edit button on the right side of the link.
Your next step is to copy this link and insert it into your previous newsletter signup form. After entering an email and click Download, users will receive the file's private link instead of its original URL.
Exchange Your Valuable Content for User Emails
It's worth putting effort into creating high-quality downloadable files and offer them for free to capture leads. You can build up your email list, communicate with your subscribers frequently, and convert them into customers.
WPForms plugin allows you to create a newsletter signup form, then add the form to your WordPress content so that users can enter their email addresses.
You should protect your files from unauthorized users too. This helps you prevent folks from getting your valuable offer without giving back anything. Simply install the PDA Gold plugin and let it handle the job! You just need to decide how many times or when your downloads will expire only.
Let's have WPForms and PDA Gold assist you in requiring emails before a protected-file download today!