Have you wondered why you can build your website on WordPress without paying anything? How could WordPress afford to let you use its software for free? You may be curious about how can WordPress make money to develop its software as well as offer high-quality products and services in the long run.
In this post, we will discuss the underlying concept of WordPress, its ownership, and more importantly how this most popular Content Management System (CMS) earns money.
An Overview of the World's Most Popular CMS
WordPress is the most powerful and popular tool to create websites in the world, powering over 34% of all websites on the Internet.
When it comes to building a new website, beginners might find it difficult to start. That is to say, WordPress offers an easily accessible and user-friendly platform to everyone – even those who don't know anything about coding or developing a website.
WordPress is designed as an open-source CMS so that you can use, modify, build upon or restructure your website in the way you desire.
While WordPress used to focus only on blogs, you can create any types of websites with this platform, from corporate sites to E-commerce stores, portfolios, forums, and anything else you can think of. There are 2 versions of WordPress, WordPress.org and WordPress.com, which may cause confusion to beginners. In fact, there are significant differences between these two platforms. Now let's dig deeper into each platform and their main differences.
WordPress.org: Open-source Software to Build Self-hosted Websites
WordPress which you usually use to build your website is WordPress.org. WordPress.org was launched in 2003 by Matt Mullenweg and Mike Little. This is an open-source operating system and a self-hosted platform where you're able to download its software and find your desired hosting company elsewhere.
In other words, you have complete power to manage your website performance, security and other important aspects. You can also control the design and functionality of your website. What's more, WordPress.org is totally FREE for you to truly own and customize your website.
However, it's necessary for you to find a reliable web hosting on your own at an affordable price.
WordPress.com: A Managed Hosting Platform to Build Websites in Minutes
Unlike WordPress.org – a self-hosted software, WordPress.com created in 2005 simply is the hosted one. It means WordPress.com provides everything, from a hosting, website building software to a domain name, for you to build your website. If you don't want to handle everything from scratch, then WordPress.com is for you.
When using WordPress.com, you take the worry out of finding a hosting company with a domain name since this platform offers a high-quality, spam-free and secure hosting to your website.
Creating your own website only takes a few minutes on WordPress.com. This is a for-profit service. So you will have numerous limitations when using a free account. In order to have greater customization and control over the site's operation, you need to move up to paid plans.
WordPress.org vs WordPress.com: Know the key differences
Although WordPress.org and WordPress.com are all related to WordPress, the comparison table below highlights essential differences.
| | | |
| --- | --- | --- |
| Elements | WordPress.org | WordPress.com |
| Platform | Self-hosted. Your website is hosted by your desired web hosting company. You'll need to go and find your own hosting provider. | Fully Hosted. WordPress.com is responsible for hosting your site with the free version and premium ones. |
| Domain Name | You may pay more money to the hosting provider to get your custom domain. | You can get free subdomain but have to pay for a custom domain. |
| Security, Backups, and Maintenance | You need to manage and organize these elements by yourself. Any security plugins are freely installed. | WordPress.com has full duties to make sure these elements are met. |
| Theme | You can install any custom themes from WordPress.org with no fee or other theme providers. | This site doesn't allow you to use the custom theme. You just use free themes or pay for premium to add themes from WordPress.com. |
| Design Customization | You can customize your website's design. | There are a few customization options for you. You need to pay for premium to get other options. |
| Plugins | You take full control of the plugins on your site. You can install any WordPress plugins from its repository or add new ones from outside. | It provides limited built-in plugins by default. You can only add new plugins by paying for WordPress.com |
| Advertisement | You can earn money by displaying advertisements on your site. Nobody can add any ads without your approval. | As having a free account, you cannot control the appearance of your ads. Your site will show WordPress.com ads and you need to pay to add your own ads using WordAds. |
Who owns WordPress?
Although WordPress.com and WordPress.org were created by the same person, Matt Mullenweg, they are owned by different organizations.
The WordPress Foundation is a charitable organization running WordPress.org. This organization offers free and open-source software to the community. On top of that, this platform is released under General Public License which lets you use and download the software without any restrictions.
WordPress.org is contributed and developed by volunteer developers. That's why WordPress.org is frequently updated and improved with the bug fixes and new web technologies.
On the other hand, WordPress.com is owned and hosted online by Automattic. Therefore, this company holds the WordPress name, logo trademarks and other entities.
Let's make it clear. In order to sustain the non-for-profit platform WordPress.org, Automattic donated the WordPress trademark to the WordPress Foundation. Otherwise, Automattic held the privilege to use it as a useful way for the company to make money in the long term through its WordPress-related products and services.
Now you'd already have a basic understanding of the concept and ownership of WordPress. Let's focus on the most important part of this post, how WordPress makes money.
How WordPress Makes Money?
Since WordPress.org makes its software available to everyone, donations are the main source of the WordPress Foundation's revenue. They usually come from those using the free WordPress software to run their business and make money from that.
In contrast, Automattic earns money by mainly offering their WordPress related products and services. Let's take a look at 5 main ways WordPress generates incomes from.
#1 Sponsorship
As one of the most reliable platforms, WordPress recommends many web hostings such as Bluehost and DreamHost. It could make a great deal of money by giving specific recommendations or feedback on which host represents the best one in the hosting world.
#2 Advertisements
Automattic has full control to display its ads on user's websites created via the free plan on WordPress.com. Sustainable revenue is generated from that source alone.
Whenever free blogs on WordPress.com display with Google ads, revenues earned from these ads will go straight to Automattic. Overall, free plan users are indirectly contributing to Automattic's revenues.
When you want to monetize your website, it is necessary to upgrade to a premium plan which allows you to run your own ads, using WordAds – Automattic's WordPress-based advertising network. Feeling that sense of customers, Automattic builds this huge network and gets great profits.
#3 Affiliate Marketing
Automattic also earns money through Affiliate Marketing. Automattic links to the WordPress hosting providers on its third-party suggestion list to get a high commission based on the number of sales on those websites. This profitable hosting referral system is one of the main streams that WordPress earns money from. 
#4 Premium Services
As mentioned above, there are many limitations in the free plan in WordPress.com. Serious users would likely upgrade to a premium plan with more advanced features. Automattic gets huge revenue from thousands of user upgrades every day.
Premium Plans
You need to pay Automattic a fee to buy additional storage space for your files or use a custom domain. There are four different premium plans designed for different purposes of users to give them more control of their websites.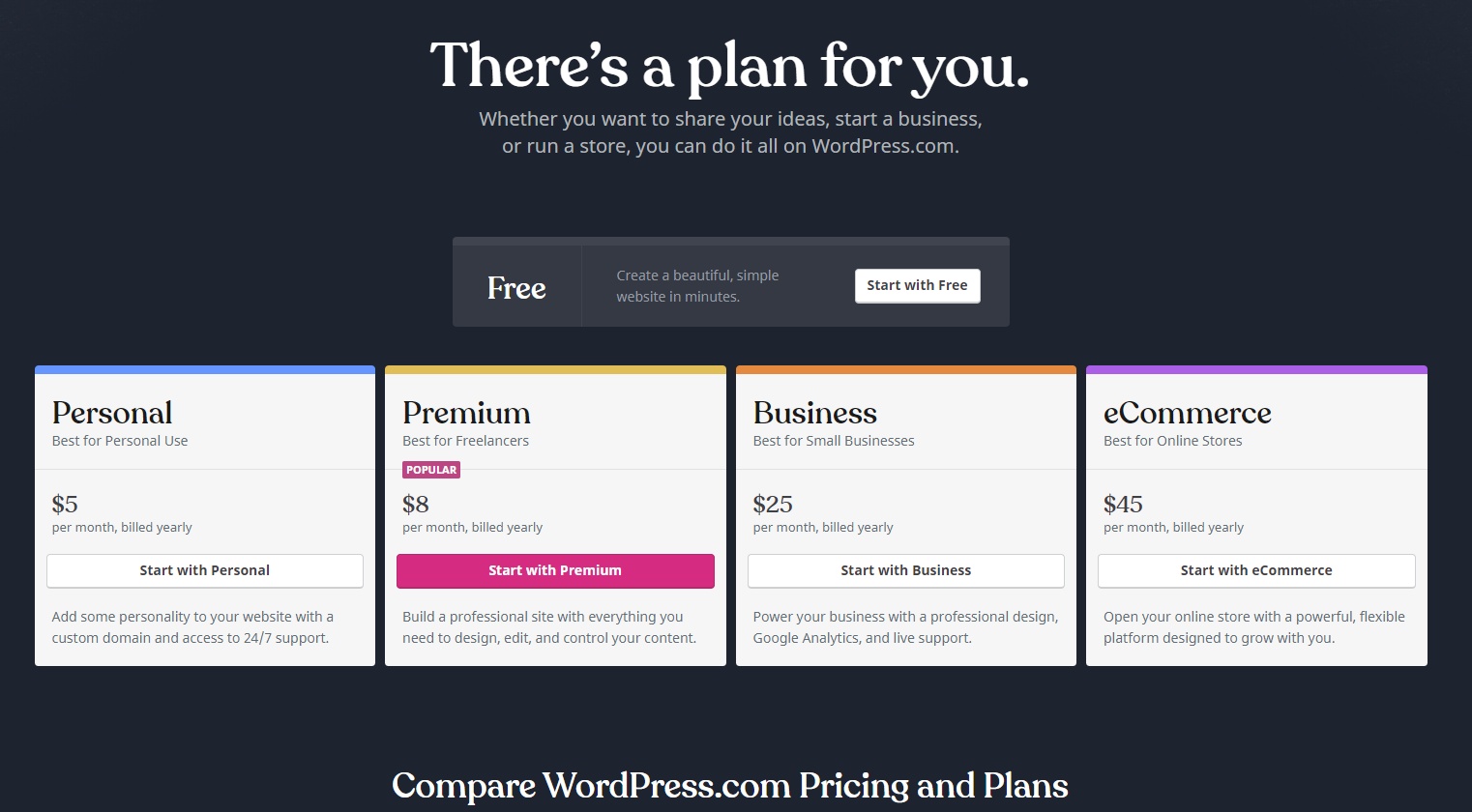 WordPress themes
There are numerous premium WordPress themes that users can use to change the look of their blogs. The company will earn profits by selling these themes through its platform. On top of that, WordPress gets commissions from the third-party theme providers when users purchase their themes.
WordPress Support
If you cannot solve WordPress-related problems by yourself, you may need to buy this service. The development team of WordPress will analyze and suggest some effective solutions for your website's development.
Guided Transfers
You've developed your website on WordPress.com. After considering all the pros and cons, you might want to move your blog away from this platform to a self-hosted one. A guided transfer from your WordPress.com site will cost you a one-time fee of $129.
WordPress.com VIP
Web hosting services and support solutions are provided for big brands like CNN, Time, etc. Automattic will get around $15,000 per month with each purchase.
Crowdsignal
This service enables you to create unlimited surveys, polls, quizzes, votes for your marketing campaigns and websites. Crowdsignal charges you around $899 a year for the paid version.
#5 Premium Plugins
Besides providing premium services for the managed hosting platform, Automattic offers many premium plugins on WordPress.org.
WooCommerce
WooCommerce allows you to build and run an online store with WordPress. Following addon business model, WooCommerce also provides paid official extensions as well as premium themes to help customize your own store.
Jetpack
This plugin provides many powerful features, from security, performance to site management. You can choose to use a free plan or move up to personal, premium or professional one.
VaultPress
Automattic provides real-time backup, security, and protection services in case you want to backup your WordPress website or be informed about potential security matters. You have to pay Automattic $39 per year for this service.
Akismet
This service will filter all spam in your blog posts and make sure that you won't see any comments or contact form spam. You have to pay $5 per month to get a commercial license of Akismet.
Happy Tools
This plugin helps you manage your workflow and solve problems with distributed teams. Each user has 30-day free trial before paying $5 each month.
Get the idea of How WordPress makes money?
WordPress and its community have been growing significantly since its first release in 2003. Before you get how WordPress makes money, it's important to understand the underlying concept of WordPress as well as the differences between WordPress.org and WordPress.com.
While WordPress.org is free and contributed by the community, Automattic develops and owns WordPress.com – a for-profit platform that provides all the necessary tools for managed WordPress sites and mainly earns revenue from that.
There are various ways that WordPress could make money from. Sponsorship, advertisements, premium products and services, along with affiliate marketing provide lucrative income streams for WordPress, particularly Automattic.
If you know how else WordPress makes money, please leave it in the comment box below!