WordPress is the most popular content management system (CMS). It allows everyday people, including those who don't know anything about web design, to create websites and publish content!
In your own articles, besides writing engaging texts, you should also stick to a few quality photos. They will "hook" visitors into reading more content on your website!
Accordingly, the zoom function will greatly benefit certain photos, like high-resolution shots of a product. It enables readers to zoom in the photo and see tiny details that can't be discerned in normal-size.
Fortunately, several image zoom WordPress plugins give your website the photo-zoom feature.
How to Zoom Out on a Featured Image in WordPress
A WordPress featured image or a thumbnail is the first image visitors will see when they read your post. It represents the post's content.
In many cases, a featured image having the zoom feature affects your reader's interest and engagement positively.
For example, if your featured image is a high-resolution photo of the product you're selling, the zoom function will help readers inspect the miniature details of the product closely. They won't be able to do that (at least easily) without the zoom function.
#1 Choose a Represent Image
The first step is picking a good representation (featured) image. This photo should be relevant to the post's content. When people look at it, they should have a good idea of what the post is about.
The photo should also be high-quality. A rule of thumb is to use photos whose resolutions are no lower than 1920×1080 (1080p or Full HD).
Low-resolution photos not only look bad when plastered on a post but also mess with the image zoom function. When you zoom in on a low-res photo, the detail will break apart and become blurry chaos. Meanwhile, a high-quality photo will retain its sharpness.
If you're using product photos as featured images, we recommend picking photos with 2K (2048×1080) or 4K (2160×3840) resolution. These photos are extremely sharp so that the smallest detail will be preserved when zoomed in.
#2 Ensure Commercial Rights to Use the Image
In case you rely on photos you find online instead of your own photos, ensure you have commercial rights to use them first. If you don't have the correct license from the authors/original artists, an expensive and complicated lawsuit can ensue.
When the photo is under the Creative Commons (CC) license, make sure it's available for commercial use. Or you can purchase a license from the artist before publishing it. If the photo isn't under any license, you need to obtain written permission to use it for commercial purposes.
Tip: Check out how to restrict image views and grant access permission to specific user roles.
Photos in the public domain are not tied to any licensing or permission. You can use them however you wish. This is why most websites apply these free stock photos to their posts!
#3 Know WordPress Image Dimensions
Every image you post onto WordPress will automatically be processed into four sizes.
Thumbnail size (150×150 pixels)
Medium size (300×300 pixels)
Large size (1024×1024 pixels)
Full size (the original size of the image)
Depending on what you're planning to use the photo for, you can pick between these four sizes. And then insert the photo appropriately into your article.
#4 Change Featured Image Sizes
Each webpage has a different design.
Some place the featured image prominently in the largest size available on the front page to attract viewers' eyes. Some use smaller sizes to make the look of their website cleaner.
It all depends on your preferences and aesthetics. But in both of these cases, you will have to change the featured image size.
This can be done via the WordPress admin panel. Go to your Settings > Media. Here, you can view and change the default image dimensions mentioned above (Thumbnail, Medium, Large, and Original).
Tune the numbers to your liking, then update the featured image size in your post.
#5 Reformat Old Featured Images
Once you have changed the featured image sizes, go back and reformat all of your old featured images. The new dimensions you have just uploaded are only applied to the newer photos from now on. Earlier photos will still remain the old dimensions.
So you have to re-upload all of the photos to your specifications? To get rid of this boring manual way, you can consider using a plugin. It will help you update all of your photos to new sizes in one fell swoop, like reGenerate Thumbnails.
Zoom for Images on Posts and Pages
The zoom feature on your webpage allows visitors to interact with your photos. They will be able to see the smaller details in the images that can't normally be noticed without zooming.
You can modify codes or install a plugin to bring a zoom tool to your website in mere minutes. We highly recommend the latter method as it's simple and beginner-friendly.
4 Best Image Zoom WordPress Plugins
So far, these are the four most popular image-zoom WordPress plugins.
#4 MagicToolbox
MagicToolbox is a straightforward and simple tool. Install it through your WordPress' plugin page, follow the on-screen instructions to set up, and voilà!
Your users can now closely look at every photo on your website using a zoom box.
#3 Featured Image Zoom
Once installed, Featured Image Zoom will let users to zoom in on the featured image in your article. You can change the zoom size parameter to give users the most optimal experience.
Notably, Featured Image Zoom also works on mobile.
#2 WP Image Zoom PRO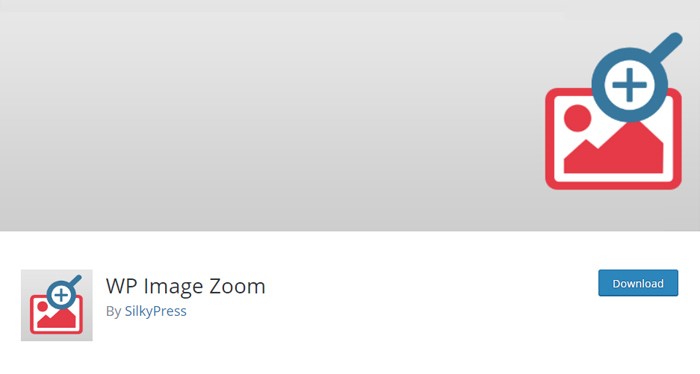 WP Image Zoom is possibly the most configurable zooming tool on the market. Besides the basic zoom function, it lets you adjust the zoom lens shape, change the zoom window position, etc.
#1 WooCommerce Zoomifier
WooCommerce Zoomifier is a basic zoom tool that magnifies the images in your post. Users can enlarge the image by staying on the mouse and using the scroll wheel.
You can fine-tune many settings, like the zoom animation's height, color, and fade-out speed, along with many other preferences.
What Is Your Favorite Image Zoom WordPress Plugin?
Zoom setting is a great feature to have on any website.
It will be especially helpful if you manage a site selling physical products. With a closer look at your goods, your sales will surely increase.
For those running a content website, being able to zoom into photos is a potent way to keep visitors engaged. They'll stick around for longer and be more compelled to read your other articles.
Hope your website will prosper in the future with the zoom function that these image zoom WordPress plugins provide.
If you find this article useful, don't forget to subscribe to our website for more!