Over 300 new websites are created every minute, which leads to the problems of overloading data and misinformation. This is when businesses want to improve their SEO to make their websites pop and competitive in this fierce market.
A sitemap, or XML sitemap, is considered as a vital element for your SEO strategy. So what is a sitemap and why is it so important that your website should have one? First, let's understand the basics.
What Is a Sitemap?
As its name, a sitemap is a necessary map for your website that enables search engines, such as, Google, Yahoo, and Bing to crawl. In technical terms, it is a file that has a list of all pages and files and the connections between them on your website.
In general, there are two main types of sitemaps: XML and HTML.
HTML sitemap is visible to visitors and helps users understand your website as well as navigate them to a specific site quicker.
While XML enables only search engines to understand and use it to index and learn about your site and its structure, it cannot be seen by users.
There are still a lot of controversies over the necessity of these types of sitemaps. Actually, they can even bring more benefits than you might know. Because we want to focus on how to use a sitemap effectively to boost SEO, an XML sitemap is what we should dig deeper into.
Types of XML Sitemaps
XML sitemap itself also has different types that you should know to choose the most suitable one for your site. You can make an XML sitemap index, dynamic sitemap, XML image/video sitemap depending on your site capacity and purpose.
XML Sitemap Index
An XML sitemap lists out all pages you want the search engines to crawl. But the XML sitemap has its own limitations.
Each XML sitemap only contains a maximum of 50,000 URLs and its uncompressed file size is about 50 MB. Whenever exceeding the limit, you have to divide URLs into multiple XML sitemap files.
XML Sitemap Index or sitemap-index.xml combines all of your XML sitemap files. After creating several XML sitemaps depending on how big your website is, you then group them using XML Sitemap Index. This sitemap will be the final file that you need to submit to search engines such as Google Search Console and Bing Webmaster Tool.
Dynamic Sitemap
As changes are made on your website, it requires the sitemap to be updated for search engines to crawl it properly without thinking your sitemap is outdated.
Suppose you may be able to manually create and update a new sitemap, it would just be a waste of time and such a pain in the neck for each time you make changes.
Dynamic sitemaps effectively assist you in automatically updating your server to reflect any changes made on your website. This can be done easily with a dynamic generator tool or coding a custom script on your site.
XML Image Sitemap/Video Sitemap
Created to enhance the indexation of the image or video content. Image/Video Sitemaps prove essential only if images or videos are indispensable to your business. For example, you own a stock image website or sell products through videos and the search results on Google Image Search is what you aim to.
However, when they are not so important to your site, you can save your crawl budget with JSON-LD markups such as JSON-LD schema.org/ImageObject or JSON-LD schema.org/VideoObject.
Sitemaps' Role to Your Business
Sitemap mainly ensures search engines to crawl your website more effectively. Google, one of the biggest search engines in the world, has confirmed that "a sitemap can enhance the crawling of the site." So once Google has your sitemap, Google crawlers will know exactly where it should go even without any internal links in your pages.
Within under 1 second, there are millions of results Google can give out with just one simple search entered. So after submitting your sitemap to Google, you already put one foot to the process in which your site will have more potential to get more traffic and improve search result ranking.
4 Best Ways to Optimize Your WordPress Sitemap
Sitemap only works its best once you know how to make it right. Here are some valuable tips that ensure your investment in crawling is worthy.
1. Prioritize pages
The quality of your content appears as the most important factor to attract and keep visitors coming to your site. It would be better if you can prioritize your pages to eliminate the minimum of low-quality pages included in the bots' list. Even though some pages like login and about page are essential to your website, search engines still interpret them as not useful or informative enough to suggest to visitors.
You can use a Google sitemap protocol to rank your web pages with scores from 0.1 to 1. Any pages that have a higher score will be crawled more often than those with lower scores. Pages offer unique information, including images and videos, or engage a lot of users to leave comments and reviews should get higher scores. Meanwhile, those "contact us", "about us", or even login page should get a low score.
2. Only include best pages in your sitemap
You should understand that a sitemap you submit will only contain a list of pages you expected to be crawled. So an XML will imply that you consider those pages more essential than those that are not included in the sitemap.
Listing out your best pages, or SEO relevant pages helps search engines to crawl your site more wisely which leads to better indexation.
3. Put your sitemap to the root and robot file
You can locate the root folder of your website and add your sitemap to it. This will create a new page for your site. By adding "/sitemap/" to a URL (in case that website did add their sitemap to the root folder) and the sitemap page will show up. Here is what it looks like on the Apple site.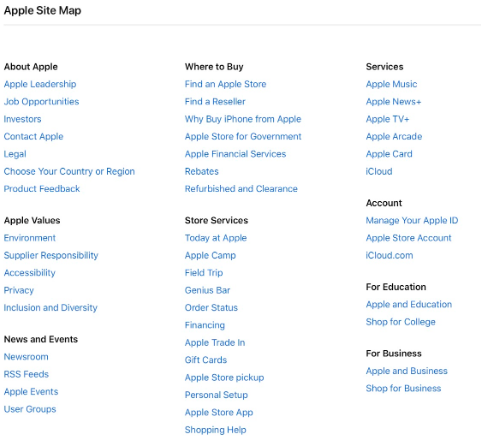 It's possible for you to add your sitemap to robots.txt file too. It will act as an instruction for search engine crawlers to know where to index your website.
When it comes to robots.txt file, you can use it in different ways. Typically, your robots.txt file can prevent crawlers from indexing some certain URLs on your website.
4. Create your sitemap by tools and submit it to Google or Bing
It will be easier and time-saving to use sitemap-generator tools to create a sitemap for your website. You're running a WordPress site? Yoast plugin is the most popular one.
With websites using other content management systems, you should use Google XML Sitemap for your sitemap creation. And then when you get the final sitemap that you're happy with, use Google Search Console or Bing Webmaster Tool to submit it.
Still, there are 2 common mistakes that you should avoid when creating sitemaps
Putting error pages to your sitemap:
Those redirections (3xx), missing pages (4xx), or server error pages (5xx) shouldn't appear in your sitemap. It doesn't make any sense when you put your worst pages in the list that you want Google to suggest to others.
Including non-indexed URLs:
Since sitemap is a file of URLs that you suggest Google index, what Google will do when they receive those non-index or blocked pages. Making your sitemap consistent and it will work its best.
Improving SEO Ranking with a Wise Sitemap
Understanding sitemaps and knowing how to optimize them practically through some best tips provided, you will be able to boost your SEO's website. Make sure your sitemaps are a list of your priority pages, include all the best pages, and add them to the root and robot folder of your website. Last but not least, don't forget to submit it to Google Search Console.
If you still have any questions regarding this post, feel free to leave your thoughts in the comment section below.