A WordPress media library is one of two main sections under the Media tab in your WordPress admin sidebar. It's where you store all of your media files including images, videos, audios, document files and so many more.
Whenever you upload new files to your posts or pages, they will be moved directly to the media library for later edit and review. Technically, the media library controls every media item that you embedded in your post, pages, and custom post types.
However, website admins are normally focusing too much on protecting the content and the site's access, but forget to shield their uploads. Most membership or password protection plugins assist you in securing pages and posts only. Users can still access files when searching on Google or having their direct URLs.
What will happen when your site provides plenty of online image stocks, online learning courses, or even selling digital products, but you don't have any protection plan for those files? Uncountable loss can be predicted here, right?
Reasons to Protect WordPress Media Library
Website owners are putting efforts into protecting their websites in many ways, from providing a membership site to set a site to password protected.
Unfortunately, those methods are not only insufficient to secure your files but make your website less interesting to new visitors.
In case you forget, but all the files you upload online will somehow appear on the search results if users search for the right keywords. This means they're visible to thousands or even millions of unwanted users.
Plus, you often share download links of your files to members, but controlling those links is not easy at all. There is always a loophole in sharing links which leads to files leaks. Once a member has the download link, they can secretly share it with others and soon your files are not private offers anymore.
So you should look for a solution to protect both your site content and all the media files right now.
Here Come Prevent Direct Access Gold
All the troubles that website owners are facing will be resolved satisfyingly with Prevent Direct Access Gold (PDA).
Restrict protected files access
For certain media files, you just need to set an access restriction based on users' roles. This function allows you to clarify who can have your permission to file access.
Block Google from indexing files
Plus, PDA prevents Google or any other search engine from displaying your media files on the search results. Private images, videos, or any protected files on your WordPress media library will no longer appear on the search results. Only members, logged-in users, and other custom roles are allowed to access your files, depending on the settings.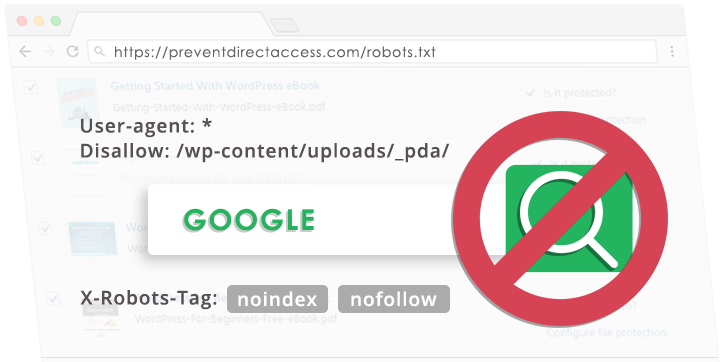 What if people have the direct files URL? Don't worry, PDA will automatically redirect any unauthorized access to your secured files to 404 not found pages. No matter how people find the original file URLs, as long as you protect your files with PDA, you don't need to worry about illegal approaches.
In case you want to entice new members to your site, you can invite them to become a member. Switch from the unfriendly 404 error page to your login page would be a good idea, too.
Some dangerous issues will arise when you share download links of your media files to members. Even though you just share them with your members, who knows how many more people also have your files' download links.
To prevent that, PDA gives you three other powerful options for link sharing management, besides creating unlimited download links.
Create and expire download links
You can manually delete all the links after you don't want to share them anymore.
Or else, you decide only with how many clicks or how many days members are able to access the private download links and set that up with PDA. After that, your download links will be deleted or deactivated automatically.
To protect your private download links even further, PDA blocks access by IP address. This increases the difficulty of intrusion attempts from uninvited users.
But what makes Prevent Direct Access more powerful than other available plugins?
Well, let's say you want to upload a big file to your media library, and you have a plugin to help you with that, such as Add From Server. Rather than letting you upload your file straight to WordPress media library, other file protection plugins force you to do that in another "download file" section.
Prevent Direct Access Gold facilitates you to use Add From Server to upload your files straight to the media library and make all the protection settings there without any confusion.
The Important Files Deserves to be Protected
Let's think about the WordPress media library as a treasure chest where you store all of the essential supporting files of your sites. Only your "crew" and people with the right "mantra" can open and access that chest.
Also, don't put your files at risk. The Internet is open for everyone, so you would never know which guests coming to your site are customers and which ones are thefts. Prevent Direct Access Gold is a "must-have" plugin that your media library is asking for. With all the brilliant features, PDA promises to give you full protection to your media files in the easiest way possible.