Appearing a long time ago along with the Internet, forums have been great places for netizens to share information and discuss topics.
When it comes to forums, besides posting topics and replying to others' comments, attaching files is users' demand. They may want to enclose a PDF in their answers or a meme in their comments.
Still, not all WordPress forums allow this function, especially those built by the bbPress plugin. To solve this, you need a third-party solution called rtMedia.
In this article, we'll guide you through how to enable users to upload files to your forum with the help of the rtMedia plugin. The method to secure these uploaded files will also be mentioned.
But before we get started, let's understand bbPress and its power in managing forums on your WordPress sites together.
Before you read further.... Free Download (PDF)
Secret Google Search Tactic That Will Skyrocket Your Sales, Connect You to the Perfect Partners, Influencers & Affiliates and Send Your Google Rankings Soaring! FREE when you sign up for Digital Creators Edge, a free newsletter for Digital Creators who wish to take their business to the next level.
What is bbPress?
Brought to life in December 2004 as a solution for the WordPress.org support forum, bbPress has been assisting thousands of users seeking a simple plugin to add forums to their site. You're able to make your entire WordPress site or part of its become forums.
The plugin gains trust from users thanks to its lightweight and ease of use. You can use this tool to set up full-featured discussion forums for members to join, add topics, and manage replies.
There are still some limitations when using bbPress. As mentioned, it doesn't give forum members chances to upload media files of any kind. They won't be able to include files in their comments/replies or add images and videos to their profiles.
Imagine you operate a forum for photographers and designers, how can they upload their works and share them with other members in the forums?
How to Allow bbPress Attachments
To let users add attachments to your forums, you must have your bbPress plugin ready as well as creating at least one forum on your site. Refer to this article on how to add a forum to WordPress.
After that, follow these 4 steps to enable file upload.
Step 1: Install the rtMedia Plugin
Firstly, go to the Plugins section and click Add New in your WordPress dashboard.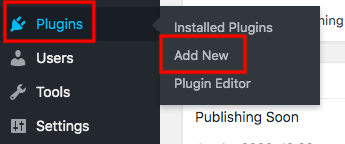 Type "rtMedia" in the keyword box. In the list of plugin results showing up, hit Install Now and Activate on the plugin rtMedia for WordPress, BuddyPress and bbPress.
Upon activation, a new section name rtMedia will be inserted into your admin navigation menu immediately. You can head over to the Settings page under it to configure its settings.
There are 7 different tabs for seven types of settings, namely Display, Types, Media Sizes, Privacy, Custom CSS, Other Settings, and Export/Import.
The Display settings page permits you to switch on comments and likes on media files, search media galleries as well as direct upload. 
The Types tab lists out media file types that can be uploaded to your forums. The plugin's free version offers 3 options: photos, videos, and music. Simply turn on the Allow Upload toggle next to each file type so that members can add that file to the forum.

You can control everything related to file dimension in the Media Sizes tab. You have the right to decide each entity's width and height of certain file types. For example, the thumbnail size of photos is 150×120 while the medium size is 320×240.
Anytime you switch the Privacy toggle, rtMedia displays 4 different default privacy options: Private, Friends, Logged in Users, and Public.
To allow file uploading in bbPress attachment, it requires you to buy the rtMedia bbPress Attachments add-on. Once you activate this add-on, a new bbPress section will be added to your rtMedia settings page.
Step 2: Allow File Uploading in bbPress forums
After turning on the Enable attachments in topics/reply option, you can welcome members to insert files into any topics and replies. It's possible for you to give non-logged-in users the right to insert files too.
Now, all users need to do is click on the Choose Files button under each discussion topic and choose their desired images/videos. Hit the Submit button and the files are published promptly.
That's it.
Restrict File Access in Private bbPress Forums
Why You Need to Protect Medial Files in bbPress Forums
Every time a member adds files to a topic or comment, they'll be uploaded to the media library automatically. Similar to any other file uploads, these attachments are indexed and listed on search results.
Although we've set the forum privacy to the Private status, non-members or unauthorized users can still guess the file name and reach them on search engines. This poses the risk of leaking private files to the public.
To reduce the threat of handing valuable files of members to unwelcome guests, you must protect them. And this is where the PDA Gold plugin becomes your lifesaver.
How to Protect Attachments in bbPress Forums
PDA Gold comes as a clear-cut winner in WordPress file protection and security. You can prevent users from opening and accessing your files directly with just a few clicks. It also permits you to auto-protect new file uploads. There is no more manual file protection required from your side.
Plus, the plugin will prevent Google and other search engines from indexing your private files. They will no longer show up on search results.
After installing and activating the plugin, you'll see a new Prevent Direct Access Gold section on your WordPress navigation menu. Enable the feature Auto-protect New File Uploads.

Head to Media > Add New then tick on the Prevent Direct Access Gold box. The option helps you secure all upcoming file uploads automatically.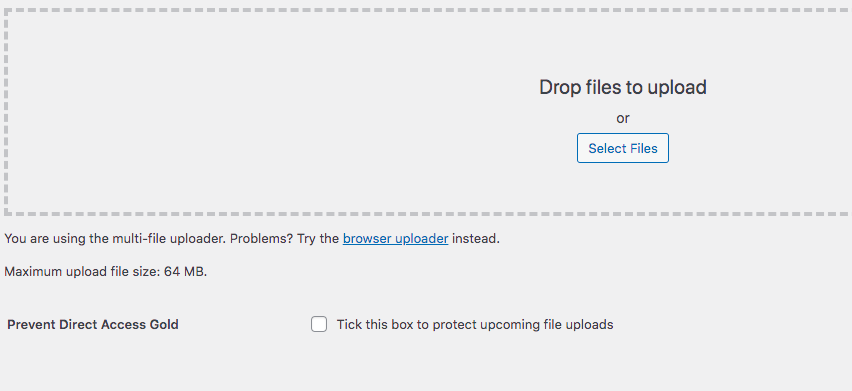 In case you want to protect other files already added to your library, open Media > Library, hover your desired file, and click Protect under its name.

Don't Risk Your bbPress File Upload to the Public
rtMedia and its bbPress Media Attachemts add-on make it easy for users to upload files to topics and replies in bbPress forums. However, these tools don't help secure these files from the public eyes, especially those intending to look for files on search engines.
We've guided you through the whole process of securing media files uploads using the PDA Gold plugin. It just takes you minutes to install and have the plugin auto-protect your newly uploaded files.
What are you waiting for? Let PDA Gold be your powerful assistant in securing bbPress file uploads now!