Whether you're an online course provider selling ebooks and a software developer intending to offering educational guidelines. Or you're simply a businessman owning an intranet site sharing online documents internally. You definitely need PDF files to deliver these kinds of information thanks to its ease of use and maintained format.
But we all know that WordPress, by default, lets you display PDF in the content via a download link only. So you need a PDF plugin to extend this feature to your WordPress site. You can generate, embed, edit PDFs as well as converting pages and posts to PDF files.
There are hundreds of PDF plugins available on WordPress.org, not mentioning premium ones or those being sold on other plugin markets. To separate the wheat from the chaff, we've summarized and brought up the top 10 plugins so that you can pick one for your site. Before digging into the list, let's set out some reasons for installing PDF plugins.
The 5 Best WordPress PDF Viewers
2 Most Powerful Plugins to Protect WordPress PDFs
Top 3 WordPress PDF Plugins Serving Other Business Purposes
Why You Need a WordPress PDF Plugin
As mentioned above, you can just upload a PDF file to WordPress Media Library and insert it to your content via a download link. Whenever users want to view the PDF, they need to click on the link and open it. This means that they will leave the current page even you set the link to lead people to a new window or not.
As a consequence, it reduces their time on site and at the same time increases the bounce rate.
With the help of a PDF viewer, you are hassle-free to embed your file directly to a page or post. Users can see, scroll, and print the PDF right on the post conveniently.
Plus, supportive plugins allow you to watermark PDF automatically, track their downloads, and even protect them from unauthorized users.
Following are the 10 most powerful WordPress PDF plugins for you to reference. They're divided into 3 different groups based on their main features and capabilities, including:
WordPress PDF viewers
WordPress PDF protection
WordPress PDF plugins serving other business purposes
The 5 Best WordPress PDF Viewers
First of all, we'd like to list out the most common plugins to embed PDF files to WordPress sites.
#1 Watermark WordPress Files Plugin
Trusted by thousands of premium users, Watermark WordPress Files proves one of the most comprehensive solutions enabling you to embed your PDF document into your WordPress content.
This simple yet user-friendly plugin lets you decide the PDF's appearance, i.e. viewer's width and height plus toolbar's appearance. On top of that, you can embed your files hosted on the AWS S3 bucket too.
It's so straightforward to use the plugin. Once installed, the plugin adds a new icon of PDF view right to your WordPress pages. It takes you only one click to display a PDF on your content.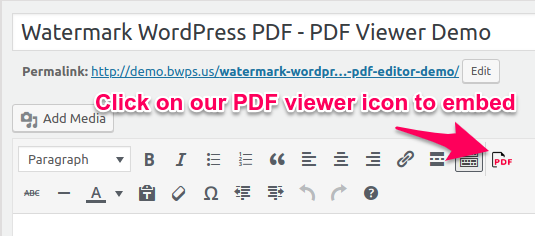 Apart from "saying yes" to PDF viewers, the Watermark WordPress Files plugin enables you to export pages and posts to PDF files. It makes converting individual posts or multiple ones at a time available too. Creating a table of content for long PDFs is no longer complicated thanks to its TOC feature.
As the name suggests, the plugin gives you a helping handing in protecting your files via watermarks. You can add special text or images to your PDF to prevent others from stealing and reusing your files.
The plugin features shouldn't just stop there. It helps protect your Portable Document Format files by disabling right clicks all over your site. There are no chances for theft to copy and steal your high-value content.
#2 PDF Embedder Plugin
Trusted by over 300 thousand users and receiving a lot of love, PDF Embedder has marked its name as a formidable competitor of WordPress PDF viewer plugins. Uploading PDFs and embedding them straight into your site becomes as simple as a finger snap.
You don't have to size your PDF to fit the natural size of the page since the plugin already does it for you automatically. In case you want a custom shape, just enter the width and it will adjust the height accordingly.
Instead of using iframes or a third-party service, the plugin uses Javascript to embed PDFs to your pages. That being said, you have full control over their appearance.
Unlike the Watermark WordPress Files plugin which provides you with a PDF view button on the sidebar, PDF Embedder requires you to use a shortcode to embed your file.
The Prev/Next buttons allow you to move to the next or go back to the previous page. You can scroll up and down to the other page only when upgrading to the premium version. The paid plugin also helps you track the number of downloads effectively.
#3 DearFlip Plugin
Unlike the other 2 plugins, DearFlip gives visitors a completely different experience when viewing PDFs on WordPress sites.
Recognized as the No.1 WordPress 3D flipbook, DearFlip replaces the traditional PDF viewers with flipbooks. Readers can open and read your PDF in the exact same way as they are doing with a real magazine. This makes your PDFs more interactive and lively to attract user attention.
You have 2 options of 2D and 3D flipbooks to choose from. The former makes you proud of your PDF by converting PDFs to real books. The latter, meanwhile, fastens the PDF loading process by using CSS and HTMl5 tags.
The feature of Image Flipbook assists you in creating a storybook via an album. You can enjoy and share this virtual album with others with engagement.
The plugin proves even more useful by providing numerous features. You can create a TOC for PDF, organize flipbooks via categories, enable or disable PDF download, or even preview page thumbnails.
The price of Flipbook is so reasonable. It costs only $39 per year.
#4 PDF & Print by BestWebSoft
PDF & Print by BestWebSoft saves you from creating PDF files and printing pages manually by adding a PDF and Print button to your content. The content can be a post, page, search result, archive, or custom post type.
The position of this button is flexible, making it possible for you to move it to the top or the bottom, at the left or the right. You have 2 action options for the button, either downloading or opening the PDF in a new window.
You can make the PDF more attractive by adding a title and featured image. WordPress users love this plugin for its ease of use as well. Setting up PDF & Print takes you a few mouse clicks without having to modify code.
There are some useful features offered by the plugin's Pro version such as printing out WooCommerce product pages, managing data, or disabling PDF & Print buttons on certain pages and pots.
Noticeably, PDF & Print by BestWebSoft takes your PDF security up to a higher level by preventing copying of its content. And in the meantime, it blocks search engines from indexing links in documents.
You need to pay only $33.99 to own all these handy features.
#5 PrintFriendly and PDF Button
Nearly 150 5-star ratings already prove PrintFriendly's position in the PDF printing niche. You're able to generate PDFs, print them, and email them to users with the support of the plugin.
Links on your PDFs are clickable. PrintFriendly stands out from the crowd by enabling you to change text/image size, and delete them in the preview version.
What's more, the plugin works on all HTTP, HTTPS, and even sites protected by passwords. Securing PDFs becomes simpler with the copyright function.
Only pay $40 per year and ads will be blocked away from this plugin. Pro PrintFriendly will provide you with a better UX, a faster experience, and an unlimited number of printed files.
2 Most Powerful Plugins to Protect WordPress PDF
Ebook piracy or ebook in PDF format, in particular, is rising. It's estimated that publishers lost over 300 million per year due to internet piracy. Unfortunately, this number is increasing rapidly.
You invest a lot of time and effort into creating high-quality PDFs then thieves steal them and spread them on the internet for free. At that point, you must protect your WordPress PDFs from unauthorized users. And the plugins like Prevent Direct Access (PDA) Gold and Password Protect WordPress (PPWP) Pro hold out the promise of securing your files.
#1 Prevent Direct Access Gold Plugin to Protect PDFs
PDA Gold proves a clear-cut winner in shielding WordPress PDF files from unwanted users. The plugin helps stop users from accessing your PDF as well as all other media files directly.
The way PDA Gold works makes it the most simple and common plugin to secure PDF files. It protects the file's original URL and leads users to a 404 page when attempting to open it.
Instead, it replaces the original URL with a private link. Only those who have permission like admins or specific user roles can open your file.
Online course providers, movie reviewers, and photographers love this plugin so much since it's a great assistant in reducing the piracy problem of commercial files.
Out of the box, users will no longer be able to find your protected files on search results since PDA Gold already blocks search engines from indexing them.
You have 2 options to pay for the plugin, annually or paying one time. The former costs you $178.8 every year for a 3-site license while you need to pay only $549.9 and use the plugin forever.
#2 PPWP Plugin to Secure PDF Files with Passwords
PPWP Pro has just appeared in this narrow WordPress password protection niche for less than 2 years. However, it quickly marked its important milestone on 10 thousand active installations already.
Similar to other password protection plugins, PPWP Pro gives assistance to locking your WordPress pages, posts, custom post types, categories, and entire site with passwords. You can also hide a section of a WordPress post with passwords too.
What sets it apart from others is the ability to cover PDF files under password forms. Users have to enter the correct password to view your hidden file.
You might be lost amongst a sea of its features and functionality.
Protect unlimited pages and posts at the same time
Set multiple passwords for a PDF file
Assign user roles to passwords. In other words, they have to log in, then enter a password in order to view the protected PDF.
Send users quick access links to open the protected PDF. Users don't have to remember the password anymore.
Noticeably, PPWP Pro works compatible with the PDA Gold plugin to protect your file with passwords and stop search engine indexing. Without PDA Gold, it won't perform the best function.
The plugin is a bit pricy, with $166.8 annually to install on 3 sites. However, comparing to these useful features, it's worth paying.
Top 3 WordPress PDF Plugins Serving Other Business Purposes
#1 Gravity PDF Plugin
Gravity PDF stands out from the crowd due to its feature-rich and customizable capabilities.
The plugin integrates seamlessly with Gravity Forms. Anytime users complete filling the form, it will automatically send the PDF to both admin and users. This feature supports sites selling digital products the best since you can combine it with payment gateways like Stripe, Square, or PayPal. As a result, you're able to send customers the PDF only when they complete the payment.
It's possible for you to add your company logo, header, footer, paper size/orientation, font, color, and size to make your PDF more personal.
Additionally, you don't have to worry about PDF security since Gravity PDF generates PDFs on your web server. As a result, you prevent unauthorized access to your files easily.
There are a lot of features of Gravity PDF to explore without paying anything such as multilingual, additional Fonts, columns, shortcode and merge tags, and tons more.
The paid plan which starts at $299 annually gives you access to a lot of powerful functions. Besides getting 5 more designs, you also have the right to let users preview the PDF before form submission or bulk downloads.
#2 WooCommerce PDF Invoices & Packing Slips
No plugins can defeat WooCommerce PDF Invoices & Packing Slips in automatically adding a PDF invoice to the order confirmation emails. It's up to you to choose between the basic invoice template or modifying your own ones.
Generating PDF invoices and packings slips in bulk are supported. The invoices are available on the My Account page. You will also have sequential numbers for invoices whose format is customizable.
Out of the box, WooCommerce PDF Invoices & Packing Slips authorizes you to insert customer header image/logo. It sparks visitor interest thanks to the modified shop data/ footer/ disclaimer on the invoices & packing slips.
The HTML/CSS-based templates permit you to freely edit and create custom styles for your PDF output. The template will be copied to your theme folder to avoid losing personal customization when you update the plugin.
All the plugin's features are provided for free so you don't have to pay anything to own all of them.
#3 MonsterInsights
MonsterInsights is a common name to WordPress users in every corner of the world, and the number of over 3 million active installations has said it all. The plugin primarily collects and modifies data about how people find and use your website.
MonsterInsights also proves useful when it comes to downloading tracking management. It's difficult to know how many PDF downloads you get from your WordPress site. However, the plugin takes that weight off your mind effortlessly.
You'll be amazed at how featured-rich this Google analytics plugin is. You will have a deeper insight into visitors' behavior and actions such as the number of people clicking on certain PDFs, links, WordPress buttons, and any other elements on your site.
More importantly, there is other significant information you can receive from it, including real-time analytics, top referral sources, page-level analytics, custom dimensions, and more.
If you just want to manage your WordPress PDF tracking, the MonsterInsights Lite version is enough. It costs you at least $199.5 per year to explore other features.
What Are Your Ideal WordPress PDF Plugins?
It's time to put the finishing touches on this PDF plugin list. We've introduced you to the 10 best plugins to make use of your WordPress PDFs. While some add PDF viewers to your site, others protect PDF files from piracy problems and unauthorized users. The rest, on the other hand, support other specific business purposes.
Looking for a solution to convert a post to a PDF and adding a watermark to it at the same time? The Watermark WordPress Files plugin is your way to go. In case you intend to provide a real magazine experience of your PDF ebook, DearFlip becomes the best solution.
Don't want others to view your DPFs without your permission? Simply install PDA Gold and PPWP Pro.
Do we miss any of your favorite WordPress PDF plugins? Share with us in the comment section below!