Every photographer thirsts for a platform to showcase their works and at the same time handle everything easily. Some use social platforms to post their photos. Still, most photographers are not in favor of this solution. Unless your posts become super-viral, they appear on feed in just one or 2 days and then drift into oblivion.
That's where WordPress sites come in handy. It allows you to public your photography to the whole world in a unique way. You can publish a portfolio or provide photographic courses there as well.
It's an undeniable fact that WordPress proves more user-friendly and easier to use compared to other CMS platforms. But for non-techies, starting from scratch is always a complex task.
Apart from indispensable steps like choosing a domain or getting web hosting, there are tons of things to do. You also have to optimize your site for SEO, protect your work, enable shopping features, etc.
Luckily, you have WordPress photography plugins to simplify your tasks and enhance your photography site. While security plugins protect your website and photos, SEO plugins will boost site SEO performance and optimize images. E-commerce plugins greatly assist you in organizing your store and selling photos.
To help you separate the wheat from the chaff, we've reviewed and put together 18 free best WordPress photography plugins to empower your site. They're categorized by functions, including security, gallery and slider, SEO, image optimization, S3 uploader, contact form, and e-commerce plugins.
Let's jump in!
WordPress Security Plugins
Coming as the most popular CMS platform, WordPress is always a target of hackers and malware. Instead of leaving your site suffering a breakdown then finding ways to fix it, consider protecting it in advance. Besides firewall protection and malware scan, you need plugins to prevent digital piracy and content theft too.
#1 PDA Gold to Protect Photos
Prevent Direct Access (PDA) Gold gives you a leg-up on making your media files private, including premium digital products or private photos. Once protected, only authorized users such as admin users can access your photos via their original URLs. Others without permission will be redirected to a 404 not found page.
Plus, the plugin blocks search engines from indexing your private photos. So visitors have no chances to search for them on search results.
To grant photography access to paid customers, you can create private download links and send them to these people. PDA Gold lets you set the link to automatically expire after a certain time or clicks to prevent unlimited downloads. Although these download links are generated randomly, you're able to customize them to make them more meaningful to users.
The plugin's free version supports a few file types. We recommend upgrading to its Gold version to extend the file protection capability.
#2 Watermark WordPress Files
As the name indicates, the Watermark WordPress Files plugin allows you to add watermark to your PDF photography to prevent unauthorized reuses. You can either display images or text on the photos. For instance, logos, brand name, author name, etc.
There are many other features that this WordPress photography plugin offers. It lets you embed PDF files to your WordPress content for users to view without downloading. You're able to export WordPress pages and posts to PDF files using 'Watermark WordPress Files.'
Intend to prevent image theft and disable right-click on your site content? Look no further since the plugin already supports these features.
#3 PPWP to Protect WordPress Content
If you're looking for a way to lock your portfolio pages or galleries, Password Protect WordPress deserves your attention. The plugin primarily hides WordPress pages and posts under a password form. Users have to enter the correct password to view the private content.
You can use the plugin to protect photos or image galleries on a page or post with its partial content protection feature. All you need to do is simply wrap that content section with a shortcode.
Despite being protected, your files still get indexed and appear on search engines. You need to integrate PPWP Pro with PDA Gold to completely secure your digital assets.
Password protecting portfolio pages has never been easier thanks to this plugin. You can hide the page with multiple passwords, then generate Quick Access Links (QALs) for clients to access them. This will free your clients from manually entering passwords and reduce password leaking.
#4 Wordfence to Strengthen Website Security
Mentioning WordPress security, we shouldn't miss Wordfence. Actively installed on over 4 million sites with a 4.7-star review, the plugin is your perfect solution in guarding your site against malware and malicious attacks.
It creates a firewall and scans your site for malware. Wordfence goes through every area on your photography site, from WordPress core files to themes and plugins. Anytime identifying suspicious traffic, bad URLs, or code injection, the plugin will notify you and block them all to prevent infection.
There are many other available functions for you to secure your WordPress image-rich site, consisting of brute force attack protection, comment spam filter, and IP address blocks.
WordPress Gallery and Slider Plugins
Without a WordPress gallery and slider plugin, your photography website is missing something huge. While WordPress comes equipped with a default gallery feature, you should make use of plugins to customize the look and feel of your gallery.
#5 Modula Gallery
WordPress already provides a built-in feature to create a simple gallery. However, it's difficult for you to customize the appearance of your gallery or make it responsive.
Receiving more than 100 thousand installations, Modula Gallery is one of the most popular gallery plugins recently. It enables photographers to build modern and eye-catching galleries with custom grids.
You're permitted to change the size and aspect ratio of your images providing them with a consistent look. Not only do photographers love Modula Gallery but other professionals also put their trust in it. For example, architects, food reviewers, tattoo artists, travelers, and many more.
Most features are usable in the Premium version which is the main drawback of the plugin. You won't be able to combine videos with images in your photo gallery, password protects it, or add animations without upgrading.
#6 Envira Photo Gallery
Another easy-to-use gallery builder for photographers calls the name of Envira. With the help of the plugin, you can drag and drop images to your photo gallery quickly. It integrates seamlessly with top page builders like Elementor, Beaver Builder, Divi, etc.
In terms of SEO, Envira is responsive to mobile devices and optimized for SEO. There should be no worry about low page speed. You can add the metadata, deep links, or standalone galleries.
You need to upgrade to its Premium versions with addons to extend your gallery features. Album addon, social sharing addon, video addon, watermarking addon, and slideshow addon, just to name a few.
#7 Slider by Soliloquy
The name says it all, Slider by Soliloquy simply creates sliders. This simple yet powerful plugin lets you create responsive image and video sliders for your WordPress site effortlessly. Your slides will appear perfect on any device, from mobiles, tablets, to laptops and desktops.
Soliloquy provides you with pre-made templates for your photography sliders. You have a chance to use custom CSS to customize your slides as well. What's more, WooCommerce product slideshows are no longer a complicated task. You can sort your products by category, price, availability, feature, or any other criteria.
The free plugin allows you to import your photographs from social media such as Instagram and Tumblr.​
WordPress SEO Plugins
SEO plugins serve as one of the most important WordPress plugins for photographers. These plugins support site content optimization and ranking. Better SEO results in higher keyword rankings and more traffic to your site.
Yoast and Rank Math plugins are currently the most common choices in this huge niche. Let's see how each of them optimizes your photography site content.
#8 Yoast SEO
Yoast is always listed in the top popular WordPress plugins of all time. Install the plugin and you'll have all recommendations under each page/post to improve both your content readability and SEO.
You'll see 3 different dot colors of red, orange, and green, corresponding to bad, need improvement, and good scores. The plugin tells you what you need to do to turn the Readability and SEO scores to green before publishing the page or post. As a result, your photograph content can rank higher on search engines.
Yoast offers other top-notch features to maximize your photography site SEO. You have canonical URLs, advanced XML sitemaps, or innovative schema blocks.
Yoast SEO Premium gives you the ability to add relevant internal links, optimize the content intelligently, and manage redirects to avoid 404 page not found errors.
#9 Rank Math SEO
Rank Math SEO is another big name of the WordPress SEO plugin. It's considered the first SEO plugin to use AI in optimizing content. While Yoast analyzes SEO and Readability performance using colored dots, Rank Math gives the exact score.
The plugin makes it easy for photographers to utilize, even with beginners with zero SEO knowledge. Yoast permits you to optimize the content with only one keyword for free. You need to upgrade to the Premium version to add more keywords. Whilst, Rank Math is open to multiple focus keywords in the free version.
The plugin is compatible with various WordPress plugins like bbPress, BuddyPress, Easy Digital Downloads along with Google Analytics and Google Search Console.
Image Optimization Plugins
Apart from general SEO optimization plugins, it requires image optimization plugins to optimize photos and speed up your site. Self-hosted images and videos carry a lot of weight to your page. These plugins lend you a helping hand in reducing images' sizes and at the same time ensuring their quality.
#10 Smush
Photographers love Smush because of its ease of use to resize and compress images without a reduction in quality. The bottom line is your page load time improvement. The number of over 1 million active installations has spelled out if effectiveness.
Some key features of Smush consist of lossless compression, lazy loading, image resizing, incorrect size image detection, and directory optimization. The plugin doesn't limit the number of images it optimizes monthly. You have up to 5MB in size for free.
Smush works well with Gutenberg block, multisite websites, any themes, and media library plugins.
#11 EWWW Image Optimizer
EWWW Image Optimizer takes care of both your existing images and new file upload optimization. This high-rated plugin will compress and scale your photos to fit the page and device size.
To speed your photography site speed, it adds a lazy load to your images. Out of the box, EWWW can convert all your photos to the next-gen WebP format. This Google favorite file type brings a better chance for your images to rank high on SERP.
S3 File Uploader Plugin
Many photographers decide to host their photos on a third-party service like Amazon S3 to reduce requests to the server and create more affordable storage. This is a great place for storing large files since WordPress doesn't accept uploading them.
#12 S3 Smart Uploads
SSU is the ideal solution for photographers who upload multiple local files to Amazon S3 & Wasabi bucket. It frees you from having to upload files to your server first. The plugin supports file up to 5GB in size so you don't have to worry about the file size limit.
The plugin's friendly UI makes it simple for photographers to manage all S3 files right in the WordPress admin dashboard. It's similar to how you manage any other files in the WordPress media library. The files are set at the private status by default. You can choose which files to upload your buckets.
SSU supports WooCommerce and Dokan product file uploads. You can upload files from the product pages with ease.
Want users to upload files to your buckets directly from the front end? Just use the shortcode [ssu_upload button="Upload to S3″]. In case you wish to protect products hosted on AW S3, simply integrate it with the PDA Gold plugin & S3 extension.
WordPress Contact Form Plugins
Contact form plugins are the bridge between you and your site visitors and also customers. These must-have plugins give users an opportunity to connect with you, get to know more about your photographs. These important steps significantly contribute to converting leads into customers.
#13 Contact Form 7
As the most popular WordPress contact form plugin, Contact Form 7 keeps users stay in touch with you. The plugin doesn't come with a Pro version so you can access all its powerful features for completely free.
Using Contact Form 7, you can build any type of contact form with any field. These forms vary from common contact forms or registration forms to guest post submission and newsletters forms.
The main drawback of this is plugin is you have to handle everything manually. You add fields, set up emails, or write messages on your own.
#14 Ninja Forms
Ninja Forms is more user-friendly than Contact Form 7 thanks to its drag-and-drop form builder. There are no designing or coding skills needed.
You have full control over your form design with more than 27 field types. You can add rows and columns, create multipage forms, and decide conditional forms. Your forms will be mobile responsive to improve the mobile user experience.
There are pre-built customizable templates for different contact form types. Contact, registration, application, MailChimp, quote request, and PayPal forms, for example.
WordPress eCommerce Plugins
The main purpose of building a photography website is to monetize your photographs, for sure.
#15 WooCommerce to Build an Ecommerce Site
WooCommerce, without a doubt, helps you create an online store to sell your photos. Unlike other e-commerce plugins for downloadable products, it supports both physical and digital items.
You can design beautiful and enticing stores with core functions. To extend the store capabilities, you need addons and extensions. For instance, the WooCommerce Payments addon will help manage payments on your store while WooCommerce Bookings allow users to make appointments with your site.
We recommend protecting your photographs to prevent unauthorized access to your store too.
#16 WP Invoice to Create Invoices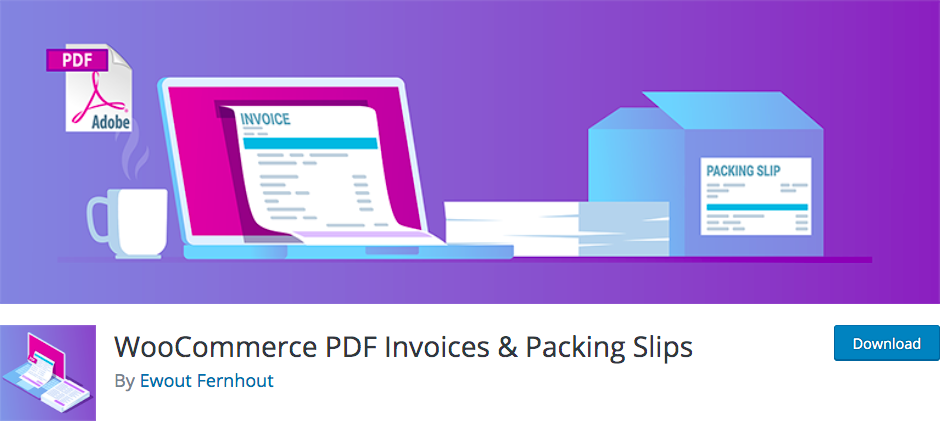 There would be no better solution to automate the invoice process better than WooCommerce PDF Invoices & Packing Slips. It permits you to add a PDF invoice to order confirmation emails that are sent to customers after their successful purchase.
Aside from the basic email template, there is an option for you to modify your ones. You're able to fully customize email templates with HTML/CSS.
Admins can download the PDF invoice or packing slip right from the dashboard. Bulk invoice generation is also made available.
Worry about invoice data security? All customer order data will be stored in the WordPress user management database. This makes it easier for you to keep track of your client information.
Pick Your Ideal WordPress Photography Plugins
Creating a WordPress photography website enables you to reach out to a large volume of audiences. You can use it to boost your brand awareness and start selling your photos.
However, to maximize the benefits of your site, you need the assistance of WordPress photography plugins. We've listed our 16 top-notch plugins to give you powerful functionality and the ability to showcase your images. More importantly, they're all free to use.
PDA and Watermark WordPress Files stand out from their competitors in protecting your photos. Yoast and Rank Math shine bright in the SEO optimization niche. Consider Modula, Envira, and Soliloquy to create galleries.
It's vital to optimize your images with Smush or EWWW Image Optimization as well. You can use the SSU to upload large photos to Amazon S3.
What is your list of ideal WordPress photography plugins? Share with us in the comment section below.