Along with images and graphics, videos play a key role in marketing and the business' own life. They're great tools to reach out to more users, connect with the right audience, keep them stay on your site longer, and engage them better.
Understanding this, WordPress makes it easy for you to embed videos to your WordPress blog posts and pages. You can either upload them directly to your site or insert the video link from another hosting platform.
As a matter of fact, displaying a list of videos in a gallery style is not a simple task. This calls for the assistance of plugins.
Today, we'll share the top 10 free video gallery plugins in WordPress with their main features. Firstly, let's go over the reasons for creating a video gallery as well as platforms to host your videos.
Why Creating WordPress Video Gallery
Renderforest reports in their survey that videos nurture many areas of a business. They increase brand awareness by 70% while boosting traffic to 51%. That leads to a rise of 34% in sales.
Whether you're operating a blog or a business website selling products and services, sharing videos with your audience is very profitable. In case you have a lot of videos on your site, displaying them in a gallery is a smart idea to help users pick and watch their favorite ones.
A video gallery refers to a collection of videos shown in rows or columns. This allows you to present more videos in less space, and users can browse them easily.
Users will have a better understanding of your products when scanning the video galleries. They make visitors stay on your site for longer which reduces the bounce rate. Your videos will have a higher chance to rank on search engines too, not only on Google but also across platforms like Youtube.
Platforms to Host WordPress Video Gallery
Reasons You Shouldn't Host Your Own Videos
Although you can host videos on your WordPress site, you should never do that. It's because WordPress self-hosted videos require a lot of space on your server. If you're running an online event at which many users watch a certain video at the same time, your site may lack bandwidth.
Plus, too large videos slow down your website and extend the page loading time. You need shortcodes to adjust the video size and format when embedding them to the content.
Before creating a video gallery on your WordPress site, let's refer to some video hosting providers lending you a hand in storing your videos and reducing server bandwidth taken up.
You have several reliable channels for hosting videos, Youtube, Vimeo, Amazon S3, Wista, and Brightcove, for example. Each comes with a set of features, pros, and cons that serve your videos in different ways.
There are many factors for you to consider when choosing a hosting provider. You need to determine your goals when creating videos. Are you a brand new website and planning to get more traffic? Or do you offer private videos for commercial purposes?
Pay attention to the platform's key features to see if they meet your demand, and don't forget to check your budget. Some platforms are free for the first certain GB, but a few others force you to pay one-time to start using it.
Here are a few popular channels for you to host your WordPress videos.
#1 Youtube
Youtube is currently the most famous platform for videos with over 2 billion active users monthly. There are over 30 million subscribers receiving payment from Youtube as well.
This platform is considered the second largest search engine on the Internet, after Google. You can get views for your videos through the inbuilt community of the platform. Part of these views may become your site traffic by clicking on links under your video.
To embed a Youtube video to your site, just get its URL put in the content.
Still, you have a few things to deal with when hosting your videos on this common platform. Making your videos visible to the public eye means that they can get stolen or remade effortlessly. Also, users find it annoying when Youtube keeps suggesting irrelevant videos.
In terms of pricing, Youtube doesn't charge you any fee to upload videos. Your viewers aren't required to pay for watching your videos either.
#2 Vimeo
Another well-known video platform calls name Vimeo. It aims to deliver high-quality videos across various devices. The tool allows professionals, teams, and organizations to create, manage, and share their videos with ease. Unlike streaming Youtube videos, you won't feel annoyed due to popups and ads.
However, if you want to get exposure and views for your videos, this is not an ideal hosting provider. It limits you in the number of your video uploads based on GB.
Less than 5GB per week for free so you have to upgrade to its advanced plans for larger hosting storage and more functionalities. Pricing packages range from $7/month to $75/month.
#3 Amazon S3
Provided by Amazone Web Services, Amazon S3 assists you in storing files and objects, including videos through a web service interface. When having videos saved in Amazon S3, you don't have to worry about file security.
Once a visitor plays your video, it's taking S3 bandwidth, instead of your servers. To achieve this, you need help from the WordPress Amazon S3 – Wasabi Smart File Uploads plugin. It enables you to offload your videos directly to S3 smoothly.
Yet, the setting process is quite complicated which requires some advanced technical skills.
The Amazon S3 costs you based on your location and the pricing plan you subscribe to Free-tier, On-demand, and Discounted.
#4 Wistia
Coming as a professional video hosting site, Wistia's target customers are mostly marketers and businesses. You can use it to create videos, analyze, and market them right on your WordPress website.
Wistia is loved by thousands of users from pole to pole thanks to its detailed analytics. It's possible to make your videos private and available to certain viewers only.
One thing you should notice is that it is limited to 3 free videos per user with advanced features such as custom thumbnail, password protection, privacy, etc.
Upgrading to its Pro and Advanced pricing plans gives you permission to host more videos. The former charges $99 each month for 10 videos and podcast episodes as well as branding displayed on the videos. If you have up to 100 videos to embed, just contact the Wistia sales team for a discounted price.
5 Best Plugins to Create a WordPress Video Gallery
Regarding WordPress video gallery plugins, we can list out hundreds of options. To save you time, we've narrowed down the list by the 10 most powerful solutions that might fit your specific demands.
Features to Look for in a WordPress Video Gallery Plugin
Before going over one by one, we can go over the main features that a WordPress video gallery plugin should have:
Drag and drop builder – Add your gallery to anywhere on your site, from sidebars to widgets
Mobile responsive – Apart from computers, make sure your videos fit mobile and tablet screens
Customization options – Style your gallery with different layouts (slider, carousel), height, width, pixel count, and themes.
Video optimization – Optimize your videos to shorten the loading time. Work with numerous page builders such as Elementor, WPBakery, Divi, Beaver Builder, and more
Protection methods – Prevent video gallery theft by watermarks and password-protection
Video sources – Permit you to add videos from different sources to the gallery
Multi-file type gallery – Mix different media files together in a gallery: videos, images, PDFs, etc.
Social media integration – Display social icons for viewers to share your videos/gallery
#1 All-in-One Video Gallery Plugin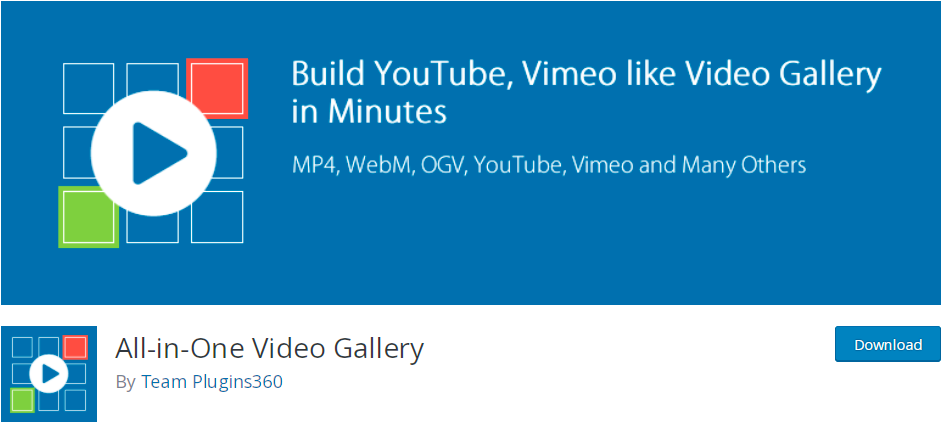 Trusted by over 20k users, All-in-One Video Gallery proves one of the most famous plugins to build your gallery from both self-hosted videos and videos hosted on YouTube or Vimeo.
The plugin wins the competition thanks to the feature of adding videos as posts so you can create your video galleries with ease and optimize them for search engines.
All-in-One Video Gallery frees you from designing a thumbnail image for each video too. It aids categories and tags for videos meaning that you can gather videos together by categories and tags.
What's more, the plugin works seamlessly with WordPress Gutenberg builder and other third-party page builders like Elementor, Divi, and WPBakery. While it provides a built-in video gallery block for Gutenberg, you have to generate a shortcode and add it to your page builder.
In the front end, you can display sharing buttons so that viewers can share your video gallery on social platforms.
Upgrading to its Premium version gives you access to the additional video file format of HLS/M(PEG)-Dash, other gallery templates (popup and slider), custom logo and branding, and custom context menu. Its 3-site license costs you $14.97 monthly.
#2 YouTube Video Feed by Tagembed

Adding videos on the website helps in a great way, but it might affect the website's speed. And to overcome this problem, we have a YouTube Video Widget WordPress plugin by Tagembed. It allows you to collect images and videos from 19+ social media platforms, curate and customize the collected feed, and display it on the website without any trouble.
Alongside making the embedding process manageable and straightforward, it provides various other features that make this plugin stand out from the rest. Like, it allows a customization feature that allows users to personalize their widget as per their need. They have the authority to change the font size, font style, and more, and beauty the look and feel of their website.
Also, with the moderation feature, users can remove all unwanted and irrelevant content from the website, and keep the feed related to their business only. It also helps to maintain the quality of the website.
You can choose from various themes and layouts, select the one that best suits your style, and provide an organized look to your website. Furthermore, the responsive feed adjusts itself as per any screen size, and hence your visitors can go through the feed without any hassle.
Custom CTA, customs CSS, analytics are some of the other significant features of the plugin out of many other useful features.
#3 Video Gallery – Youtube Gallery by Total Soft
As the name indicates, Video Gallery – YouTube Gallery is a solid and straightforward plugin for showcasing videos uploaded on YouTube on your WordPress site. It also supports Vimeo, Wistia, and DailyMotion.
The plugin brings you full control over your video gallery, from unlimited videos, various effects, to automatically mobile responsive. The free version equips you with 16 stunning gallery themes and 9 gallery layouts.
You can easily add hover effects, adjust text color, size, align control, and apply gallery animations.
You have 3 pricing plans to choose from, Personal, Business, and Developer. It changes you $15, $29, and $25 for 1 site, 5 sites, and unlimited sites respectively.
#4 WooCommerce Product Video Gallery
Wish to embed videos to your product gallery along with images on a product page? WooCommerce Product Video Gallery is your way to go. It allows you to include one video in a product gallery or combine videos and images together in a product gallery.
This engages customers significantly by presenting a quick overview of your products to them. They can see how the product looks in real life and how to use it. As a result, you'll see a climb in your sales and revenue.
Here are some basic features of the WooCommerce Product Video Gallery plugin:
Combine a Youtube video with images in a single product gallery.
Customize your video appearance with Vertical/Horizontal layout, Slider autoplay, Arrow Enable/Disable for slider, Lightbox, Zoom, and Arrow background color.
Responsive to mobile devices
However, the free plugin supports Youtube videos only. If you want to add Wistia or Vimeo videos to your product gallery, buy the premium version. It has 3 different pricing plans for personals, plus, and experts. The prices range from $25, $59 to $99 for 1 site, 3 sites, and 10 sites per year.
#5 Vimeography: Vimeo Video Gallery WordPress Plugin
Vimeography: Vimeo Video Gallery WordPress Plugin is specially designed for membership, course, and portfolio websites. It helps you exhibit Vimeo videos on your WordPress site in the exact same way as Netflix with just a few clicks.
The plugin amazes you with its powerful functions, inserting a video gallery to a page, post, or template, featuring a certain video to play first in your gallery, for instance. It's simple to style your gallery appearance with custom themes in the appearance editor.
Intending to offer users an option to search for galleries or get links for videos in the collection? You must pay for its Pro version which costs $99 per year per site. With $99, you can unlock other features such as unlimited videos in a collection, shareable links for galleries and videos, downloadable links for videos, and tons more.
Which Is Your WordPress Video Gallery Plugin?
Video galleries, without a doubt, raise the chances for your business to attract more visitors, keep them stay on your site, and boost conversion rate.
We've reviewed the 4 best plugins assisting you in creating a video gallery for your WordPress site. Each comes with a set of benefits and drawbacks that greatly influence your gallery performance in the long run.
Some plugins support videos hosted on multiple platforms, but some others are developed for a specific hosting provider like YouTube or Vimeo. A plugin like WooCommerce Product Video Gallery enables videos in single product galleries in particular.
To create a fruitful video gallery, you should think of a place to host your videos. It's not recommended to store videos in your WordPress media library since it takes a lot of your server storage and reduces your site loading speed.
If you have any concerns about WordPress video galleries that we haven't mentioned above, drop a line in the comment section to let us know.