Mentioning cloud storage, Google Drive appears as one of the most common names. This innovative platform lets you store your files in any size for almost free. You can use it to share files and documents with colleagues and friends effortlessly, too.
It's also recommended to connect Google Drive to your WordPress site to import photos stored on your drive to your media library. This helps ease the file sharing and management process as well as increase site loading time. You can also keep all your file data safe in case the site is accidentally broken or gets hacked.
In this article, we'll review the 5 best Google Drive WordPress plugins for you to integrate Google Drive with WordPress. Their features, pros, and cons are included in this post.
#1 Google Drive Embedder
Google Drive Embedder takes the leading position in the Google Drive Cloud solution for the WordPress niche. And the number of over 10 thousand active installations from the WordPress repository already spells out that.
The plugin allows you to access your Google Drive, select documents, and add them to the content via a simple popup. The process is exactly the same as how you add a file from the media library. Google Drive Embedder supports multiple file types, PDF, Word DOC, ZIP, videos, images, just to name a few.
There are 3 different options for you to add files. You can embed the file, display the file download link, or enable the file viewer link.
There are a few things to keep in mind. You must install the Google Apps Login plugin to successfully access your drive via WordPress. Plus, you need to share your files with the public otherwise users can't view them. If you want all visitors to see or read your Google doc, spreadsheet, or images, change the access permission to 'Anyone on the internet with this link can view/comment/edit.'
Google Drive Embedder is available for WordPress multisite networks as well. You can upgrade to its Premium version to embed Drive folders.
Pros
Display files in different ways: embedder, link viewers, or download links
Support various file types
Reduce WordPress file storage
Cons
Require Google Apps Login plugin installation
Upload folders require Premium plugin
#2 Image and video gallery from Google Drive
Another big name of WordPress Google Drive plugins comes to Image and video gallery from Google Drive. Unlike Google Drive Embedder, this plugin lets you pick any folder in your drive to insert to WordPress content. Once you've chosen your desired folder, the plugin will turn it into a gallery with all images and photos in the folder.
Image and video gallery from Google Drive's friendly UI enables you to navigate and manage your galleries more easily. It's possible for users to make updates in your gallery right from the Drive folder without having to touch your admin area.
The plugin integrates seamlessly with Gutenberg editor, providing a built-in block to add the gallery with ease. You're able to customize the appearance of certain galleries too.
Pros
Display subfolders as nested galleries
Prevent data leaking by blocking users from accessing data outside a root folder
Comes with a friendly UI
Support both your Drive and Shared Drive
Include images and videos in a gallery
Cons
Can't embed Google Doc or Google Spreadsheet
#3 Use Your Drive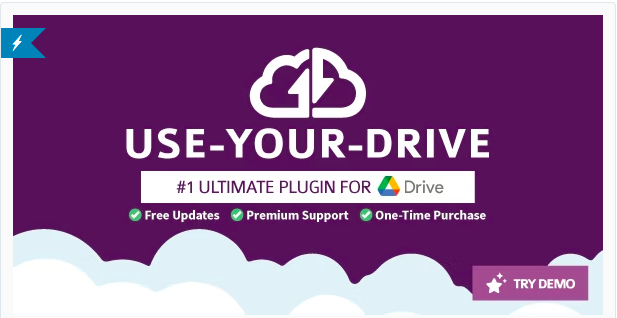 Use-your-Drive offers you various features taking the Google Drive WordPress integration to the next level. You can add and edit your documents inline in your content while storing all of them on the Cloud.
Similar to the mentioned plugins, it gives you an option to create responsive galleries automatically when selecting folders in your Drive. This reduces your effort putting into uploading, selecting, and building galleries manually. There are 6 different Lightbox Skins for your to choose from.
Apart from file browsers and photo galleries, the plugin also sheds light on media players. It frees you from uploading videos to your WordPress site which may take up your bandwidth and slow down your site. Visitors have the right to stream Drive videos on your WordPress site. MP3, WAV, MP4, M4A & m4v, etc. are all supported.
Pros
Create responsive libraries
Work well with WooCommerce, Gravity Forms, and many other plugins
Enable a video player
Cons
No free version. It costs $36 for a regular license.
#4 Embed Any Document Plus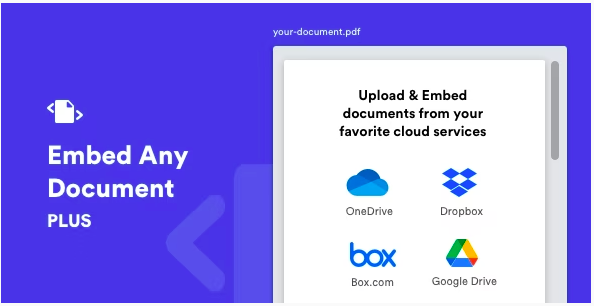 Embed Any Document Plus aims to help you embed documents on your WordPress pages and posts. Not only does it support Google Drive but also documents hosted in Microsoft OneDrive, DropBox, and Box.com.
You can have numerous file formats displayed on WordPress content: docx, docm, dotm, and dotx for Microsoft Word; xlsx, xlsb, xls, and xlsm for Microsoft Excel; Pptx, ppsx, ppt, pps, pptm, potm, ppam, potx, ppsm for Microsoft PowerPoint.
Pros
Not require any additional browser plugins
Import files from various hosting platforms
Cons
Can't embed images
No free version to try out
#5 Integrate Google Drive
Integrate Google Drive is a newly launched plugin designed by Prince, the developer behind many radio and TV player plugins. Using the plugin and you can browse, embed, upload, download, search, play, share your Google Drive files directly into your WordPress site effortlessly.
There is an option for you to create photo galleries with a lightbox grid. The audio and video player feature lets users play videos and audio with ease.
Besides embedding files, you can display them as file view links or file download links. The former allows users to open your document in a new tab while the latter forces users to download your file when clicking.
Pros
Integrate seamlessly with page builders and e-commerce plugins
Add multiple Drive accounts to your site
Create private folders for certain users, such as clients only
Cons
Automatically change the sharing permission to 'Anyone with the link can view'
What's Your Ideal Google Drive WordPress Plugin?
Connecting Google Drive with WordPress gives you an opportunity to host your large files on the cloud. This will help reduce the number of files hosted on your WordPress site which results in better site speed.
It's simple to upload files from Google Drive to WordPress thanks to Google Drive WordPress plugins. While Google Drive Embedder supports Drive files only, you can use Embed Any Document Plus to import files from other platforms like Dropbox or Box.com.
Looking for a gallery creator? Give Image and video gallery from Google Drive plugin and Use Your Drive plugin a try.
Which is your favorite plugin? Share with us in the comment section below.