PDF invoices refer to a PDF file including the order confirmation of your customers after making a purchase on your WooCommerce store. They assist store owners in keeping track of inventory and at the same time maintaining store-level performance.
That's why it's crucial to the process of creating and printing invoices efficiently.
By default, WooCommerce doesn't build a feature for creating and printing invoices and packing slips. Plus, manually sending PDF invoices to customers will definitely frustrate you and waste your precious time.
At that point, you need assistance from a robust and efficient PDF packing slip and invoice plugin to automate the process.
Amongst various plugins for WooCommerce PDF invoices and packing slips in the market, it's difficult to pick the right one for your site. To help separate the wheat from the chaff, we've researched and narrowed the list down to the 7 best plugins.
In this post, we'll unpack their key features, pros and cons, and the prices in detail. While some plugins help create PDF invoices, others support securing them from unauthorized users. But before digging into the list, let's start with the benefits of WooCommerce PDF invoice and packing slip plugins.
Benefits of Using Plugins for WooCommerce PDF Invoices & Packing Slips
WooCommerce PDF invoice plugins eliminate your manual work of invoice creation. You can automatically send a generated PDF invoice on every order purchase. Thanks to these plugins, generating and sending invoices to customers became much more comfortable than ever.
Show Your Professionalism
Your customers are likely to desire a PDF invoice after their purchase from your online store. You can easily show your professionalism to your customers via a PDF invoice with your logo. What's more, delivering a PDF invoice with every order automatically makes your customers satisfied.
After leaving for your WooCommerce custom thank you page, your customers will receive PDF invoices and packing slips in their email box instantly. So, you'll no longer worry about forgetting to create and send invoices to customers.
Now you know why it's important to use WooCommerce PDF invoice and packing slip plugins. It's time to dig deep into the 7 best plugins to help you achieve that. Please note that the order of the below plugins doesn't indicate their ranking in quality or features.
#1 WooCommerce PDF Invoices and Packing Slips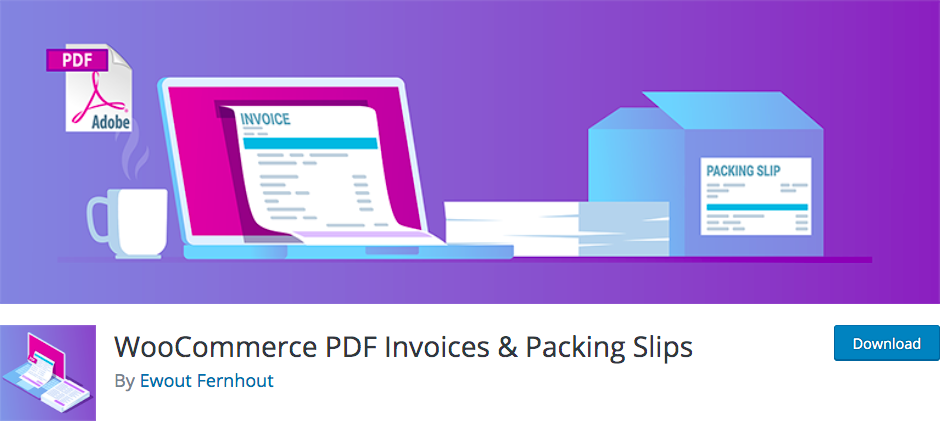 With more than 300,000 active installations, WooCommerce PDF Invoices and Packing Slips marks its name as one of the most popular WooCommerce PDF invoice plugins.
Once activated, the plugin automatically attaches a PDF invoice to the order confirmation email and sends it to your customers.
Besides, with WooCommerce PDF Invoices and Packing Slips plugin, you can also download or print invoices and packing slips right from the WooCommerce order admin.
Key features:
Automatically attach invoice PDF to WooCommerce emails of your choice
Download the PDF invoices/packing slips from the order admin page
Generate PDF invoices/packing slips in bulk
Fully customizable HTML/CSS invoice templates
Download invoices from the My Account page
Run sequential invoice numbers
Support 15 languages
Insert custom header image/logo
Modify shop data/footer/disclaimer on the invoices & packing slips
Select the paper size of PDF files (Letter or A4)
Price: Free. The premium plan starts from €39 annually.
#2 Invoices for WooCommerce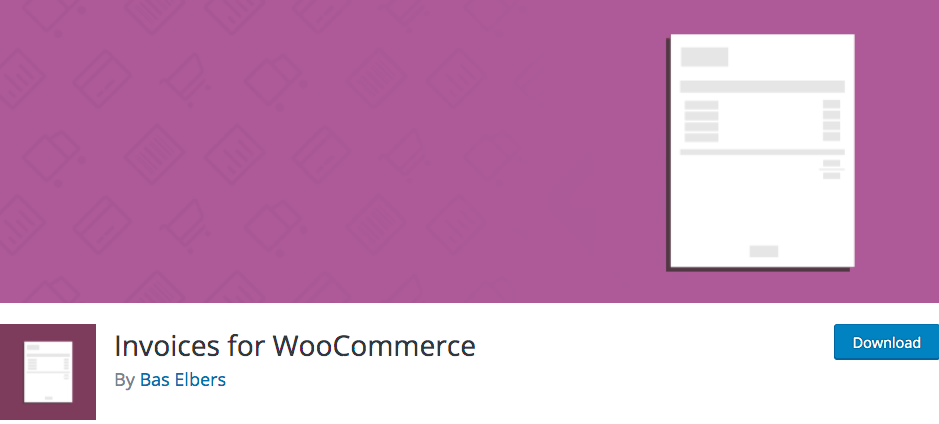 Invoices for WooCommerce stands out as one of the most powerful and beginner-friendly WooCommerce PDF invoice plugins.
With this plugin, generating PDF invoices is no longer time-consuming. You can simply install and activate the plugin, set it up accordingly. Then, the plugin will begin automatically working from there.
Key features:
Automatically generate and attach PDF invoices
Manually create or delete PDF invoices
Attach PDF invoices to unlimited WooCommerce emails sent out to customers
Generate PDF packing slips
Integrate with Google Drive, Egnyte, Dropbox or OneDrive
Customize PDF invoices with multiple templates
Offer many invoices and date format customization options
Download invoices from the My Account page
Mark invoices as paid
Price: Free. The Pro version starts from €49 yearly.
#3 Challan – PDF Invoice & Packing Slip for WooCommerce
Challan – PDF Invoice & Packing Slip for WooCommerce is well-known for its dozens of advanced functionalities and features.
Basically, the Challan plugin enables you to attach PDF invoices to the order confirmation mail that you send to your customers. Additionally, Challan comes with various customization options for professional and brandable PDF invoices for every order placed in your store.
Key features:
Show total tax amount
Show total shipping cost
Download custom fonts
Customize date formats in PDF files
Translate PDF invoices into multiple languages
Preview before printing WooCommerce PDF invoices
Automatically generate sequential invoice numbers
Generate invoice automatically with every order
Add the PDF invoice in the order email as an attachment
Fully customize the invoice format
Download the customers' order page
Price: Free. The Pro plan costs $49/year and $196/lifetime.
#4 WooCommerce PDF Invoices, Packing Slips, Delivery Notes & Shipping Labels
Another commendable plugin refers to WooCommerce PDF Invoices, Packing Slips, Delivery Notes & Shipping Labels.
The plugin helps increase your productivity with automated work. It automatically generates and shares invoices and packing slips with pre-built templates either individually or in bulk. As a result, you develop the brand identity for your store with great customization options using this plugin.
Key features: 
Automatically generate and print a PDF invoice, packing list, shipping label, and a delivery note from within the WooCommerce order page
Download PDF invoices and packing slips from your order admin page
Customize invoices by adding your store logo, store name, and more
Modify shipping labels by adding barcode and tracking number
Send PDF invoice by email
Let customers print their invoice from the My-Account page
Preview printed labels before printing
Support for RTL and Unicode languages
Disable generating invoices for free orders
Translate PDF invoices into 10 languages
Price: Free. The Pro version starts from $69 per year.
As a matter of fact, invoices and packing slips are considered personal documents. They always include private information of your customers including full names, credit card numbers, addresses, and phone numbers. That's why many hackers attack them to steal this confidential data.
This kind of data breach results in many serious issues. Hackers will sell stolen data to other criminals on dark websites. Consequently, they take advantage of personal information to use customers' credit cards and take loans with your customers' names.
It's urgent to have some protection plugins installed to keep your customers' details private.
Let's continue with the 2 prominent security plugins below!
#5 Password Protected WordPress (PPWP) Pro
PPWP Pro stands out as an easy-to-use plugin to prevent scammers from stealing customers' payment details.
After creating WooCommerce invoices and packing slips, you should protect them with PPWP Pro. Basically, the plugin will help you set an individual password for each customer. It only allows those who enter the right key to view PDF files.
More than that, the PPWP Pro plugin enables you to set user roles to access the PDF invoices and packing slips. In other words, only sellers, buyers, and shippers can view the invoice to track the delivery process. Others, even with the correct passwords, won't be able to unlock the invoice.
Key features: 
Secure PDF invoices and packing slips with password
Grant access to individual customers
Require user role logging in before entering the password
Set usage limit of a password
Expire your password after a period of time
Force scammers to enter stolen passwords to view the PDF invoices
Integrate with multilingual WordPress plugins
Price: The Personal plan costs $178.80 annually.
#6 Prevent Direct Access (PDA)
Another trustworthy candidate in this list refers to PDA Gold. If you have multiple PDF invoices to secure, this plugin can help you do that. With this PDA plugin, attackers will no longer hack your private invoices and packing slips.
Like PPWP Pro, the PDA plugin also lets you grant access to WooCommerce PDF invoices to specific people including customers, shippers, and sellers.
Key features:
Restrict protected PDF file access from strange people
Redirect hackers to a 404 page when attempting to access the PDF invoice
Automatically generate a private download link of the WooCommerce PDF invoice
Block unwanted IP addresses from accessing WooCommerce PDF invoices
Secure multiple PDF invoices and packing slips
Price: Free. The plugin charges you $14.9 per month.
Choose Your Best WooCommerce PDF Invoice and Packing Slip Plugin
All in all, the WooCommerce PDF invoice plugin comes with numerous striking features to automate the invoice generation process.
This article has gone through the top 7 best WooCommerce PDF invoice and packing slip plugins. Firstly, the 5 former plugins help you create and download WooCommerce invoices with ease. Besides, the 2 latter plugins will secure generated WooCommerce invoices to prevent hackers from stealing your customers' personal information.
Choosing your best WooCommerce PDF invoice and packing slip plugin is quite challenging. No matter what plugins you opt for, you should carefully take into account your needs, budgets, the plugin's features, and prices. Plus, try out a few trials before making up your mind.
Pick one plugin to generate PDF invoices and one between PPWP Pro and PDA Gold for securing the invoices now!