People respond to images better than any other type of information. In fact, the human brain process visual information 60,000 times faster than text and 90% of information transmitted to our brain is visual. Since we are visual creatures, we can take advantage of this nature to attract other's attention, enhance their emotions, and affect attitudes, especially in the blogging area.
As such, the time is right for bloggers to implement content visualization to meet the site goals. If you are looking for the most effective way to apply visualization for your site, this article is for you.
In this post, we will walk you through a guideline of WordPress featured image to figure out the answer for 3 questions: WHAT WordPress featured image means, WHY we should use it, and HOW to use it properly in your site.
WordPress Featured Image: What it is?
Featured images represent your posts and pages. For easier understanding, the featured image can be considered as the cover of the book with the aim of attracting audiences more effectively.
Why should you use the featured image?
Blogging is not just about the plain text written on the page, it is a combination of text, images, and other various elements like videos, charts, etc. When you dive into blogging, the use of the images is crucial to your success. Why? Because images are worth a thousand words.
So we will outline here some of the best reasons for using images on your site.
#1 Use featured images to attract audiences
Eye-catching images create a positive first impression about your post and stimulate readers' curiosity to dig deeper into the content you try to convey. But this is true only when you use relevant photos to the context of the article and should be somehow relevant.
#2 Improve SEO via featured images
Your posts with attached images are more likely to perform better in search engines. Sometimes an image may get a higher ranking than the page itself. But to make it work, you should customize the filename and alt text by adding the relevant keyword properly.
#3 Get more social media shares with optimized featured images
Social media comprises a vital part to spread awareness for your content. With the massive popularity of visual content on the social network, having unique and relevant images is the shortcut to grab readers' attention. They also encourage them to share it and increase traffic to your site.
#4 Increase the length of your posts by adding featured images
Your post looks longer with images. Some posts don't need a lot of words to convey the content. And adding images will help them look more detailed.
For example, there is the title "Top 10 destinations in 2019". It will be expected to have around 10 subtitles with a short description for its and 10 images. In this case, images take a role to help audiences visualizing content more clearly.
Featured Image Sizes in WordPress
Sizes would be an important factor you should take into consideration when preparing featured images for your site. First, we will list some default dimensions in WordPress. Next, we will share with you steps to resize the image on your own.
When you add an image to your post, WordPress will offer some certain default dimensions for each image used in its system. Here are four default sizes in the settings:
Thumbnail: 150px square
Medium: maximum 300px width and height
Large: maximum 1024px width and height
Full-size: original size
In case, you prefer to set your own image sizes, just follow these 3 simple steps:
Go to the Settings menu and click Media

Input the new size based on your needs on the Media Settings popup

Save your changes
Uploading too large or heavy images will create issues with the user experience on your site like slow loading speed, low image quality, etc. To prevent these problems, you can set the recommended image sizes below for your WordPress site:
Blog post: 1200 x 630px
Full-screen image: 2880 x 1500px
Landscape feature image: 900 x 1200px
Portrait feature image: 1200 x 900px
There might be times that the above sizes do not meet your demand. If you not sure about the right image dimension, you can consider using inspector tools available on Chrome, Firefox, and Safari to identify the correct sizing needed for each element on your site.
Where to display featured images on your posts
There are a bunch of ways to show the featured images on your blogs. Have a look at some most popular featured image layouts on WordPress:
Featured image shows up on at the top of a post or page
Displaying featured images at the top of the content is one of the most popular blog layouts. When applying this layout, the image will appear with a minor description of the post in the category. That is the first thing readers capture so do keep it attractive enough to create the curiosity of the audience about the rest of the post
Featured image appears to the side of the blog
Another choice is to display a featured image on the right or left side of your blog. This way definitely helps you highlight the relevant posts in the same categories or a series of posts.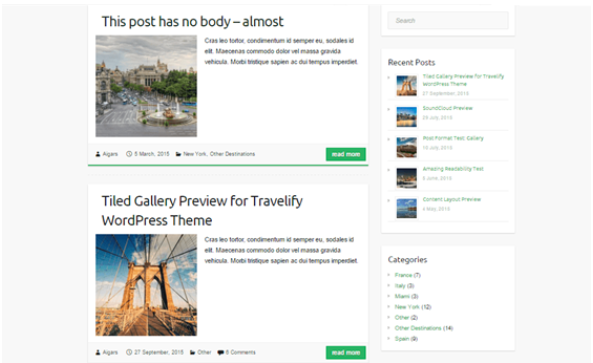 How to add a featured image to your WordPress post
In this part, we'll walk you step by step guide through the way to add a featured image on WordPress. Sounds good, right? Then let's dive in and get started.
Choose your desired post or page

Click "Set Featured Image" on the right side of the edit screen

Choose an image from your Media Library or upload a new one

Click the "Set featured image" button
Make use of WordPress featured images
Featured images benefit your WordPress site in various ways. You can attract users to read the content, improve the page or post SEO, or even get more social sharing. Before creating a featured image, you should pick the right sizes and dimensions for your pictures.
You can add a featured image to your WordPress pages or posts with a few simple clicks. Remember to select relevant ones to the content and choose a suitable layout so that your blog will perform better.
It's possible for you to protect your featured images as well. Refer our article How to Protect WordPress Featured Images to understand why you should secure your featured images and how to do so with ease.