E-commerce shops don't just serve regular or physical products. With the rise of the digital age, they've handled digital item purchasing effectively, allowing you to sell music, images, e-books, software, and more.
Unlike physical products, digital online stores free you from inventory management and shipping. You only need to invest in the product once, put it in the store, and sell it unlimitedly.
In terms of digital products, we also have virtual and downloadable items. But what are the key differences between these 2 digital product types? And how can you upload them to your store?
Our article today will help you answer these questions. Besides, we'll give a solution for securing your digital assets.
WooCommerce Virtual vs Downloadable – What are the Differences?
A downloadable product adds a downloadable item to your product page enabling users to download it as a file. It's something you really get when you purchase.
Downloadable products can appear as stand-alone goods or packed with a hard version of your product. Music videos, programs, templates are some good examples of this product type.
Virtual products are actually non-physical objects so they don't require shipping or inventory management. Once a customer makes a purchase, they can either use it online or download it for offline use.
There are different types of virtual products, such as e-books, videos, software, audio, graphics, photos, and even memberships or subscriptions.
There is some overlap between virtual and downloadable products and it's not easy to separate them. In some cases, virtual goods may consist of downloadable items. WooCommerce even assumes that these product types are similar when you configure the product data.

After understanding the main differences between WooCommerce virtual vs downloadable products, let's move to the next section of adding them to your store and start selling.
Add Downloadable Products to WooCommerce
Before adding a downloadable item to your product page, you need to have it ready in the media library. Then,
Go to Products → Add New to create a product page for your item

Provide the title, description, and image for your product
Scroll down to the Product data section and select Simple product
Tick on the Downloadable checkbox

The next step is to configure your product information. In the General tab, we need to enter
Prices: You have 2 pricing options, the regular and sale ones.
Downloadable files: There is where you enter the product name and file URL for users to download. It's possible for you to add multiple files to a product page at a time. You can enter a private download link of your downloadable file letting only customers access and get them. We'll explain this in the next section of the article.
Download limit and download expiry: These options stop users from downloading your item after a number of clicks or on a certain day. Leave them blank if you want to enable unlimited downloading.
Now open the Inventory tab and disable the Manage stock? option because there should be no worry about the number of downloaded files of a product. In fact, you wish to sell as many as possible.
What if you plan to sell tickets to an event? It's a good idea to enable them to limit the number of attendees.
The Linked Products tab gives you a helping hand in upselling and cross-selling to boost sales. It's exactly the same as what you do with physical products. Search for a product in the Upsells/Cross-sells box and choose your desired ones.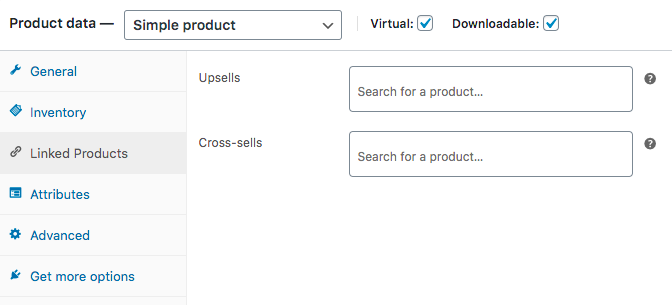 The Attributes tab sheds light on applying specific attributes to your products based on which users can filter all items that have at least one mutual feature.
Click the Custom product attribute dropdown, choose an attribute, and hit Add.

The last part comes to the Advanced tab where you can add a brief note for buyers after they complete their order.
Once going through the process, preview the page before publishing it. Customers now can purchase and download your file without any hassle.
Protect Your WooCommerce Downloadable Products
An important step you shouldn't miss when offering downloadable goods is protecting them from unpaid users and digital pirates. Although WooCommerce permits you to set download limits and download expiry, people can still get your file if they have the shared URL or find them on search engines.
That's where PDA Gold becomes your lifesaver. It helps secure your WooCommerce product files from direct access. At the same time, the plugin creates a private download link through which you can sell the product.
As a result, nobody knows your original file URL. Even they can guess it, they won't be able to access the downloadable file.
Firstly, install and activate the PDA Gold plugin. Upon activation, the Prevent Direct Access Gold is added to your admin menu. Click it to go to the Settings page and enable the Force Downloads option.
Go to Media Library and protect your product.
Copy the file's private download link in the file management pop-up.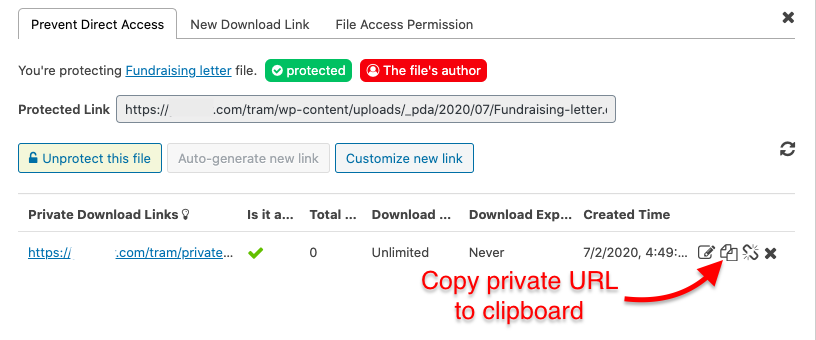 Next, open your product page and enter the private download link you've just copied in the File URL field, instead of the file's original URL.
Add Virtual Products to WooCommerce
Creating a virtual product page is similar to what you've carried out with a downloadable item. All you need to do is:
Add a new product page
Set it Virtual in the Product data section
Give the product prices and tax status in the General tab. Unlike downloadable products, you won't have any field to enter the product link

Uncheck the Manage stock? option in the Inventory tab
Select linked products and attributes
Publish the product and that's it!
WooCommerce Virtual vs Downloadable: Ready to Sell Them?
Mentioning ​​WooCommerce virtual vs downloadable, there is not a clear comparison. Downloadable products are something customers download to their devices when making payments. Virtual products, meanwhile, contain all non-shipping goods. That's said, downloadable is also a part of virtual products.
It's easy to sell WooCommerce virtual and downloadable goods. Simply define the product data and the right product type, configure its settings and you can start selling.
If you provide downloadable items, bear in mind to secure them with our PDA Gold plugin to prevent unauthorized access to your products.