Directory websites provide users with a database of businesses such as names, addresses, contact, and other details in one place. The way these sites list and categorize information into groups is ingenious. In many cases, they help people easily access the listings and find their customers or opportunities.
As a website owner, you can get more traffic and even make money from your listings. If you're seeking a way to build your own directory website, a WordPress directory plugin can help.
What Does a Great WordPress Directory Plugin Look Like?
You must be aware of some vital points to take full advantage of a WordPress directory plugin. First, the search results displayed on your directory site should be based on users' intent instead of relying too much on keywords.
Besides, all of the best WordPress directory plugins have some similar key features. Here are several things you should consider before making the final decision:
Diverse payment methods
Highly customizable form fields
Media support
Various monetization options
User-friendly features
Owning an effective directory website with various functions doesn't have to be costly. In this article, we'll show you 6 hand-picked WordPress directory plugins under 40$ along with their key features to help organize your listings.
If you have any further concerns, scroll down to the FAQs section to get extra information.
Let's dive in!
#1 Connections Business Directory
The Connections Business Directory plugin is claimed to combine simplicity with plenty of remarkable features. It is compatible with all common WordPress themes and page builders to display any type of data. Moreover, it allows you to create anything you want for both internal and external directories.
The plugin is developer-friendly and free to use. Additionally, the paid extensions for a vast collection of premium templates range from $2.99 to $14.99.
Pros
Excellent templating support
CSV file import and export
Open-source code
Thousands of private and public directory entries
Cons
Require additional plugins for some features
Cause some installation issues
#2 GeoDirectory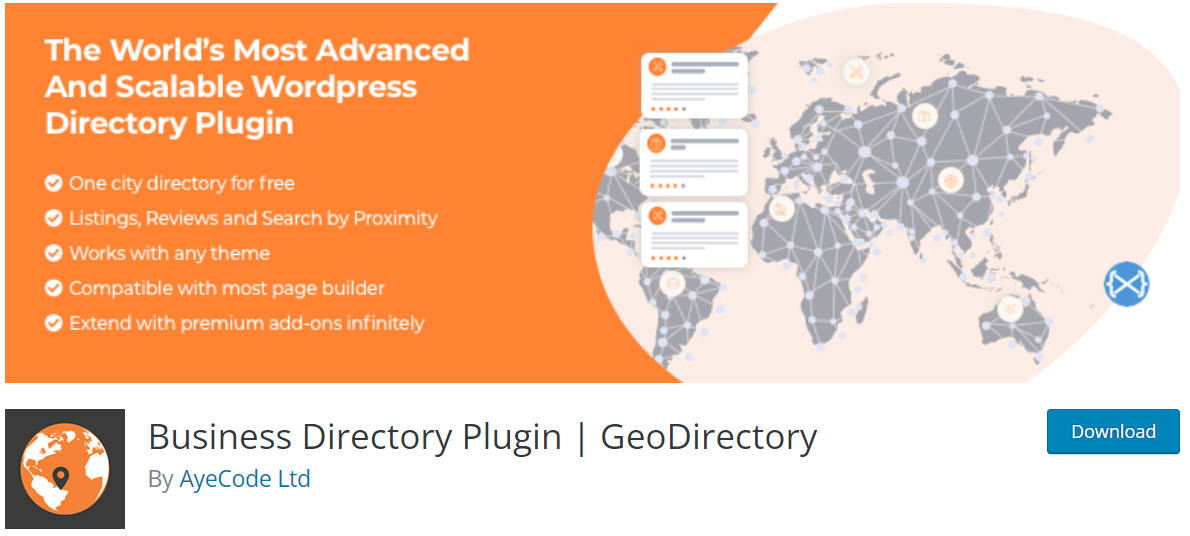 GeoDirectory is one of the most innovative WordPress plugins that allow you to create advanced location-based business directories with ease. It has robust features which are compatible with millions of page builders and work well with Gutenberg. Thus, you can edit your website with the best interface possible.
This plugin offers a free version and only costs you 39$ for the premium version.
Pros
Work well with most WordPress themes and page builders
Provide the ability to search listings by zip code or location
Integrate with WPML
Offer various features for SEO optimization
Cons
Constricted to only one city
Limited support documentation
#3 Web 2.0 Directory
Web 2.0 Directory is one of the most premium and feature-packed WordPress directory plugins as it offers almost any things you expect. From creating a classified ad listing site, events directory, restaurants, to a real estate portal, and so on.
What's more, it integrates with Google Maps and is compatible with most plugins in WordPress. Additionally, you can easily manage and submit your listings without any hassle thanks to the powerful plugin's front-end dashboard.
The Regular License costs $39. After six months, you'll have to pay an extra $12.75 to extend the support to 12 months.
Pros
Install and use easily
Integrate with YouTube and Vimeo for visual directory types
Provide multiple options for generating revenue
Allow submitting listing in bulk
Cons
Issue reported with WPML and WooCommerce
Large file size for downloads
#4 Directory Pro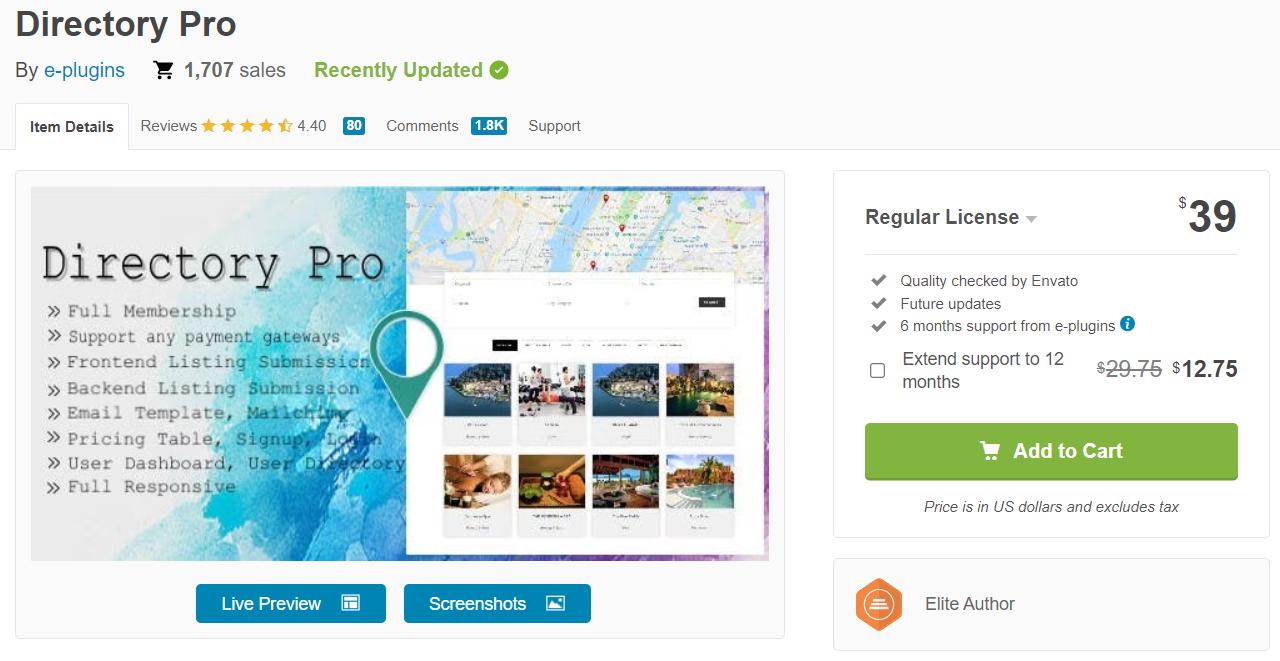 Directory Pro is the best of both worlds when it's a playful yet professional plugin with plenty of powerful features. A fully responsive directory plugin, it stands out with a well-designed and easy-to-use UI.
The coolest thing is that it gives you options to view and customize both the front-end and back-end dashboard. Also, there're 3 integrated payment methods – Paypal, Stripe, and WooCommerce Payment for you to offer free and paid listings for users.
You have to pay $39 as a one time fee, then upgrade your support length to 12 months for $12.75.
Pros
13 languages supported
SEO friendly for boosting website traffic
Compatible with MailChimp
Design-focused
Cons
The plugin is not very user-friendly as other directory plugins
It does not provide an "auto-complete" field for forms
#5 Sabai Directory
Sabai Directory is a premium directory plugin that helps you create a community-driven business directory. This feature-rich plugin provides 16 different interactive map styles.
With its assistance, you are able to search listings by keywords, category and location, date, review count, rating, and distance. In addition, it lets you display your listings in an amazing list, grid, or map.
Sabai Directory's Regular License with six-month support costs $29. Also, you can choose to extend the support to 12 months for an additional $9 or buy the Extended License at $150 including six-month support.
Pros
Support image uploads for listings
Provide the option to upvote comments and photos
Offer 16 Google Map styles, 11 widgets, and 12 shortcodes
Accept Paypal and Stripe payment
Cons
Limited customization and design options
Not WPML compatible
#6 Business Directory Plugin
If you're looking for a versatile and easy-to-use plugin, then Business Directory Plugin may be the right thing for you. It includes all core directory features and everything will be under your control without requiring prior coding knowledge.
The plugin provides fully customizable form fields, image support, and different payment methods. Therefore, you are promised to boost your user interaction, enhance customer base, generate revenues, optimize SEO, and create multilingual directories.
As it enables you to import and export CSV files, you can create a directory by importing already existing data.
You can get it for free in the WordPress repository. Otherwise, you can pay a one time fee of 199.99$ for a premium package.
Pros
Support CSV files
Integrate with different payment gateways
Support multiple languages
Offer reCaptcha security to prevent spam listings
Equip your site with a mobile-friendly and responsive design
Cons
Require premium add-ons for some features and payment integrations
Does not allow you to edit labels for listings
FAQs
Which directory plugin is the best match for my site?
Different directory plugins serve different needs. Here are some suggestions for you:
Looking for a directory plugin with multiple payment gateways and various ways to make money? Web 2.0 Directory is perfect for you.
The best local directory plugin would be GeoDirectory.
In case you wish to find a plugin that offers the best value and makes your directory as powerful as Yelp, choose Connections Business Directory or Sabai Directory.
How can I make money from the WordPress directory plugin?
Running a directory website brings a bunch of benefits, including making money. There are several ways to monetize through directory websites with your plugins, such as paid listings, featured listings, membership fees, and advertisements.
How can I protect or disable my WordPress directories?
With only 1 click, you can disable directory listings on your web server using the Prevent Direct Access Gold plugin.
We've published a step-by-step guide on how to disable directory listing in WordPress. Check it out for more details.
Let's Make Your Choice Now!
We have demonstrated the 6 best user-friendly and powerful WordPress directory plugins under 40$ for organizing your listings.
There are no limits on how people use directory websites. Don't want to break into the entrepreneurial arena? It's possible to use the WordPress directory plugin to list all your employees and facilitate collaboration, create a company intranet, or a list of company events and news.
Have you found the right plugin for your directory website? It would be an interesting journey. So, don't hesitate to share with us which plugin you've chosen for your website in the comment section below!