To make itself the most powerful content management system, WordPress has to provide solutions to keep content and files organized and create the best user experience.
Everything is never enough since users always look for more than built-in functionalities. Take file management as an example. WordPress allows you to upload files to a Media Library, but users also wish to organize them into folders.
There are still rooms for improvement in WordPress file management. Thanks to plugins, you can handle it with ease. You simply need to install a suitable plugin and let the developers take all the hard work.
In this article, we'll put together the best 7 file manager plugins, both free and premium, with their main features so that you can make the right decision.
Before going into details about these WordPress file manager plugins, let's take a look at how well they're doing:
| | | | | |
| --- | --- | --- | --- | --- |
| Plugin | Active Installation | Rating  | Root Directory Edition | Multiple Themes |
| File Manager | 500,000+ | 4.8 | Yes | Yes |
| WordPress Download Manager | 100,000+ | 4.1 | No | Yes |
| Easy Digital Download | 60,000+ | 4.6 | No | Yes |
| File Manager by Aftabul Islam | 40,000+ | 4.2 | Yes | No |
| Advanced File Manager | 30,000+ | 4.8 | Yes | No |
| WordPress Real Media Library | 5,000+ | 5 | No | Yes |
| Prevent Direct Access | 1,000 | 4.7 | Yes | Yes |
What Is File Management in WordPress?
Looking for your desired image among a wide range of files in the Media Library would become a nightmare. What you need is a solution to streamline your file management.
File management refers to the way you sort out and organize your WordPress files. This proves useful when you have a lot of files and media on your WordPress website.
#1 File Manager
As the name suggests, File Manager supports WordPress file delete, uploads, downloads, zip, and edition. It enables you to copy and paste files as well as folders directly from your WordPress backend.
You can save time by zipping any files and folders and downloading the zip file. It's more flexible than downloading individual files especially when you have a lot of files.
You're running a multilingual website? Don't worry! File Manager permits you to add multiple languages, whatever country you're from. You can use the plugin in your mother tongue instead of trying to understand it in English.
There are a lot of themes available for code editors. The site admins can control these themes in one place.
Pros
Review code easily with syntax checker
Support multi-languages
Provide clear plugin documentations
Integrate with Google Drive and Dropbox
Cons
Require premium add-ons to edit, delete, upload, download, copy and paste files in Google Drive, Dropbox, or OneDrive, e.g.
#2 WordPress Download Manager
Loved by over 100 thousand users and receiving a 4.1-star rating, WordPress Download Manager appears one of the best tools to track and control files and documents on WordPress sites. While other file managers organize files on the root directory, this plugin helps manage the downloads.
The plugin offers an option to secure your files via passwords and user roles and set a download limit for each file. Besides, captcha and IP block features prevent bots and unwelcome users from downloading and accessing your files.
Not only can you manage your downloadable files but you're also able to make money from them. Simply add a price to your digital products and force users to go through the cart & checkout process in order to download them.
Pros
Operate as an eCommerce solution to sell digital products
Store files in Google Drive, Dropbox, Box.com, and OneDrive
Provide password protection for files
Offer free add-ons for additional features
Cons
Not able to organize files into folders
Require the Pro version to unlock advanced features
#3 Easy Digital Download
Similar to WordPress Download Manager, Easy Digital Download primarily comes as an e-commerce solution to sell digital products on WordPress sites. In fact, it's more like a download manager rather than a file manager.
Instead of uploading files to the WordPress built-in media library, you'll find a new Downloads section added to the navigation menu. You're authorized to manage downloads, protect files, or grant access to specific users there.
The plugin supports most file types, from software, documents, photos, ebooks, songs, to graphics. On top of that, it works well with many WordPress themes.
As mentioned, Easy Digital Download basically allows you to control downloads and sell files. You're not able to organize files in the root directory or hide the files' real path. However, adding categories and tags is available.
Pros
Manage and control downloads in one place
Integrate with various payment gateways
Work well with any themes
Add tags and categories to files
Cons
Not support editing, downloading, uploading files in the root directory
Pay for extensions to add functionalities
#4 File Manager by Aftabul Islam
File Manager stops users from worrying about FTP by authorizing them to upload, delete, copy, move, rename, archive, and extract files. You can drag and drop files within a folder or to another one with ease.
Noticeably, this plugin controls the maximum file size that can be uploaded to a folder. Some files will be resized automatically if needed.
There are a few minor disadvantages when using File Manager. You have to go to your hosting panel to check the file permission.
Pros
Mobile and tablet responsive
Calculate the size of your WordPress directory
Allow file search and sort
Cons
Upgrade to the Premium version to receive primary support
#5 Advanced File Manager
Advanced File Manager is recognized as the most powerful free file manager plugin allowing you to edit, delete, upload, download, and zip multiple files and so on. You don't have to make a copy of your Cpanel and FTP and organize files there. In other words, you're enabled to access files directly either in your WordPress root directory or outside it.
There are a whole bunch of features you can explore when using the plugin. The shortcode remains effective to control access to your files for both logged-in and non-logged-in users on the website front end. It also assists you in hiding the files' real path.
However, only Light and Elegant client UI themes are supported by default. The plugin requires you to add the shortcode to set themes for it. These minor drawbacks don't really disappoint users and the number of 5-star ratings already tells that.
Pros
Work well on tablet and mobile
Support multilingual websites via shortcode
Calculate directory sizes
Prove easy to use
Cons
Not support various themes by default
Add shortcode to set other themes for the file manager
#6 WordPress Real Media Library: Folder & File Manager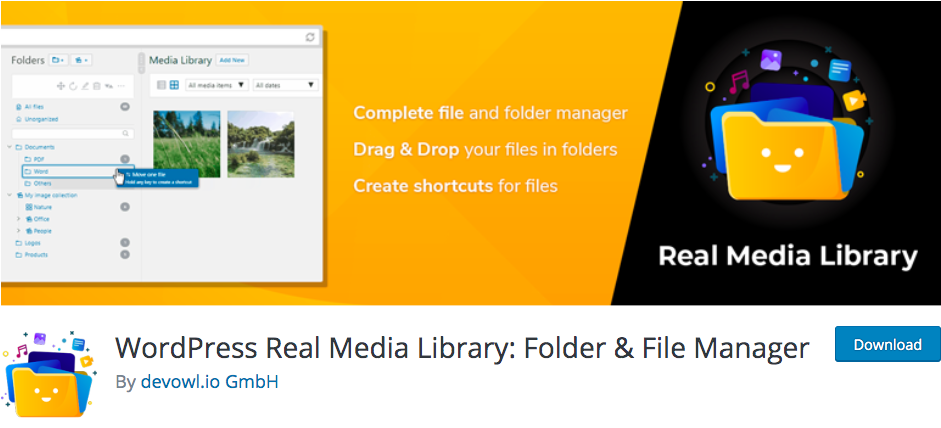 WordPress Real Media Library: Folder & File Manager has received only 2 reviews from its users and all these are 5-star reviews. This partly proves the effectiveness of the plugin in file organization and management.
You can group thousands of files, including pictures, videos or documents into folders, collections, and galleries. Dragging and dropping images folders or moving an image to a folder has never been easier.
It's possible for you to upload files directly to folders. This means you can choose in which folder your file should be uploaded.
Additionally, WordPress Real Media Library works on websites translated to multiple languages, similar to File Manager. It's unnecessary to use English all the time. You can change the language of the plugin to other languages if your parent language is not English.
Pros
Work well in list-mode
Support multilingual websites
Have a modern and friendly UI
Work with many themes and page builders
Cons
Upgrade to the Pro version in order to create more than 10 folders
#7 Prevent Direct Access
Unlike other file manager plugins, Prevent Direct Access (Gold) controls downloads and protects media files uploaded to your WordPress site. You're able to secure all your files right in WordPress Media Library.
The way the plugin operates is quite simple. It helps block the files' original URL from Google and users. Only paid members or logged-in users can access these protected files while others will see a 404 not found page when attempting to open it.
Users find it simple and easy to use the plugin. It takes you less than two single clicks to protect multiple files.
Despite the low number of active installations on WordPress.org, PDA attracts mostly premium users due to its usefully extended features. As a result, the plugin has seen a high rate of those purchasing the Gold version without downloading its free version.
Since PDA mainly helps secure WordPress images, PDFs, or video files, it doesn't assist grouping files in folders or organize them from root directory. In fact, the plugin permits you to manage the protected files in a powerful popup. You can edit, delete, activate, or even deactivate the protected links within seconds.
Pros
Protect WordPress files from unwanted users
Appear simple and easy to use
Manage protected links in a friendly and modern UI popup
Cons
Manage protected files directory in the Media Library instead of sorting them into folders
Which Is Your WordPress File Management and Protection Solution?
It's necessary to manage and protect your WordPress files, depending on what types of sites you're running.
If you have a graphic website and need to upload a lot of pictures there, you should choose a file manager plugin to organize them. As a result, you can release the stress of finding images in an endless list of media files.
Owning an e-commerce site? Just manage and sell your digital products with a download manager solution like WordPress Download Manager or Easy Digital Download. Intend to prevent users from sharing your products? Protect them with the Prevent Direct Access plugin now.
Let us know your favorite file manager and protection plugin in the comment box below.