An animated site will always receive a greater deal of attention from the public and drive more traffic than other static ones, for sure. You can use many ways to achieve this goal, for instance, presenting GIF files or displaying a video in the middle of your content.
If you don't take advantage of PDF flipbooks, you're missing out on an effective solution to make your site more lively. They help create an innovative experience for the audience and at the same time prove easy to get shared.
Adding a flipbook to WordPress has never been easier thanks to plugins. Our article today centers on the handpicked list of the 5 best free flipbook plugins for WordPress. We'll summarize their features to make it smoother for you to choose one for your site.
Before digging into the detailed review, let's briefly go over some differences between a standard PDF and a PDF flipbook as well as why you should show them on your WordPress site.
Why Using Flipbooks in WordPress
A digital flipbook refers to a PDF file or a set of images displayed as a real book structure, with right-to-left content and page-flipping animation. Readers will have the exact same experience as reading a physical magazine or brochure. This is opposed to traditional PDF documents which allow page scrolling only.
Before you read further.... Free Download (PDF)
Secret Google Search Tactic That Will Skyrocket Your Sales, Connect You to the Perfect Partners, Influencers & Affiliates and Send Your Google Rankings Soaring! FREE when you sign up for Digital Creators Edge, a free newsletter for Digital Creators who wish to take their business to the next level.
Converting PDFs into flipbooks benefits your site in multiple ways. Not only do these interactive and perceptive flipbooks liven up your site but they also make yours stand out from the competitors.
Plus, the life-like reading experience will definitely keep visitors staying on your website for longer, resulting in an increase in the interactivity of the site.
On top of that, you can get visitors' insight via their interactions with flipbooks. Surprising, right? Once connected with Google Analytics, you can detect readers' distribution such as the most favorite page, or pages at which many users quit reading.
#1 DearFlip – Free WordPress Flipbook Plugin
DearFlip turns out to be the most popular flipbook plugin in the WordPress repository so far, receiving over 70K active installs. It majorly replaces your flat PDF with a 3D flipbook with a simple shortcode.
There are 4 different variations of flipbooks, consisting of 3D, 2D, PDF, and Image. The plugin uses WebGL technology for 3D and HTML5 & CSS for 2D flipbooks. This aims to generate delightful and lightweight PDF flipbooks. The Image flipbook encourages you to quickly group images to create a digital album.
It's possible for users to share flipbooks on social channels like Facebook, Twitter, and Gmail via a share button.
Upgrade the DearFlip Pro version and you can experience a bunch of advanced features. The premium plugin offers great customization capability and a translation option. You're able to download the flipbook and translate the text on the file.
It costs you $39 annually for a single site, while the 30-site license costs you $239 per year.
#2 3D FlipBook
3D FlipBook greatly assists you in turning your dead-looking PDFs into real life. You can publish magazines, books, cards, brochures, and booklets with just a few clicks.
The plugin provides tons of fruitful features, including 3D FlipBook categories, CSS layers, 3D flipbook thumbnails, flip sounds, flipbook deep linking, 3D flipbook templates, and more.
Noticeably, 3D FlipBook brings revolution to WordPress flipbooks by enabling HTML flipbooks. This feature hasn't been supported by any other plugins.
Out of the box, you have full control over your flipbooks, from deciding page thickness to customizing the shape of flipping pages. The plugin empowers you to adjust the skin type, background, UI colors, layout, font, and icons of your flipbooks.
Flipbooks generated by 3D FlipBook are always highly responsive. In other words, you can display them anywhere on your pages and posts without having to worry about users changing the dimensions when they view the flipbooks on different devices.
Another worth-mentioning feature of 3D FlipBooks is Smart Page Loading. It boosts the loading time and improves performance by loading current pages only.
#3 FlowPaper
Primarily coming as a PDF view plugin, FlowPaper lends you a helping hand in embedding PDF catalogs, magazines, and brochures as flipbooks on your site content. Simply insert this shortcode to the content: [flipbook pdf="http://example.com/document.pdf"]. Replace the http://example.com/document.pdf with your actual file URL.
You're authorized to style the flipbook's theme by adding the theme="light" or theme="dark" parameter to the shortcode. The plugin possesses some other capabilities such as theme customization, lightbox overlay, header setting, and publication title setting.
One huge limitation of FlowPaper is it accepts less than 15-megabyte PDFs, unless you upload your files to the FlowPaper cloud.
#4 WP Booklet
With the help of WP Booklet, your PDFs are reborn with an adorable look. It takes you simple steps to create magazine-like pages or giveaways.
The plugin provides beginners with built-in themes letting them use flipbook templates without setting up or designing their pages. There is an Upload PDF option permitting you to upload and turn the document into a flipbook automatically.
Bear in mind that this is an upgrade of the WP Booklet 1 plugin so you have to import the old version in order to successfully get started using the plugin.
#5 DearPDF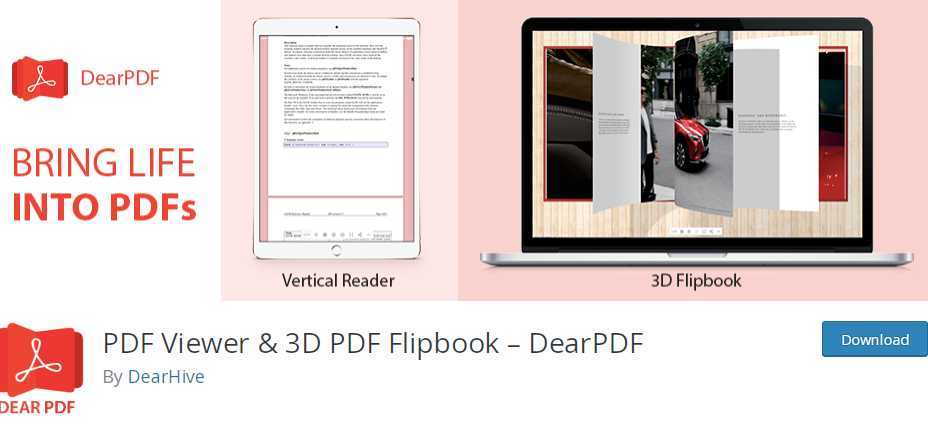 DearPDF is currently the least popular plugin in this list, receiving only 3,000 active installations only. Still, users love its powerful features.
With this plugin, you have 3 options to display PDFs on your WordPress site. Vertical Viewer traditionally presents PDF files while 3D PDF Flipbook gives your document a realistic and lively look. The 2D PDF Flipbook viewer uses CSS and HTMl5 tags to create flippable books.
Core features of DearPDF are as follows:
Enable table of content for PDFs
Create page thumbnail preview
Share PDFs via a share button
Accept more than 1000 pages and 500 MB
What's Your Ideal WordPress Flipbook Plugin?
PDF flipbooks blow a new breeze to your site. It makes your WordPress website more lively and stunning.
There are many powerful and juicy plugins to generate and customize your flipbooks. While some offer 3D flipbooks only, others support 2D and vertical ones.
Which one is your preferable flipbook plugin? Tell us your choice and the reasons in the comment section below.