On-site images, from featured images to illustrative ones, serve much more of a purpose than simply making an eye-catching design. Images enhance your content and communicate additional information in a way that is easier to consume. Google also takes quality images as a factor to evaluate your SEO.
To take advantage of this, WordPress offers a Media Library to easily store and manage all your file types, including image files, documents, videos, and so on. The library enables you to upload, describe, or even edit your files and images within seconds.
Despite coming with easy-to-use features, beginners tend to take more time to get to know most of the image functionalities and a few features aren't noticeable.
Some users don't know what to do when image issues occur and one of the most common problems is images not showing on a live site. This issue affects not only your users' experiences but also your SEO scores.
If you have ever had a question about image recognition, then you're in luck. In this article, we'll troubleshoot this error in 3 easy ways but, before that, let's strive to spell out the effect of missing images on your WordPress site as well as the main causes.
Before you read further.... Free Download (PDF)
Secret Google Search Tactic That Will Skyrocket Your Sales, Connect You to the Perfect Partners, Influencers & Affiliates and Send Your Google Rankings Soaring! FREE when you sign up for Digital Creators Edge, a free newsletter for Digital Creators who wish to take their business to the next level.
We also have other useful articles that might help you deal with other issues with your WordPress websites, such as how to fix the "WordPress can't be reached" error, how to rename images in WordPress, and even how to sell Canva templates with WordPress.
How Missing Images Affects Your WordPress Site
You've added an image to your WordPress page and post, however, you don't see the image preview when previewing or publishing. The page shows an empty block or an HTML image-not-loaded icon.
This annoys both visitors and search bots. You should also pay more attention when your product images don't show up. Here is an example of what readers see on your site if photos don't appear.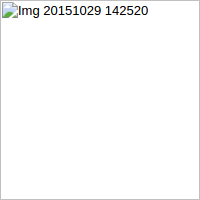 The Issue Affects User Experience
Human beings are visually-thirsty creatures. Images help explain post content with fewer words. Imagine that you land on a page and see a long block of text, you will immediately leave the site right away, for sure. This is what users will see when pages are missing images. As a consequence, the time the visitors spend on your site falls off considerably which damages your site's SEO.
Decreases the Sales Volume
For e-commerce stores, product images present how your goods look and impress the shoppers at first sight. What if your online shop doesn't display the right photos? What if these pictures are missing for some reason?
Simply think of a situation when a customer is buying a t-shirt from an online store without seeing it. You're scaring away prospects and customers and directly discouraging them from making purchases.
Why Images Aren't Showing on Your WordPress Site
There are several common reasons when it comes to featured images not showing. Have you ever uploaded a photo from your computer but forgotten to insert it into your WordPress content? Then, you preview the page and see the image nowhere.
Another reason comes from the wrong image sizes. This issue happens regularly in WooCommerce stores when you put too large or too small product photos. As a consequence, buyers just see blurry and unreadable product images.
Most non-tech-savvy users don't know that incompatibility, plugins, or active theme conflicts can lead to images not showing. Many WordPress users have reported missing images with the Jetpack plugin when enabling it. These sites have to deactivate the plugin to get these photos back.
You might not notice but all files, including images, PDFs, GIFs, videos, and audio won't show up to unwanted people if you protect them using the Prevent Direct Access plugin features. Google crawlers, or any other search bots, won't be able to find the files either. Only authorized users such as admin, members, and customers have the right to view and access protected files. If you want your files to be protected, then this would be a rare case when missing WordPress images can benefit you in some ways.
Fix Images Not Showing in Posts
Once you understand how the missing WordPress images affects your site and what causes the problem, it's time to look for a solution to troubleshoot it. If there are various places where your photos don't display, like posts and the Media Library, you need to take a big-picture approach.
Step 1: Insert Image into Posts
If you don't remember to add photos to your WordPress page and post, it's simple to fix. All you need to do is click on the "Add Media" button above the content editor toolbar, or insert the correct image block if you are using Gutenberg.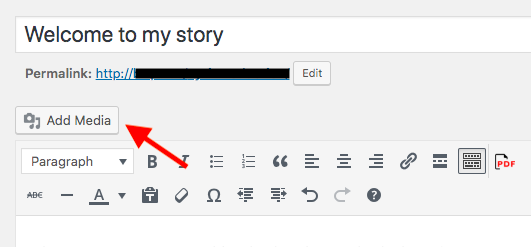 Then, select your cover images and hit the "Insert into post" button under the attachment details. You can update and preview the content to make sure the attached file shows up in the right way.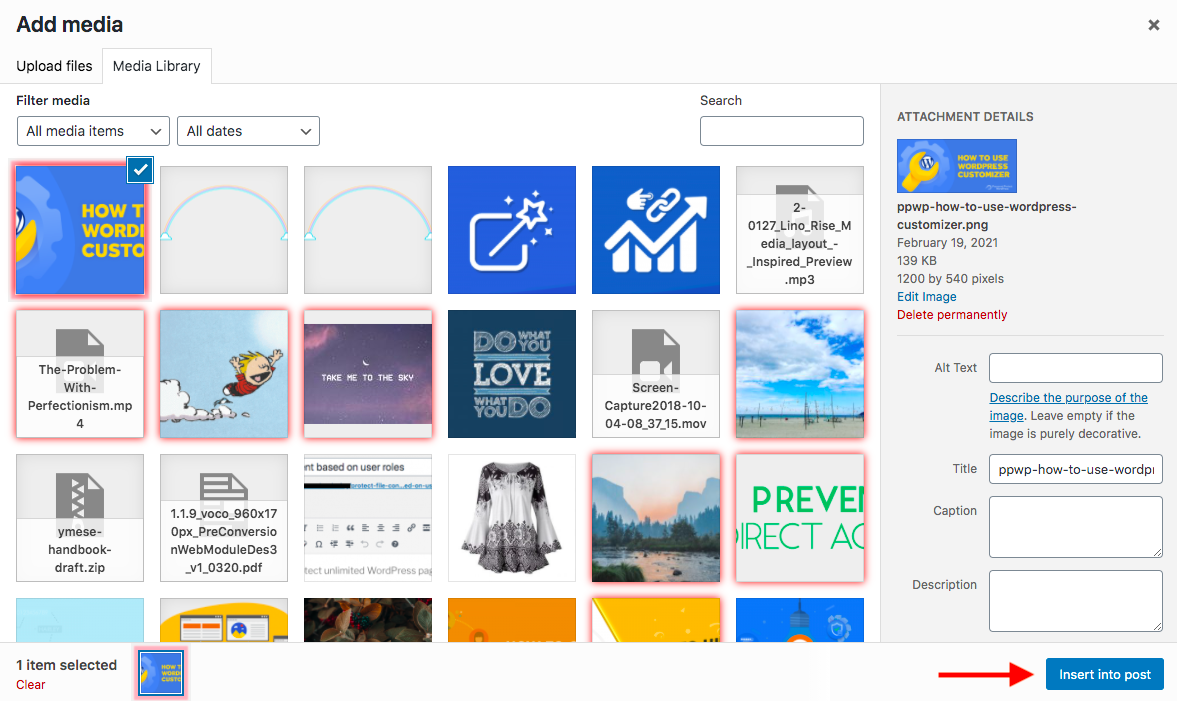 Step 2: Grant File Access to the Right Users
As indicated, when your file is secured with the PDA plugin, standards visitors will see a not-loaded image on the content.
To fix this, you need to unprotect the files or provide admins, authors, and paid members the right to view them. The following 3 steps will guide you on how to get started:
Open the Media Library in your WordPress dashboard
Select the desired image
Uncheck the box "protect this file" in the attachment details

Fix Images Not Showing in the WordPress Media Library
You might suffer from a nightmare when there are no images available in the WordPress Media Library. The problem prevents images from displaying on both the backend and front end.
You have 2 ways to handle this common issue: either by disabling image hotlinking or changing the file permissions of the upload folder.

Step 1: Disable Image Hotlinking
WordPress image hotlinking refers to a form of image theft when users include your image URL in another site's content instead of downloading the image and then reuploading it. Consequently, hotlinking steals your bandwidth and slows down your site which affects the website's performance and causes a "Could not load image" error.
To disable image hotlinking, you need to:
Log into your cPanel account
Open the "Hotlink Protection" option
Disable the option

It's possible for you to stop image hotlinking using the Prevent Direct Access plugin too. Not only does the plugin help restrict the direct access to the protected files, but the plugin also prevents image hotlinking without your permission.
Once you have installed and activated the plugin, head to the general settings page and enable the feature "Prevent Image Hotlinking" under the "Other Security Options" section. That's it!
Step 2: Check File Permissions
WordPress relies on folder permission settings to define your file visibility. When someone accidentally changes the permissions, you may not be able to view the images in the Media Library. You can reset the file permissions by:
Logging into your FTP account
Going to /wp-content/ directory and open the uploads directory
Checking the file permission in the Permissions and Owner/Group column. It should be 0644 and 505 503.
Right-clicking the file and adjust this number if you see that it's not correct


Do Images Display on Your WordPress Site Now?
Photos and pictures assist you in increasing the visual presence of your WordPress website as well as creating a positive user experience. You must take immediate action when any of your images don't appear on the live site or in the Media Library.
There are various common mistakes that lead to WordPress images not showing. You might forget to insert the content, there may be a conflict between themes or plugins, or the files are protected.
For the front-end image error, you should remember to add the image to your page or post. Make sure to provide the right file access to authorized people to avoid unwanted experiences.
In terms of images not showing in the library, simply disable the image hotlinking option and make sure that everyone has the right permissions in the upload folder.
Do you still have a question about images not appearing? Let us know in the comment section below!