WordPress comes equipped with a default search function enabling users to find the most relevant content on your site quickly. Instead of spending a lot of time going through your Blog section, they can look for all posts related to a topic with just a click. This will greatly improve the user experience.
In fact, the built-in WordPress search feature just applies to pages and posts only. In other words, it won't show custom post types, custom fields, shortcode content, and documents from your Media library in search results.
To bring your user a better searching experience, we'll show you how to extend the standard search capabilities of WordPress using the WP FullText Search plugin. A bonus tip to protect PDF documents will wrap this article.
How to Add PDF Search Using WP FullText Search Plugin
The modest amount of active installations of WP FullText Search, about 1K installs, can't give a big picture of the plugin's power. Its transparent word-based index lets you find relevant content in titles, post content, meta-fields, and even shortcode content. WP FullText Search doesn't replace the standard WordPress search but extends the capability.
The text content searching of the attached PDF files feature is available in the Pro version only so you need to upgrade the plugin to access this feature. Besides PDFs, the plugin also supports other file types such as DOC, DOCX, RTF, TXT, HTML, HTM, and CSS.
First, log in to your WordPress admin dashboard and install and activate the free version by going to Plugins → Add New. Then search for the plugin name in the keyword box, install, and activate it.
You can download the Pro version from their website and insert it into your site by going to Plugins → Add New → Upload Plugin and selecting the plugin file you've just downloaded.
Now move to the setting up process. The plugin is added right under the Settings section in your WordPress admin menu. Click the 'WP FullText Search' option to let the plugin gather your site content data to create the search index automatically. Once done, the Search Engine Status will turn green and says 'Index is OK.'
WP FullText Search collects text content from your attachments, including PDF files, and adds to its indexing core. Users can easily find your files by typing a query in the search bar. All PDFs with that keyword in the content will show up in the results.
Protect WordPress PDF Files
Apart from adding a search function to your PDF files, you should consider protecting them to prevent unauthorized users from finding and accessing your documents via WordPress search. They can be the company internal files or premium PDF ebooks available to paid customers only.
PDA Gold turns out to be a perfect solution in securing your private PDF from search. Users won't be able to look for them even searching for their titles or the exact content snippets in the PDF. The plugin also blocks search engine indexing so visitors can't find them on Google search results, even they have the file URLs.
You need to download, install, and activate the PDA Gold plugin to successfully protect your WordPress PDF files. Upon activation, a new Prevent Direct Access Gold section will be added to your admin menu. Click here to navigate the plugin settings.
The plugin default settings make it easy for most site owners to protect their files. You can still adjust some options to best suit your demands.
In the FILE PROTECTION section, you can enable the 'Auto-protect New File Upload' to automatically make all uploaded files private. The 'Set File Access Permission' grants admins or other roles access to your protected files using their original URL.
The PRIVATE DOWNLOAD LINKS section is where you set up links generated for users to view and download your PDFs. We recommend enabling the 'Force Downloads' to force users to download your files once clicking their links instead of viewing them.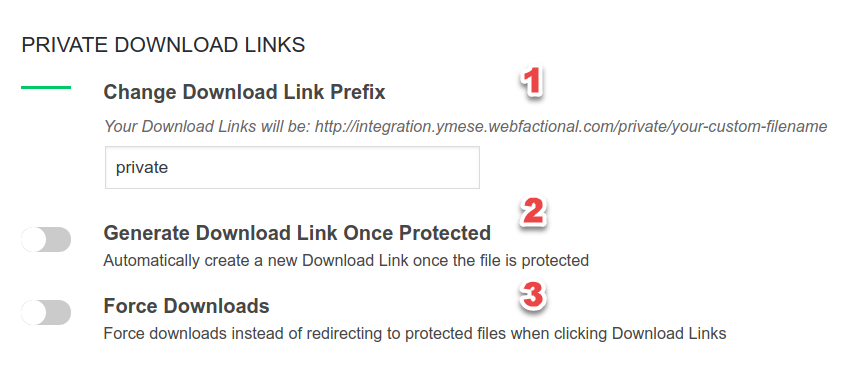 Steps to Secure WordPress PDF Files
Now go to Media Library and find all your desired files to protect. If you just want to restrict access to one document at a time, hover its name and click 'Protect.'
Hit 'Configure file protection' under the Prevent Direct Access column to create private download links for your files. You can either auto-generate random URLs or customize your own ones to make them more meaningful. You can send these links to permitted users such as members or customers to download them.
It's possible for you to set download limit and download expiry to block user access after a number of clicks or a time. This helps stop them from widely sharing your files with others.
In case you plan to protect multiple PDFs at a time, then try the Bulk Protection feature. Simply choose all your files in the List view Media and select 'Protect files' under the 'Bulk Actions' dropdown.
Hit 'Apply' and you're done. Your files become private preventing users from finding them on search engines or accessing them via original URLs.
To bulk generate download links of many files at a time, you need to open Prevent Direct Access Gold > 'Tools' > 'Private links' in the admin navigation menu.
You need to enter the protected file name, the number of private links per file, download limit, and download expiry. Press 'Generate' and let the plugin handle the rest.
Empower WordPress Search Capability
WordPress gives you a chance to add a search bar to your site so users can find the most relevant content. This helps deliver a great experience for users.
We have walked you through the guide to add PDF search to your site using the PDF FultText Search plugin. You should also protect your PDFs so unwelcomed users can't find them on both WordPress search and search engines.
To achieve that, no other solution is better than PDA Gold. Download the plugin and start securing your PDF documents now!