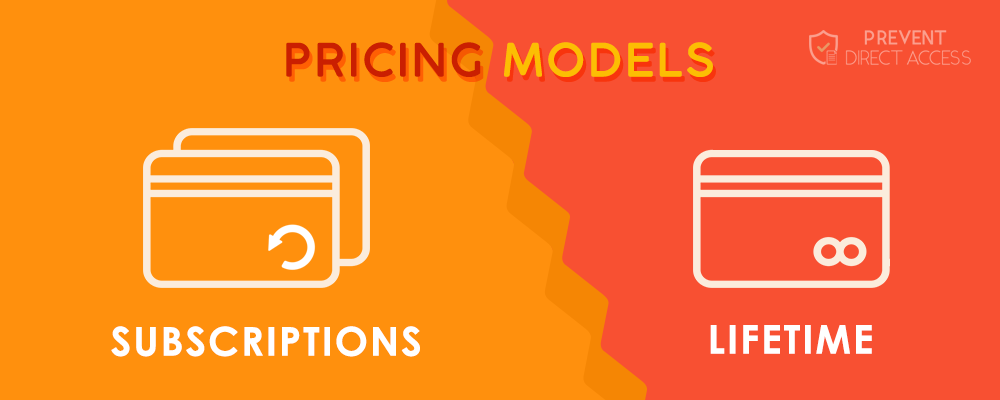 WordPress plugin industry has been booming in recent years. The development of premium plugins and themes contribute hugely to the success of WordPress which now powers 30% of websites and vice versa.
Every opportunity come with an even bigger challenge though. The WordPress plugin market has now become much more competitive than ever before. There are over 6,800 premium plugins listed on CodeCanyon and over 50,000 free plugins on WordPress plugin repository alone (as of Jan 2019). Having said that, there is always room for a new player to enter and succeed in the market.
If you want to flourish in such a competitive market, pricing must be in the forefront of your mind. In fact, it is one of the most important business decisions you'll ever make. Pricing alone affects your conversion rate, revenue, cash flow, and ultimately the success of your plugin and business at large.
A wrong pricing model harms your business growth even if your plugin comes with outstanding and powerful features. A too low or too high price not only undermines your marketing efforts but also affects the customer perception of your WordPress plugin.
Pricing is undoubtedly important. And it's really tough to get it right in the beginning. That's why in this article, we'd like to share our analysis and insights into the key pricing questions below:
What are common pricing models among premium WordPress plugins?
How much do premium plugins cost on average and in different niches?
Is one-time payment still popular?
What are the common pricing tiers?
Table of Contents
Two Pricing Models
In order to price your WordPress plugin properly, you have to first understand there are 2 types of pricing or licensing model that almost all plugin developers are using:
Lifetime model
Subscription model
Put simply, subscription model requires users to pay a monthly or annual fee to continue getting support and updates or sometimes using the plugin. On the other hand, lifetime model, as its name implies, requires just one-time payment for lifetime usage.
Lifetime Pricing Model
Lifetime model works in the short term as it provides decent income upfront. However, it doesn't sustain if not leave potential damaging effects on the business in the long term. Sure, you may be able to make a large sum of money on Black Friday or during your new year promotion campaigns. However, it's not certain that you're going to make the same revenue or better next month. You'll end up playing catch-up all the time – needing more or more customers to maintain your growth.
What's more, support a one-time payment for the entire product lifetime is not practical either. You have to maintain the plugin by providing security fixes, fixing compatibility issues with other plugins and new WordPress versions and so on for life. It's hardly worth it – unless you could charge huge sums upfront.
This explains why most WordPress plugin developers favor subscription model while most theme developers go for Lifetime ones. Often times, a solid theme with good documentation doesn't require that frequent support and updates like an equally good plugin does. Besides, the WordPress theme market is much more competitive. There are a lot of available options, and so, it's much harder to convince users to commit to a subscription.
Having said that, many WordPress plugin authors and developers still offer lifetime licenses, sometimes together with subscription packages, due to the nature of their plugins and the upfront benefits it brings in.
Pros
Earn a decent sum of money upfront

Many customers still prefer just a one-time payment for a product
Cons
Provide support and updates for one-time purchase for life is infeasible

Need to get more and more customers to keep the same growth
Subscription Pricing Model
While many WordPress plugins started out with the lifetime model, subscription model is actually preferred by almost all WordPress plugin developers. It provides calculable and sustainable income to grow and scale the business in the long run.
You'll be able to estimate how much money you're going to earn by the end of each month. From that, you can come up with a plan to increase your revenue and profit according to the current conversion and churn rate. These numbers and metrics are key to sustain and grow your business as they provide an estimated budget planning for marketing, advertisement, and hiring. For example, you'll know roughly how much you can afford to acquire new customers while still making profits.
Subscription vs SaaS
Many misunderstand Subscription model with a Software as a Service (SaaS). While it's true that subscription model goes hand in hand with SaaS, you don't have to turn your plugins into a SaaS in order to generate recurring revenue.
Many plugin developers are using a very similar pricing model to Subscription which requires the customers to pay for the plugin first and then offer a reduced renewal fee for support and updates one year later. Since plugin support and updates are essential for any WordPress sites, it's reasonable to ask your customers to auto-renew their license from the beginning. Often times, it's fine to even disable certain non-essential features like what Delicious Brains is doing for their WP Offload Media plugin.
As long as you have recurrent expenses such as time and money spent to provide support and updates that customers would benefit from, you can adopt and set up a subscription model for your plugin. This ensures you will have enough income to cover your own expenses in order to provide those benefits in return. That is a win-win for both of you and your customers.
Pros
Bring predictable income to sustain the business in the long run

Stabilize your business and become less dependent on the market
Users would feel more comfortable test-driving the premium plugin for 1 month first before committing to a longer plan
Cons:
Harder to convince users to make recurring payment in the beginning

Your plugin must be offering real values for the customers to renew their subscriptions

Renewal rate might be low for certain niche and groups of users
Pricing Tiers
There are different strategies when it comes to pricing your WordPress plugins. The traditional lifetime pricing is simple and straightforward. You offer a fixed price for your plugins (single tiered pricing). Users take it or leave it. This one-time payment for unlimited-site and lifetime usage model is so bad for businesses that hardly any pro developers are using it except for those sellers in marketplaces such as ThemeForest and Codecanyon.
Usage Tiers
Whether you're using lifetime or subscription model, you can offer different usage tiers to your product pricing compared to just single tiered pricing as usual. Typically, these tiers are based on the number of sites the corresponding license is valid for. In other words, your customers will pay according to the number of sites they need. For example, our Prevent Direct Access Gold comes with 3 pricing tiers, i.e. 3 different licenses. The lowest price point is a 1-site license, then a middle 3-site license and finally a 15-site license which commands the highest price point.
You can also design a "pay as you go" system where you restrict usage of certain features on each pricing tier. The customers have to pay more (by upgrading to a higher tier) if they exceed the current license limit. This system is not applicable for every plugin and niche though. For instance, many users would be mad if you only allow them to back up their websites twice a week. A wrong or unreasonable restriction could backfire opening doors for other free plugins to compete on features and pricing.
Feature Tiers
Besides, your product pricing can be presented in tiers where the customers only pay for the features they need – sometimes in the forms of add-ons.
Different pricing tiers restrict the inherent flaw of the lifetime model while giving you options to set up your own subscription model. If your plugin is good enough to sell, chances are your customers will want to use it on multiple sites. They will get a much better deal with different pricing tiers compared to repeat the purchase multiple times.
"Which pricing model should I choose?"
There is no straightforward answer to the question. It depends hugely on your plugin and niche. These are some important questions you'll need to answer before deciding a pricing model for your plugins.
What niche is your plugin in, i.e. e-commerce, contact form or security?

Are there a lot of demand for your plugin? Is your plugin something a lot of people would need?

What are your competitors? How competitive is the market niche?

Which business model are you using for your plugins?
If you've just got started, it's highly recommended that you offer a free version on WordPress plugin repository. If it does well, you may want to sell your plugins first on popular marketplaces like Codecanyon with single tiered lifetime pricing.
Once you more or less understand your plugin's market and demand, you should move away from these marketplaces, sell the plugins on your own website and decide your product pricing model. The faster the process is, the greater your business will grow. But if you move too quickly, it's actually harder for you to market and sell your plugin.
If you're an established vendor, you'll need to sell your customers on the "extra services" coming with your plugin – not just its existing features. Show them how good your support really is; which roadmap your plugin will follow, i.e. powerful features you're going to provide them in the future that will be worth every single penny they'll pay for the annual subscription.
Otherwise, if your plugin doesn't require a lot of support and updates, you may consider lifetime pricing model. As your plugin and business are growing, you should add different tiers to your plugin pricing.
Is your plugin offering ongoing values?
This is another key question when deciding your pricing model. In many cases, support and updates alone may not be convincing enough to keep your customers paying an annual let alone monthly fee. Users must feel that your plugin is offering ongoing values. Plugins whose functionality is not essential on a regular basis such as SSL migration and documentation creation will find it tough to get their customers paid a subscription fee.
That's when lifetime model with just one-time payment comes in handy. It presents an alternative option for many customers. "Lifetime" usage and support sound good anyway.
Please remember that your plugin's price, as well as pricing model, could change significantly over time as its development advances. So always be flexible and leave room for change and improvement at any time.
To summarize,
You don't have to be SaaS to utilize subscription pricing model and generate recurring income
Auto-renewal should be enabled by default for continued updates and support. You can even disable some non-essential features if the customers decide to cancel the subscription.
Plugins with subscription model must offer continuous values that deserve renewals. Otherwise, users will just cancel their subscription.
Lifetime and subscription model can be used together to increase your sale conversion

Tiered pricing not only restricts the flaw of lifetime model but also provide more options to set up your own

 subscription model