WordPress podcast hosting gives you a reliable place to store and distribute your podcast files. It ensures your visitors can always download the latest episodes and don't have to wait long while doing so. The hosting also provides an RSS feed that supports posting your files to Apple Podcasts and other podcast directories.
You can host podcast files on your WordPress site's server yourself. But podcast hosting offers a more optimized, reliable, and hands-on way to distribute your episodes. Most podcast hosts build additional features, such as analytics on how many times your episodes have been downloaded, or where your listeners are from.
What Do You Need to Host a Podcast?
We'll go over many aspects of WordPress podcast hosting in this article. But first, let's review the basics.
To host a podcast with WordPress, you need to set up at least three things:
A place to store podcast files – You can use the server of your WordPress site or a dedicated podcast hosting service. We will discuss this in the coming sections.
WordPress podcast theme – Technically, you can use any theme. But choosing a custom podcast theme will help you have a customized design for your podcasts.
WordPress podcast plugin – A WordPress podcast plugin gives you all the features you need to manage your podcasts. The plugin should provide a podcast player, RSS feed management, automatic syncing with your podcast hosting service, and more.
Now, let's look at how we can host podcasts on your WordPress site.
How to Host a Podcast in WordPress
Here's the route to own a WordPress podcast hosting site.
#1 Install a WordPress Podcast Theme
You can install a WordPress podcast theme for the basic design of your current WordPress site.
To give an example, we will use the Astra theme. Astra is a free multi-purpose WordPress theme with 85 free WordPress templates. It's ideal for those who want to build a highly customized personal blog or podcast website.
The theme brings some free demo websites in case you don't want to customize your website from scratch.
For example, once importing the Creative Podcaster demo site, your site will look like this:
#2 Choose Hosting Option
Now, it's time to pick a way to host your podcast files that makes them accessible to users. You have two options:
Self-hosting
Hosting service
Self-Hosting Your Podcast
This option is potential if you've paid for WordPress hosting. In other words, you don't have to pay for any other services. So, it may seem like a viable way to keep your costs down. However, it is not a long-term option because WordPress hosts are optimized for hosting websites, not for podcasts.
Besides, you may face some disadvantages:
If you serve videos as well, you have to store lots of large files. This will eat up the storage quickly.
When many users download your podcast at once, tons of simultaneous downloads clog your server, especially with cheap hosting.
People can download podcast files to their local devices, which consumes much more bandwidth than a website.
Using a Podcast Hosting Service
Podcast hosting services are specifically optimized for storing and serving your podcast files. Listeners around the world can download episodes without speed issues.
If you show your podcasts on a WordPress site, you can host your files by taking advantage of some podcast hosting services that offer really tight WordPress integrations.
We are showing you how to integrate a podcast plugin into your site as well as 5 recommendations for the best podcast plugins.
#3 Install a WordPress Podcast Plugin
We use the Seriously Simple Podcasting plugin to illustrate the installment process.
The Seriously Simple Podcasting plugin is a free plugin for WordPress podcast hosting.
The plugin automatically creates a custom post type. This makes it easy to upload and manage your podcast files from your WordPress website in one place.
Seriously Simple Podcasting supports both audio and video podcasts.
It has an extension that allows you to analyze podcast statistics.
It formats your podcasts to be sent to iTunes.
After installing and activating the plugin, you will see a setup wizard window to enter important details. First, enter the name and description of your show:
Next, you can upload a cover image, but not required. You can skip this and upload the image later.
In the next step, you are prompted to select the primary category and subcategory. This way, you can have your addon published in the appropriate categories on channels such as Apple Podcasts.
Finally, the plugin asks you to choose how you want to host your podcast files.
If you are going to use a hosting service, you can use Castos, the owner of this plugin. Choose the I have a Castos account option presented here, or start a free trial.
If you want to try self-hosting your podcast files, select the Skip option.
To access all the options, go to Podcast > Settings. Here you can change the color of the podcast player and access more settings.
#4 Upload Podcast
Once completed all the steps, you're ready to upload your podcasts.
Click Podcast > Add New in your WordPress dashboard to create your episode list and upload your podcasts.
At the top of the editing screen, you can add the section title and description.
You'll get a new Podcast Episode Details box where you can upload the podcast file and add important information.
The plugin automatically generates the duration and file size for you. However, you are free to make changes to your liking.
The Seriously Simple Podcasting plugin automatically uploads your files to your Castos podcast hosting service. So, you don't need to lift a finger outside of your WordPress dashboard.
Once the file upload is done, simply stream the episode to make it live. The plugin will add a custom podcast player on the frontend and add the episode to your RSS feed.
#5 Submit Podcast RSS Feed
RSS is a tracking system used to easily follow the contents of websites on the internet. RSS's, which are extremely important parts of websites, are applied especially on news sites, podcast sites, and blogs.
Once you start uploading some episodes to your website, you'll receive a dedicated RSS feed for your podcast. This allows listeners to subscribe to your podcast on their favorite podcast listening apps.
You'll also be able to post to podcast services like Apple Podcasts and Spotify. We recommend this to ensure that your podcast reaches as many people as possible.
To access streaming of your podcast in Seriously Simple Podcasting, go to Podcast > Settings > Publishing.
Many podcasting services grant a URL for your podcast. You can take these URLs and add them to the Seriously Simple Podcasting plugin settings. To achieve that, go to Podcast > Settings > Feed details.
After inserting, the URL is added to the podcast player on your website. Your listeners can easily subscribe using these services.
#6 Monetize Podcast
Since podcasts are a trending digital product, you can make huge money from selling them online. There are different options when it comes to monetizing your podcast episodes. One of the most useful ways is to prevent folks from downloading podcasts for free.
Prevent Direct Access Gold (PDA Gold) can help you achieve that. Let us explain. The plugin comes as an ideal solution to make your podcasts private and stop people from stealing your ideas.
It enables you to secure podcast audios and videos by creating protected links. Any unauthorized access to the file's original URLs will be led to a 404 error page.
In addition, you can set the download links' usage limit and expiry time. This prevents users from sharing your podcasts with others without your permission. Also, the plugin integrates with other membership plugins to grant podcast access to logged-in and paid members only.
As a result, monetizing your podcasts has never been so easy with the assistance with the PDA Gold plugin.
We've learned the step-by-step process of hosting a podcast. Let's discover the best tools to help you out.
Best 5 WordPress Podcast Hosting Plugins
When creating a podcast website, using WordPress podcast hosting plugins suitable for your purposes will benefit you a lot.
You can host your podcast files by uploading them to the Media Library or syncing them with a dedicated WordPress podcast hosting service. By generating a podcast RSS feed to post to Apple Podcasts and other directories, you can expand your audience. Viewing statistics on listening counts and other important information is available, too.
In general, a podcast plugin contains these basic features. Depending on your business purposes, you can have a solution that best suits your site. Some plugins focus on adding the web-based player to your site rather than hosting and RSS feed features.
Here are the top 5 best podcast plugins with their outstanding features.
#1 PowerPress

The most powerful podcasting plugin on the market, Blubrry's PowerPress podcasting plugin is a user-friendly tool for your WordPress site. It comes with services like hosting podcasting and podcast statistics inside.
Features:
You can add both audio files and video podcasts to your site and share them easily.
It works as a Soundcloud podcast WordPress plugin with the ability to import your Soundcloud.
It supports Apple and Google podcasts and creates an RSS podcast feed.
The plugin supports organic growth with SEO.
You can switch between simple and advanced modes and enjoy all the features.
It creates a podcast sidebar widget asking people to subscribe.
Pricing:
While you can use all features of the PowerPress plugin, including 125 MB of storage for $10 per month, you can take advantage of 450 MB of storage and extra premium features by paying $17 per month.
#2 Fusebox
Fusebox is the best choice for podcasters and those who want to take their podcasting to a professional level. Smart Track Player is the most significant feature that sets this service apart from others.
Features:
The plugin has a beautifully designed HTML player with share, download, and subscribe buttons.
It comes with the ability to promote your entire podcast archive and the latest podcast episodes.
It is fully responsive and compatible with desktops, tablets, and mobile devices.
Thanks to the speed control feature, your listeners can listen to your podcasts with different playback speeds.
You can customize the color theme to match your podcast's brand.
Pricing:
Fusebox is free for up to 3 shows and 10,000 listens per month. If you choose a paid plan, you can enjoy premium features by paying $15.83 monthly (billed annually).
#3 Podlove Podcast Publisher
Podlove Podcast Publisher is one of the most preferred options as this customizable plugin is free and brings many basic features.
Features:
You can build an active online community.
Options for different templates are available.
The plugin includes an HTML5 player to play your podcasts.
It has episode support to help you easily manage your podcast episodes.
It comes with analytics where you can see how your listeners interact with your podcasts.
#4 Buzzsprout
Buzzsprout podcasting is a complete podcasting service and one of the best audio plugins for podcasting. It also offers podcasting promotions and podcast hosting. If you are looking to share a podcast maximum of two hours per month, this plugin will be just the ticket for you.
Features:
It has a simple and easy-to-use user interface.
It provides automatic sound optimization while your file is being uploaded.
You can easily sync your episodes with many popular podcast directories such as Stitcher, iTunes, Google Play, and Spotify.
Pricing:
Buzzsprout has a free plan for up to 2 hours of audio per month. It has three other paid plans for different amounts of time you record your monthly podcast.
You can record podcasts up to three hours by paying $12 per month, up to 6 hours by paying $12, and up to 12 hours by paying $24. You can benefit from other premium features.
#5 Simple Podcast Press
Simple Podcast Press is a podcast audio player and plugin specially designed for adding podcasts to WordPress so you can grow your audience with a website.
Features:
Compatible with all major podcast platforms, including Spreaker, BlogTalkRadio, PodBean, Soundcloud, and more.
It is fully automatic. All you have to do after setting up the plugin is to focus on producing more episodes.
The plugin creates unique pages for each of your podcast episodes.
It has customizable buttons.
It comes with Clammr integration for easy social media sharing.
Pricing:
Simple Podcast Press offers three plans that deliver different features according to your podcasting needs. While the Single License starts at $67/year for 1 website, you can use the plugin for up to 10 websites by paying $147/year.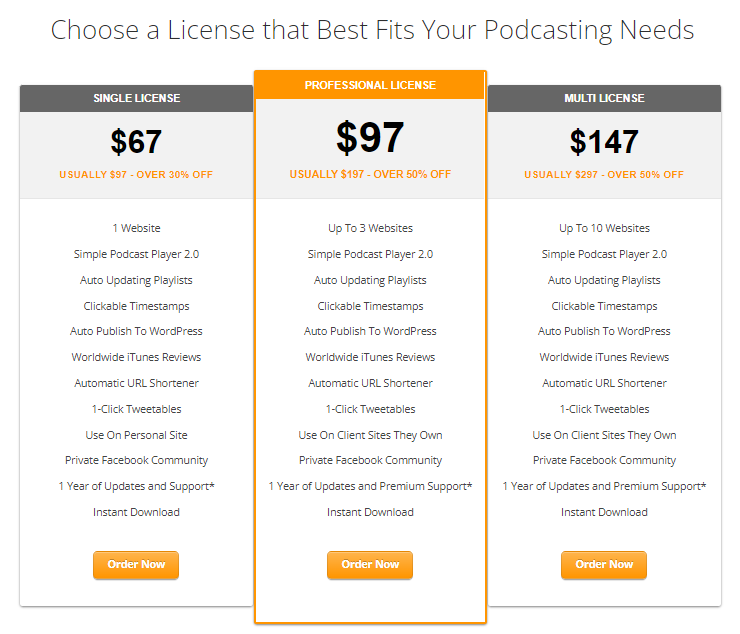 Ready to be Discovered!
Turning your current WordPress site into a podcast site is easier than you think.
You can host your created podcast yourself. Or, taking advantage of a dedicated podcast hosting provider can optimize the site better. Choosing a provider with an integrated WordPress plugin will save you time and money in the long run.
Remember that once you have a plugin and theme successfully activated, you can consolidate your posts into podcast directories and expand your audience.
Now you are ready to set up your own podcast site and let everyone discover it.
Do you have any concerns or suggestions about podcast hosting? Feel free to ask us in the comment section below!