Images are always of paramount importance for your WordPress website. These files are in charge of user engagement and information transmission. They are also intended to drive more traffic to your site if optimized properly.
When it comes to image optimization, besides essential elements like image alt text, captions, and sizes, we shouldn't miss out on file names. It's simple to add or rewrite an image alt text. But what should you do with the image name?
WordPress provides no feature to rename images. You have to delete the files permanently and then re-upload them with the correct title. Thankfully, you have WordPress plugins at hand.
This article aims to guide you on how to rename images in WordPress. Before that, let's discuss the reason which can motivate you to kick-start changing image file names. It's worth mentioning a solution to protect your WordPress files at the end of the article.
Why Changing WordPress Image Names
As mentioned, anytime you upload a media file to the Media Library, it'll keep the file name the same on your computer or mobile. When you take a screenshot or a photo, your image name will be something like "Screen Shot 2022-4-29" or "0315-PWD_0043."
These file names significantly affect your site's SEO and user experience. Google can't read images. Instead, it looks at the file name, alt text, caption, and description to identify what your photo is about.
A clear and descriptive file name gives you a higher chance to get ranked on Google Images search. This results in more traffic to your site and sparks users' interest.
What's more, when there is a problem with loading images on pages or posts, visitors can glance at the names to have some ideas about your files.
Detailed Guide to WordPress Rename Image
To change WordPress file names, you need help from the Media File Renamer plugin. It's yielded over 40,000 users all over the world, and the number is significantly increasing on a daily basis.
The plugin sheds light on both auto and manual file renaming. Its modern dashboard allows you to quickly change the image name and manage everything in one place.
To start making your image title more meaningful, install the Media File Renamer plugin by going to Plugins → Add New in your WordPress admin dashboard. Then type "media file renamer" in the keyword box and hit the Install Now and Activate buttons.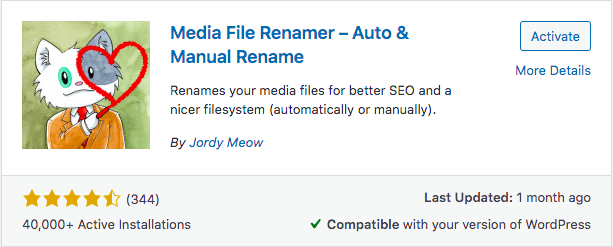 First, go to Media to find the file you intend to change its name and click on the Auto Rename button in the Renamer column.

Another way for you to auto-rename your file is to make changes right on the Edit Media screen. All you need to do is click Edit under the file name and press Auto Rename in the Renamer box.

As a matter of fact, the auto-rename option is not that powerful. It just changes the capitalize letters in the image name into lowercase ones.
To make your file name more meaningful, we suggest updating the image title first. In the Media Edit screen, you can give a new title for your image and click Update. As a result, the file name will be updated as follow.
One thing to notice is that, upon activation, the Media File Renamer plugin adds a new Renamer section to your under your Media. Visit this Renamer page and you will see a dashboard with all your media files.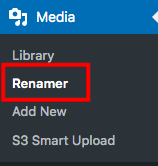 Now click on the pencil icon next to your file title and manually apply the new name to your image.
Just simple actions and you're ready to make your images more SEO friendly.
Bulk Image Renaming
It's possible for you to rename multiple images at the same time using the Media File Renamer plugin too. The process is as easy as pie.

In the Renamer Dashboard, you can tick on any files and then change their names. The plugin enables you to bulk all files too. Analyzing, renaming, undoing, locking, and unlocking are all possible.
Bear in mind to prepare a backup of your file when bulk renaming files since it may affect the website performance. It's recommended to change your file name one by one to ensure they are updated correctly in both Library and content.
Media File Renamer also offers a Pro version allowing you to transliterate your images. In other words, you can replace various accents, emoticons, and diacritics with their ASCII equivalent.
You're able to update file names based on a specific page, post, custom post type (i.e. product), or even the ALT text. What makes Media File Renamer outstanding from others is the capability to move files to another directory.
Some other advanced features include syncing metadata, forcing renaming, and updating files with similar names at once.
How to Rename WordPress Media without Plugin
In case you're tech-savvy and prefer handling things technically, consider adjusting your file names directly in the file system of the server via an FTP client. The following 5-step guide below shows you how to achieve that.
Use an SFTP client to log in to your server
Head to public_html/wp-content/uploads/[year]/[month]/ folder with a specific year and month that you upload your files
Look for your media
Right-click, choose Rename, and enter the new file name
Hit Enter to save your changes
Let Renamed Images Shine on Search Engines
Images with good names draw users' attention and contribute to high website traffic. You can make use of the Media File Renamer to give your WordPress files new beautiful and SEO-friendly names. This WordPress rename image plugin lets you change individual image names automatically and manually. You can also bulk rename files to save your time.
Wish to learn more about how to maximize WordPress images? Check out our articles on how to upload WebP images in WordPress and lazy load images in WordPress.